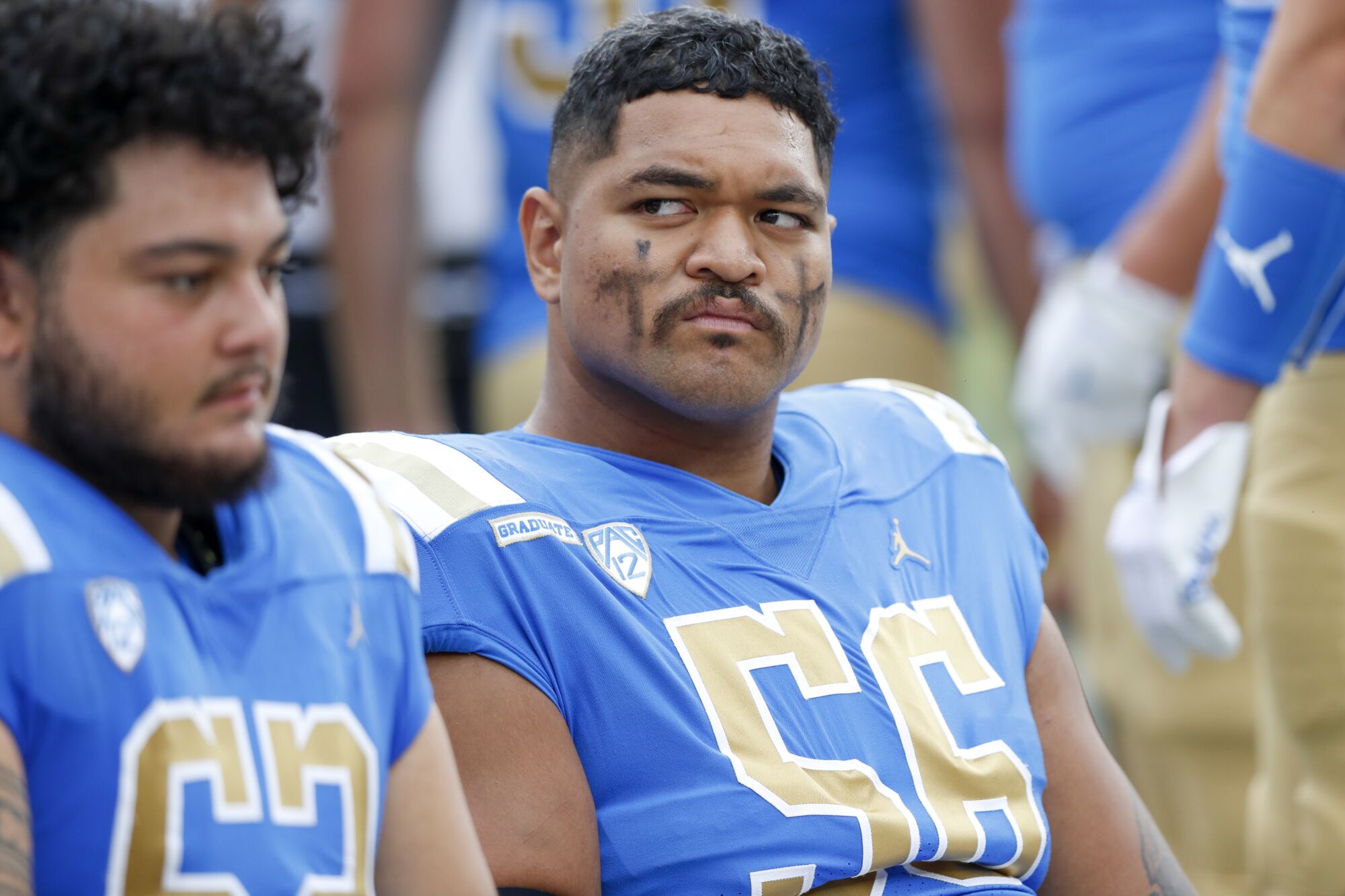 As offensive lineman Atonio Mafi transitions from UCLA to the NFL, he is sharing his journey with Times staff writer Ben Bolch through a weekly diary leading up to the draft April 27. This week, Mafi discusses picking an agent.
Signing with an agent was a surreal experience.
For one thing, I did it on a bus.
We were rolling along on our way to the El Paso airport after the Sun Bowl when I downloaded the forms on my phone, signed them electronically and sent them back to Priority Sports. Kenny Zuckerman was now officially my agent.
What a relief.
I needed to get it done pretty much as soon as my UCLA career ended because I was flying out the next day to start training in Florida for the NFL draft.
Picking an agent was more stressful than I expected. I knew it was going to take a while and that I'd have to meet with a bunch of people. I ended up checking out seven or eight agents before going with Kenny, who's based out of Thousand Oaks.
What surprised me was how competitive it was. That's probably putting it nicely. There were a lot of people throwing dirt on other people, trying to figure out who you've talked to and who you were going to talk to next. It's just something that reminds you it's a business and people will do almost anything to get you to sign with them.
Thankfully, I had a few people I trusted help me with the process. Kenny stood out because he's the agent for Otito Ogbonnia, my former UCLA teammate who's now playing for the Chargers. Right away, I had a really good first-person account of who Kenny was, how he works and what he values.
Another trusted advisor was my cousin and former teammate Devin Asiasi, who now plays for the Cincinnati Bengals. Devin told me the questions I should ask prospective agents, like where I'd be training, what the contract breakdowns looked like and how much money I could get before the draft.
I really had a good feeling about Kenny based on our meetings and his extensive list of clients. Among many others, he represents Pittsburgh's Cam Heyward and the Chargers' Alohi Gilman in addition to a bunch of NBA guys.
Otito didn't push me to sign with Kenny but let me know that it would be a decision I wouldn't regret and that I'd be well taken care of if I decided to go that route.
Everything he said came true. Priority Sports gave me access to an army of people who provide support. They took care of my lodging, travel needs and training regimen while also setting up interviews with different NFL teams and media outlets. They've even helped me figure out what brands I'd like to work with as an endorser.
In return, Priority gets a small percentage of my contract based on what round I get taken in the draft. It's totally worth it for everything I get. I talk to Kenny every few days and he's always checking in with text messages, asking how I'm doing and seeing if I need anything while keeping me posted on the latest feedback from scouts. He's been telling me to just focus on the work leading up to the draft and everything else will take care of itself.
It was overwhelming at first hearing from all these people with the agency I hadn't met helping me with every aspect of this transition to the NFL. But I just came to realize they're doing their job and if Kenny didn't trust them, he wouldn't be working with them.
I've also started the process of picking a financial advisor, something I'll probably finalize as soon as I'm drafted. But for now I'm just grateful that I've got Kenny and his team working for me 24/7. What a relief.
Get the latest on L.A.'s teams in the daily Sports Report newsletter.
You may occasionally receive promotional content from the Los Angeles Times.