Jim Mora says Bruins have moved on from Utah loss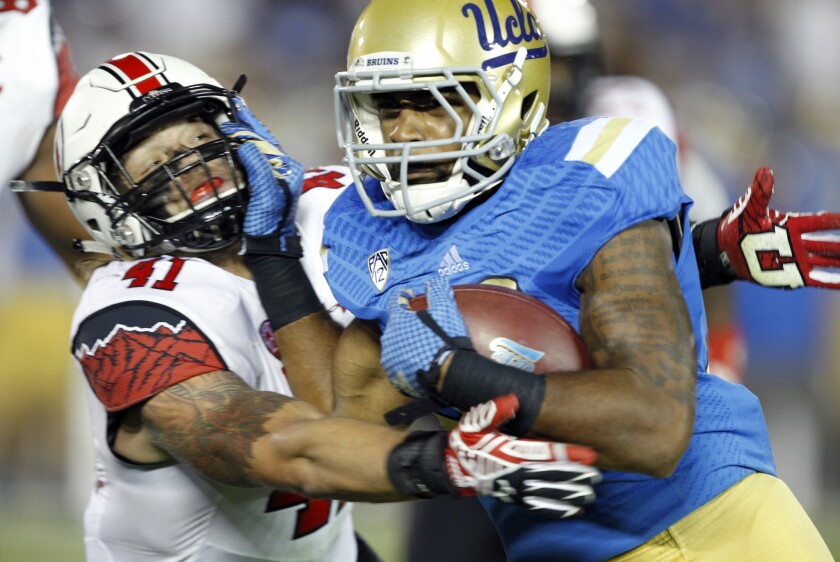 The buzzwords around UCLA practice this week are "moving forward on focusing on Oregon."
The Bruins have a young team and suffered their first loss of the season against Utah last weekend, so players and coaches have made a concerted effort this week in practice to say that they have moved on and are focused purely on Oregon.
On Thursday, Coach Jim Mora confirmed that message.
"This team is impossible to discourage," Mora said. "The fight that they've shown in every game, to me, is a great demonstration of who they are and who they are about. They learned from it, they learned the lessons, and moved forward."
According to Mora, that mind-set is something the team has been working on for a while now.
"That's what we're building here," Mora said. "It's an ongoing process. It's never going to be over. That's the mind-set and culture we're trying to build, of toughness and tough-minded young men who love to compete. That doesn't mean you're going to win every week, but you're going to fight every week. I think this team has demonstrated the ability to fight, every week, no matter the conditions, where we're playing, who we're playing.
Mora also said that guard Alex Redmond's playing status against Oregon would be a game-time decision. The sophomore injured his leg against Arizona State on Sept. 25, and didn't play against Utah, when the team gave up 10 sacks. Redmond has been partially participating in practice this week, the same as last week.
For more Bruin observations, follow Everett Cook on Twitter @everettcook
---
Get the latest on L.A.'s teams in the daily Sports Report newsletter.
You may occasionally receive promotional content from the Los Angeles Times.