Column: USC can't get out of its own way when it comes to NCAA scandals
USC thought it had finally slogged its way out of the shadow of athletic scandal.
The Reggie Bush sanctions had long been lifted. The O.J. Mayo sanctions had long been forgotten. The Steve Sarkisian mess was just a memory.
With a new athletic director, new training facilities and a soon-to-be-just-like-new Coliseum, the Trojans appeared to be skipping brightly back along the path toward past greatness.
Until, suddenly, they were tripped by that pesky afterthought known as USC basketball.
And now they are once again stumbling, stumbling, stumbling.
The season began with the firing of associate head coach Tony Bland and the suspension of heralded guard De'Anthony Melton because of their alleged involvement in college basketball bribery and corruption being investigated by the FBI.
On Thursday, the other shoe fell — or two more pairs of shoes, to be exact.
Federal documents obtained and reported by Yahoo Sports featured reams of information linking some of college basketball biggest names to the probe, the list including Trojans stars Bennie Boatwright and Chimezie Metu.
The alleged violations are as silly as the notion that college basketball players should not be paid. The most corrupt party in this deal is clearly an NCAA cartel that lines its pockets with little regard for the financial welfare of its athletes.
Boatwright and/or his father Bennie Boatwright Sr. allegedly received at least $2,000 from ASM sports agency; Metu and/or an advisor received $2,000.
Even if true, big deal. Considering the billions of dollars that NCAA basketball players bring their schools, they should be paid at least $2,000 a month to supplement their scholarships. This entire FBI investigation, which could bring down celebrated coaches and players across the country, is silly.
Still, rules are rules, and while the indecent NCAA is still in charge, the Trojans need to stay off its radar.
Having three players and a coach listed in the probe is putting them directly in the NCAA's face.
Having it happen in a sport that most USC boosters view only as a quaint little diversion from football must make Trojans fans want to scream.
"We just became aware of this new information through media sources, and we take these allegations very seriously,'' read USC's official statement on the matter. "USC Athletics places the highest priority on athletic compliance and, as we have demonstrated, we do not tolerate violations of our policies or NCAA rules. We will fully cooperate with the NCAA and federal authorities as well as conduct our own investigation into these allegations.''
Boatwright was already lost for the season with a left knee injury, and it sounds like Metu could soon involuntarily be sidelined with him. If the Trojans didn't want to risk probation with Melton earlier this year, why would they risk it with Metu now? The Trojans could spit in the NCAA's eye and make them prove these trivial charges against Metu, a process that would allow him to keep playing. But they've tried that before and how did that work?
If Metu is suspended, that means three top players from a preseason top-10 team would be gone.
With Bland's departure, the top recruiter from what had become a hot college hoops destination is gone.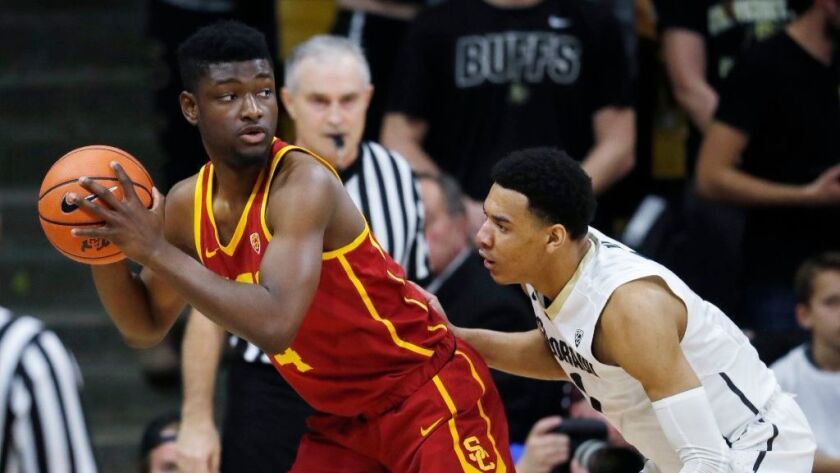 In all, the hope for a season featuring a veteran team coming off consecutive NCAA tournament appearances also seems perilously close to being gone.
Now the question is, how much longer will coach Andy Enfield be here?
By all accounts, Enfield has done a terrific job amid this short-handed chaos. He has the public support of athletic director Lynn Swann. He has not been cited in any of the publicized parts of the probe, and an earlier in-house investigation by Freeh Group International Solutions cleared Enfield of neglect.
But at the end of the day USC cannot be thrilled that its name is being dragged through the mud of what might become the biggest corruption bust in college sports history.
After doing years of work to clean its athletic house, the university has found a mess in its lightly attended basketball gym, one caused by a coach hired by Enfield, and three players brought in during Enfield's watch.
At some point, fair or not, the buck is going to stop with the boss, and a program that seemed on the verge of real relevance may have to, once again, start from scratch.
For now, the Trojans are 20-9 with two regular-season games remaining. They will play at least one game in the Pac-12 Conference tournament. With any luck, they will get a game or two in the NCAA tournament.
There will be cheers for them as plucky underdogs, but even the most blindly loyal fans can't drown out reality.
A Trojans basketball winter that once couldn't start fast enough seemingly can't end soon enough.
Get more of Bill Plaschke's work and follow him on Twitter @BillPlaschke
---
Get the latest on L.A.'s teams in the daily Sports Report newsletter.
You may occasionally receive promotional content from the Los Angeles Times.