USC's Michael Norman Jr. has Olympic dreams and world record aspirations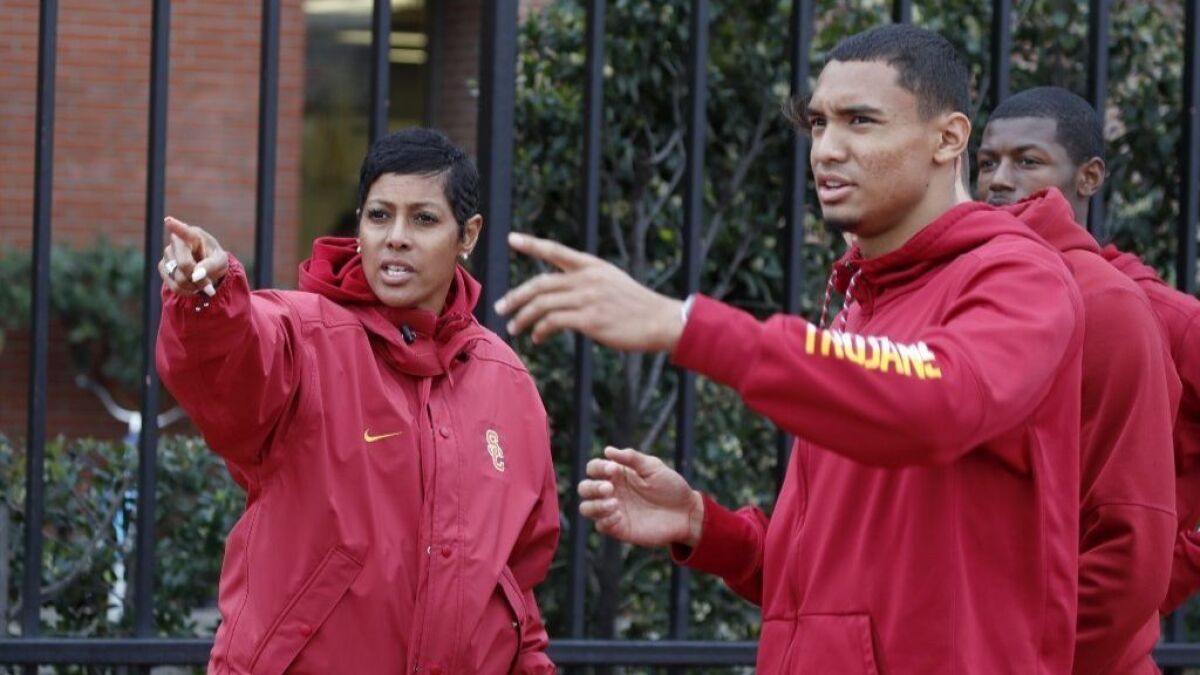 Michael Norman Jr. will run in the Olympics.
Everything points to that, from the indoor world record the 20-year-old USC sophomore set in the 400 meters last month to how he has looked like a man racing against boys this collegiate season.
If the likes of Allyson Felix, Felix Sanchez, Quincy Watts and Don Quarrie represent the glamorous history of Trojans track and field, the smooth-striding Norman symbolizes the program's future. Two years from now, he could very well represent the United States at the 2020 Games.
A four-time California state champion at Vista Murrieta High, the 6-foot-1 Norman already ranks third on USC's all-time outdoor 400-meter list and could move further up at the Mt. SAC Relays. He will also be part of USC's 1,600-meter relay team.
"As of right now, being in the season, I just want to focus on each day and make sure I'm getting the most out of every day," he said.
Norman's origin story begins overseas in Hamamatsu, a city on Japan's west coast. There, in 1989, a sprinter named Nobue Saito ran the 100 meters faster than any Japanese middle schooler before her, only for her high school career to be derailed by injuries.
Saito had visited Southern California when she was in high school and became enamored with the region. When she graduated, she decided to attend college in the United States and enrolled at Los Angeles Valley College. She joined the school's track team.
Also on the team was a quarter-miler from Chicago named Michael Norman, who moved to California to live with his sister in Van Nuys.
Norman and Saito married. Norman returned to the Navy, where he had served four years after high school. Saito became a hair stylist.
The couple had two children, Michelle and Michael Jr. The family settled in Murrieta, where it became obvious both children inherited their parents' track genes.
Michelle was a Southern Section champion in the long jump at Vista Murrieta High. As a 5-foot-8 freshman at the same school, Michael Jr. ran 400 meters in under 50 seconds. Already, he knew something his parents didn't.
"After his freshman year, he tells me and my wife, 'I'm going to the Olympics,'" Michael Sr. said.
"That's a good goal," Michael Sr. recalled telling his son. "Maybe you can make it to the trials."
The top high school 400-meter runners in the country have times in the 45s. Earning one of the spots on the U.S. Olympic team typically requires a time in the 44s.
"I never thought he was special," Nobue said with a laugh.
The first indications came after a growth spurt that made Michael Jr. one of the fastest sprinters in the state as a high school sophomore. He finished second in both the 200 and 400 meters.
"That's when things changed," Michael Jr. said. "After coming in second in both of my events, it just motivated me to think, 'Maybe I can run in college or take this a little further.' I really made track a lifestyle and just started embracing it and really working on every component of track, whether it was on or off the track."
Nobue remained in contact with her high school track coach, who visited Southern California and encouraged her to carefully monitor her son's diet.
Two years later, Norman was a two-time state champion in both the 200 and 400. His respective times of 20.23 and 45.19 seconds qualified him to compete in the 2014 Olympic trials.
Norman failed to advance from the first round of the 400.
"I think it really helped me going into the second session of the Olympic trials because my whole mind-set and focus changed," he said.
He stormed to the finals of the 200 meters, where he finished fifth in a personal-best 20.14 seconds.
"I'll never have this experience again, without pressure or some type of expectation, as a high schooler," Norman said. "I was really just out there enjoying track."
The runner who placed fourth in that race was another high schooler, Noah Lyles of Florida. Lyles turned professional soon after the trials. Asked whether he considered doing the same, Norman replied, "I thought about it about for a brief, tiny, tiny, tiny, tiny moment. But I knew I was going to college. I just wasn't ready as a person. Mentally and physically, I felt like I just needed to take the proper steps."
Norman was provided with plenty of learning opportunities last year as a USC freshman. His body initially didn't take well to the increased workload, manifesting itself in debilitating shin splints, then a stress reaction. In his second race of the indoor season, he strained his right hamstring. When Norman encountered a setback in his rehabilitation process, he thought of redshirting.
USC's coaches, including former Olympic 400-meter gold medalist Watts, encouraged him to not give up.
Before Norman, there were other California quarter-milers who ran world-class times in high school, only to never reach the level of stardom that was predicted of them. Norman didn't want to be a part of that group.
"I didn't want to fade off and just disappear in the track world," Norman said.
He didn't. He won the 400 at the Pac-12 championships and finished fourth in the event at the NCAA championships. He later established a new personal best of 44.60 seconds at the USA Track and Field championships.
With a modified training routine designed to keep him healthy, Norman has continued to progress this season. At the NCAA indoor championships last month, he won the individual 400 meters in a world-record 44.52 seconds. Later in the day, he anchored USC's 1,600-meter relay team, which clocked a world record 3 minutes 0.77 seconds.
Times are generally slower indoors than outdoors because the track itself is smaller, which means a greater percentage of the race is run on curves. Outdoors, the 400 is one lap; indoors, it's two.
With Norman scheduled to race outdoors Saturday, a new personal best is certainly within reach. That would move him closer to not only his dream of running in the Olympics, but also his first visit to his mother's homeland. The 2020 Olympics will be in Tokyo.
Follow Dylan Hernandez on Twitter @dylanohernandez
---
Get the latest on L.A.'s teams in the daily Sports Report newsletter.
You may occasionally receive promotional content from the Los Angeles Times.