Remember David Sills V, the 13-year-old quarterback who committed to play football at USC?
Sills is now 20 years old and stands 6-foot-4, 205 pounds. He never played at USC and probably never will. When the Trojans open their season Saturday against Alabama in Texas, he will be starting for the Warriors of El Camino College.
This could be a cautionary tale, another example of the predatory nature of college football recruiting, the latest warning of what could happen when a child is promised the world.
Except the person living the story doesn't see it that way.
"I don't regret it," Sills said. "I embrace it."
He views his time at El Camino as a detour, not an end, to his lifelong ambition of playing quarterback in the NFL.
"That's still the dream," he said.
I didn't know what to expect when I recently went out to meet Sills on the El Camino campus in Torrance. Here was someone who was nationally famous from the time he was in middle school. He came from a family with the means to bankroll not one but two prep football programs. His personality had to be defective, no?
"I thought the same thing," El Camino Coach Gifford Lindheim later told me.
Well, so much for our preconceived notions. Speaking to Sills, you would never imagine he was once considered the LeBron James of football.
"I was really surprised at what a great person David is," Lindheim said. "I don't think if I had garnered as much attention as he did at such a young age I would be as well adjusted as he is."
I just wasn't ready to give up quarterbacking. That's where my heart is.
David Sills, a former receiver at West Virginia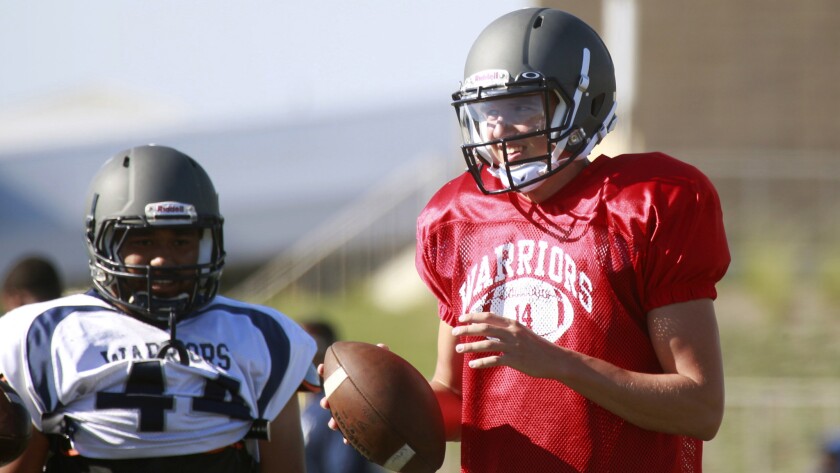 Sills is comfortable talking about his past, sharing what it was like to discover he didn't factor into USC's plans or describing the difficulty of playing wide receiver for a season at West Virginia University. He was self-effacing, smiling and laughing when recalling the more absurd moments of his life.
"I had to mature earlier," Sills said. "I had to learn how to handle myself because people would be watching, looking for stuff. I'm glad that it happened."
The legend of Sills, as we know it, started when he was a seventh-grader at Red Lion Christian Academy, a private school in his home state of Delaware.
By this time, Sills had trained for a few years under the eye of Steve Clarkson, a renowned Southern California-based quarterback coach who has worked with the likes of Ben Roethlisberger, Matt Leinart and Matt Barkley.
Clarkson sent a video of Sills to then-USC coach Lane Kiffin.
"This kid's good, but he's really skinny," Clarkson recalled Kiffin telling him. "How old is he?"
"Thirteen," Clarkson said.
"Get the … out of here," Kiffin said.
Kiffin called Clarkson later that day and offered Sills a scholarship. Kiffin wasn't made available to be interviewed for this column by the University of Alabama, where he is now the offensive coordinator.
Sills was in an after-school study hall when his father dropped in.
"Can I talk to you?" his father asked.
In the office of Red Lion's football coach, David Sills IV broke the news to his son.
"He told me and I was just like, 'What are you talking about?'" the younger Sills said.
Sills had never spoken to Kiffin, but USC was his dream school. That night, after a long talk with his parents, Sills decided he would be a Trojan.
"If it was any other school, I probably wouldn't have committed at that age," Sills said.
His life would never be the same.
Sills said he was eating ice cream with his teammates at a family restaurant when news of his commitment broke.
"My dad was just getting a crazy amount of calls," he said.
Clarkson, who leaked the news to ESPN, was surprised by how big the story became. Sills was interviewed by "Good Morning America." His recruitment became a national talking point. There was widespread disbelief. There was outrage.
"It was pretty wild," Sills said.
More controversy followed. After Sills started for Red Lion's high school team as an eighth- and ninth-grader, the school decided to deemphasize football. In response, Sills IV founded a new school in nearby Maryland. Academic instruction was provided by National Connections Academy, an online private school based in Maryland that counts aspiring musicians from Juilliard among its students.
Sills IV, a developer, said he wanted to provide a new home for the lower-income players at Red Lion, who were suddenly without a school. Sills had previously provided funding for the football program at Red Lion.
"My ministry," he said of Eastern Christian Academy.
Though the institution was derisively called a "football factory" in some circles, the players were grateful.
"It really opened a lot of opportunities for us," Khaliel Rodgers said. "Once that sparked, people saw there was a lot more talent there."
Rodgers is now a defensive lineman at USC. Another Eastern Christian player, Kenny Bigelow, also landed with the Trojans.
Several others earned Division I scholarships, including current Philadelphia Eagles running back Wendell Smallwood, who played at West Virginia, and Sills IV's adopted son, Jahmere Irvin-Sills, who landed at Mississippi State.
However, questions about Eastern Christian's status resulted in opponents' canceling games, which wiped out all but three games of Sills V's sophomore season.
When Sills was a junior, his world was rocked by an event completely out of his control: Kiffin was fired by USC.
Kiffin's replacement, Steve Sarkisian, told Sills he would honor the scholarship offer but made it clear he was unlikely to play. Sills decommitted and decided to go instead to West Virginia.
"I understood he had his recruits," Sills said. "I just thought it was better for me to recommit."
As a high school senior, Sills again played only three games, his season cut short this time by a broken ankle.
Looking back, Clarkson believes Sills' stature was diminished by his limited game action in high school. Sills' body had changed and, as a result, his style of play had too.
"At the time, they miscast him as a pro-style quarterback," Clarkson said. "He was more of a dual-threat quarterback. It was almost a reverse-discrimination situation where it was like 'He's white, so he can't be athletic.'"
That athleticism resulted in a change in position at West Virginia. Originally scheduled to redshirt as a freshman last year, Sills was asked by Coach Dana Holgorsen to play wide receiver. He made his collegiate debut against Baylor and scored a touchdown. He also caught the winning touchdown against Arizona State in the Cactus Bowl.
However, Sills said, "I just wasn't ready to give up quarterbacking. That's where my heart is."
He decided to relaunch his career in Southern California, where he could resume working with Clarkson to eliminate a hitch in his throwing motion that appeared sometime when he was in high school. He chose El Camino because of offensive coordinator Tim Kaub, who trains quarterbacks with Clarkson on the side.
Lindheim and Kaub coached Troy Williams at Santa Monica College last season. Williams is now the starting quarterback at Utah. Sills wants to make a similar move next year.
Kaub said Sills has been a model player for El Camino, spending extra time in the weight room to bond with his team's linemen and never complaining about having to compete against fellow sophomore Conor Miller for a starting role. Kaub also laughed at the notion that Sills' father is a helicopter parent. Compared to the parents of his previous quarterbacks, Kaub said, he has spoken to him the least.
Sills is currently living near the USC campus with Rodgers, his former blocker at Eastern Christian.
Sills maintained he wouldn't change anything, even his now-infamous commitment to USC.
"If I look back on it now, would I have done it?" Sills said. "Maybe not. But I'm not looking at it as something I regret doing.
"That was what happened to me in the past. This is me now."
dylan.hernandez@latimes.com
Twitter: @dylanohernandez
---