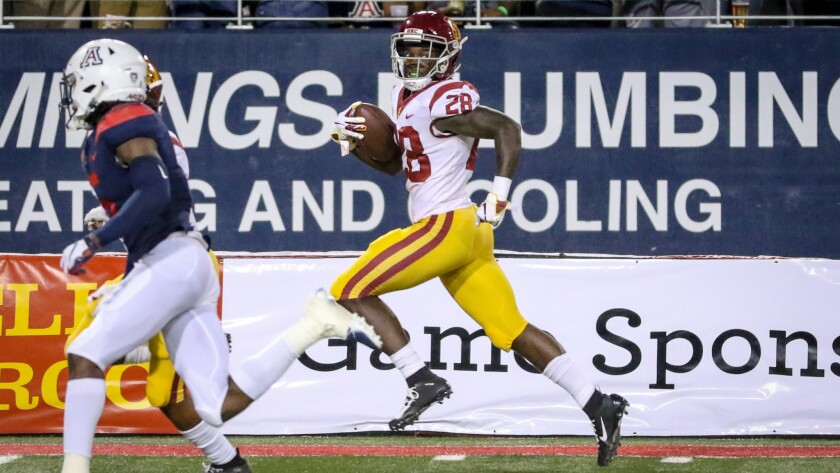 Reporting from Tucson —
Aca'Cedric Ware had been waiting a long time for this, waiting to bust a big run at a key moment. It was painfully slow in coming.
Either the holes weren't there for him to scamper through, or the senior running back wasn't there when USC's offense was on the field. Knee pain had limited him to one touch for minus-5 yards last week against Washington State and he had only four carries the week before in a loss at Texas, a defeat he followed by criticizing the team's practices as "kind of lazy, kind of slow" leading up to the game. The Trojans would find some leaders on offense, he vowed that day, and on Saturday, in a sometimes uneven and ultimately too-close 24-20 win at Arizona, Ware was one of those leaders.
After breaking free for a 26-yard rush that put USC ahead 17-0 in the second quarter, Ware took advantage of the offensive line's solid work and pushed through the middle for a 69-yard run early in the third quarter.
It turned out to be the Trojans' final touchdown of the day, and an enormous stress-reliever for Ware, in addition to being the majority of the team-high 173 yards he gained on 21 carries. "It felt good," he said afterward with a smile. "It's what I needed."
It was what the Trojans (3-2, 2-1 in the Pac-12) needed in a penalty-filled game that resulted in entirely too much pressure being placed on their defense, especially in the second half. In total, they gained 253 yards, with Stephen Carr picking up 80 yards on 14 carries.
Coach Clay Helton said his plan was to emphasize the running game over the passing game, in deference to freshman quarterback JT Daniels' inexperience.
"We came in here saying we didn't want to put a young quarterback in a hostile atmosphere. We wanted to lean on the run," Helton said of exposing Daniels to the noise of the "Zona Zoo" at Arizona Stadium. "Twenty-four passes to 47 runs, that was a good number on the road.
"We talked about packing a great defense, packing our running game, playing clean football--and that didn't happen--and then playing good special teams, and the special teams came through for us. We've got some work to do but we're 2-1 in the conference."
Ware's performance had a lot to do with USC winning its second straight game as it heads into its bye week. He came to camp heavier and stronger, in much better condition. With Ronald Jones II having left for the NFL, Ware was prepared to become the Trojans' featured back this season. He had his fourth career 100-yard game and one touchdown in USC's season-opening win over Nevada-Las Vegas and had 18 carries for 65 yards in the Trojans' loss to Stanford but didn't figure prominently in a pass-heavy offense against Texas and was physically limited against Washington State.
On Saturday, he carried the ball on USC's first two plays, beginning the buildup to his fifth career 100-yard game and third 100-yard rushing game of his career against Arizona. Oddly, he has scored four of his seven career touchdowns against the Wildcats too, including at least one for three straight seasons. "He don't like them at all," free safety Marvell Tell III said jokingly as he sat alongside Ware at a post-game news conference.
Ware had no explanation for why he feasts on Arizona but was sure about why he was able to break those two long runs on Saturday. "The O line did their thing today and I'm proud of those guys," he said. "They opened up big holes and I just ran through them. That's all it was. I ran through untouched."
His teammates enjoyed his success as much as he did. "Being on the sidelines and seeing him pop a run like that was really…I mean, we needed that as a team," said wide receiver Amon-ra St. Brown, who had five catches for 54 yards. "I think that was one of our longest touchdowns of the season. It was great to see Ced and us get that long run."
Wide receiver Michael Pittman Jr., who had only one catch Saturday, said Ware and the running backs lifted the team at a crucial time. "I felt like our run game was on today. I felt like the backs did a great job," Pittman said. "I felt they fought hard and they really carried the team in the second half, so hats off to them."
Ware said he felt "pretty good," and he should be able to finish healing during the bye week. While he waits, he has the memory of breaking those runs. "It was a solid game. We can always do better and we're going to get better," he said. "We've just got to take this bye week and fix up some small things and just keep improving and keep getting better as a team."
Follow Helene Elliott on Twitter @helenenothelen
---