Trial evidence shows how USC became ensnared in college basketball bribery and corruption scandal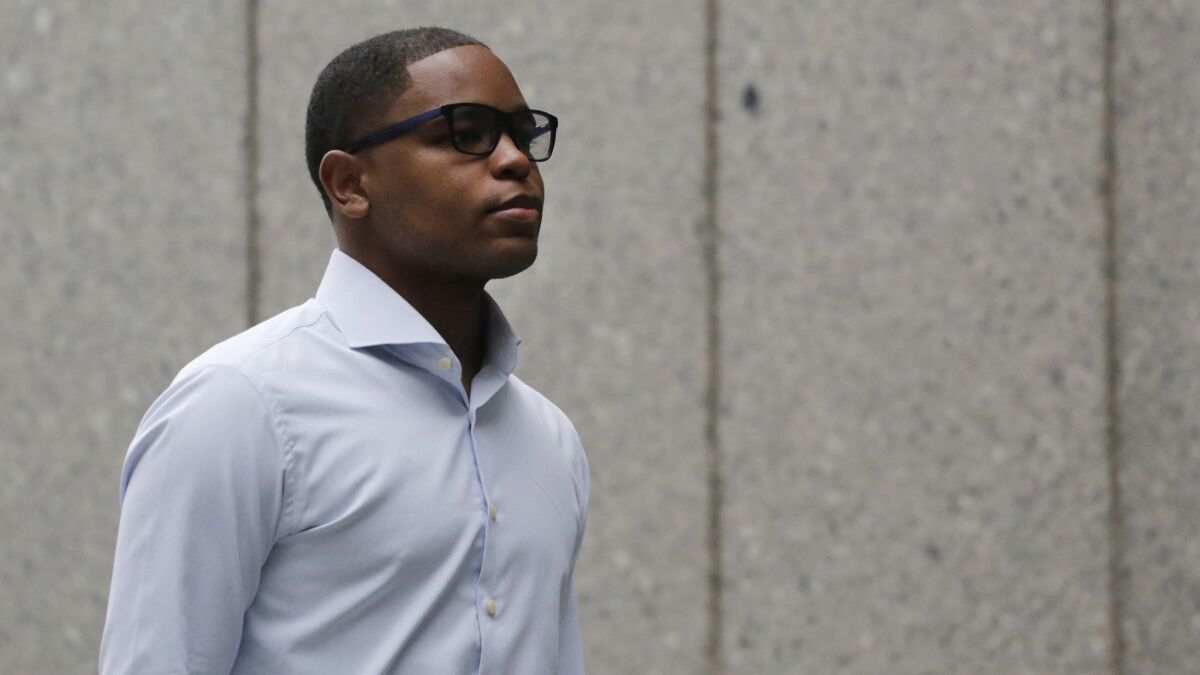 The middleman sounded nervous.
On a September morning 15 months ago, Christian Dawkins finished writing the business plan for his fledgling sports management and marketing company. He called it Loyd Inc., shorthand for Living Out Your Dreams.
The 4 1/2-page document included proposed payments to associates of 19 college and high school basketball players to persuade them to retain the company as professionals.
USC's De'Anthony Melton, now a rookie with the Phoenix Suns, was on the list.
"Do you think I can trust emailing this kind of information to Jill?" Dawkins asked Munish Sood, a New Jersey-based financial advisor and company partner, in a phone call intercepted by the FBI.
"Yeah, I mean, she's in it now, right?" Sood replied. "I'd rather have her have it than Jeff."
But Jill Bailey and Jeff D'Angelo weren't who they seemed, even as they posed as investors in the company and joined Dawkins and Sood on the board of directors. Jill and Jeff were undercover FBI agents.
The business plan and intercepted conversation are among exhibits the government introduced last month during the trial in U.S. District Court in New York where Dawkins and two other men were convicted of wire fraud and conspiracy to commit wire fraud. It was the first of three expected trials related to the wide-ranging federal investigation into college basketball bribery and corruption that continues to shake the sport.
Though the trial focused on Kansas, Louisville and North Carolina State, exhibits include records of a phone call from USC head coach Andy Enfield to a key figure in the case, plus emails and text messages that provide more details about how the probe ensnared the Trojans.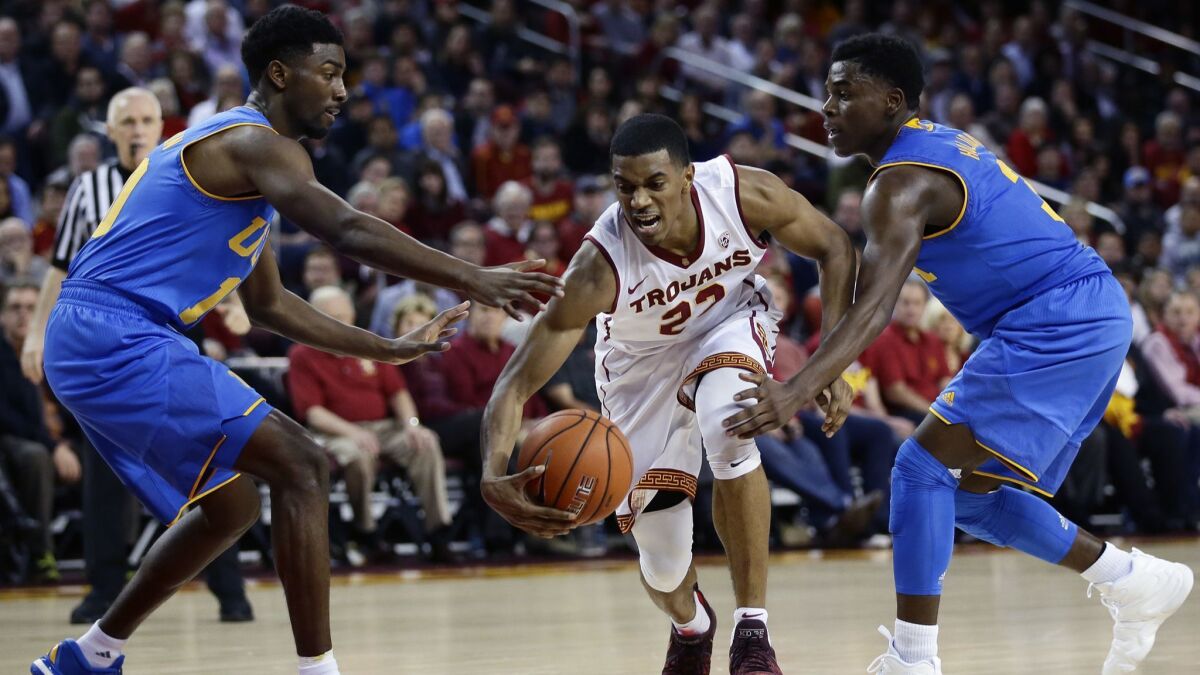 Dawkins' hesitant call with Sood on Sept. 5, 2017, is among 24 recorded conversations introduced as exhibits.
"I'd much rather her have it than Jeff, but my question is … I mean, obviously I was going to send it to you," said Dawkins, a former runner for the ASM Sports agency, "but I'm just saying there's names on here, there's numbers, it's everything."
That included Melton, under the heading of "Prospective Players" in the business plan.
"$5000 a month from September 2017 until April 2018 Plus 20k signing bonus in April to uncle. Let's try to stall on this deal after this next upcoming month. That is a lot of resources for one guy, when we have other elite players who won't cost that much. Projected first round pick."
Other players mentioned in the payment list include James Wiseman, the top prospect in the class of 2019, Kentucky freshman Ashton Hagans and former Arizona player Rawle Alkins.
Some people familiar with the federal investigation don't take the list seriously, however, viewing it as more wishful thinking than an actual schedule of payoffs. There's no evidence in the exhibits that Melton or most of the other players knew about the list or received money.
Steve Haney, the attorney for Dawkins, didn't respond to questions about the business plan.
USC held out Melton for the 2017-18 season while it investigated his ties to the scandal that led to the indictment of Trojans associate head coach Tony Bland. Federal prosecutors alleged David Elliott, a family friend of Melton sometimes described as his uncle, received a $5,000 bribe in August 2017 to steer the player to retain Dawkins and Sood when he joined the NBA.
Elliott has repeatedly denied he accepted any money or otherwise violated NCAA rules. Neither Melton's agent nor Elliott responded to requests for comment.
"I won't be speaking with anyone in regards to the case," Elliott wrote last month in an email to The Times after his name was included on a list of 87 people who might be mentioned during the trial. "This has ruined a lot of relationships unnecessarily in the past year."
The first mention of USC in the exhibits is an email from Dawkins to Sood on May 24, 2017, about potential clients for Loyd Inc. Dawkins listed Melton and Chimezie Metu, who played three seasons for USC before the San Antonio Spurs drafted him in the second round this year, among nine players "I am involved with moving forward." The email didn't specify what that meant.
Less than two weeks later, Dawkins sent a late-night text to Sood from Las Vegas: "I'm about to go into a presentation."
"This late … You must be with girls," Sood replied.
"Deanthony Melton uncle. From USC. He got his flight delayed. Need to knock it out tonight so I'm not super packed with mtgs tomo," Dawkins wrote.
Subsequent texts between Dawkins and Sood didn't detail the outcome of the presentation.
Records for one of the two phones Dawkins used show five calls between him and Elliott from May 18, 2017, to June 28, 2017. One call lasted 23 minutes. The four others were brief.
Dawkins and Bland, scheduled for trial in April, exchanged 19 calls between May 5, 2017, and July 1, 2017. Records beyond that period haven't been made public. The Times didn't find numbers connected to other USC coaches in Dawkins' phone records.
But another batch of phone logs entered as an exhibit showed a call from a number used by Enfield to Adidas consultant T.J. Gassnola on May 30, 2017, that lasted 41/2 minutes.
Gassnola pleaded guilty in March to conspiracy to commit wire fraud. He testified during the trial last month that he paid the families of five high-profile players. They included Deandre Ayton, the Arizona center drafted first overall by the Phoenix Suns this year. A USC spokesman declined to comment on the call.
On Aug. 13, 2017, Dawkins texted unspecified recipients a payment schedule for players and their associates. He used abbreviations instead of names.
"So, I was just calling to check in so I know the list was obviously a little cryptic with you, you know, some of the names and everything like that," Dawkins told Bailey in an intercepted call three days later.
"Yeah, can you walk me through some of that?" the undercover agent asked.
According to the transcript of the call, Dawkins said "LV" stood for Louisville and "DBBS" represented Brian Bowen Sr. He required $2,000 a month.
Most of the 51-page transcript is redacted. That means other notations in the text — like "September 1 - 5k - UDE, SC TB" or "DTCTB 4K cash in one acct — 2k a month after this starts again in oct" — aren't explained.
"So, obviously, we've got to put funding out and some of the money can't be completely accounted for on paper because some of it is whatever you want to call it, illegal, against NCAA rules, or whatever," Dawkins said. "But, if we're like paying a father or a handler or a brother or whatever the case may be, you can sign them to agreements and that's completely legal."
Three weeks later, Dawkins and Sood debated whether to send the business plan to Bailey.
"I think you're OK cause who is she going to take it to?" Sood said on the intercepted call. "I mean, what's your concern about giving it to her?"
"My concern is what if someone that we don't know is investigating her and goes into her email?" Dawkins replied. "Ya know I'm just always paranoid."
Sood texted the business plan to the undercover agent.
The FBI arrested Sood, Dawkins and eight other men less than a month later.
Twitter: @nathanfenno
---
Get the latest on L.A.'s teams in the daily Sports Report newsletter.
You may occasionally receive promotional content from the Los Angeles Times.