USC football team to go from full-pad practice to 'Straight Outta Compton'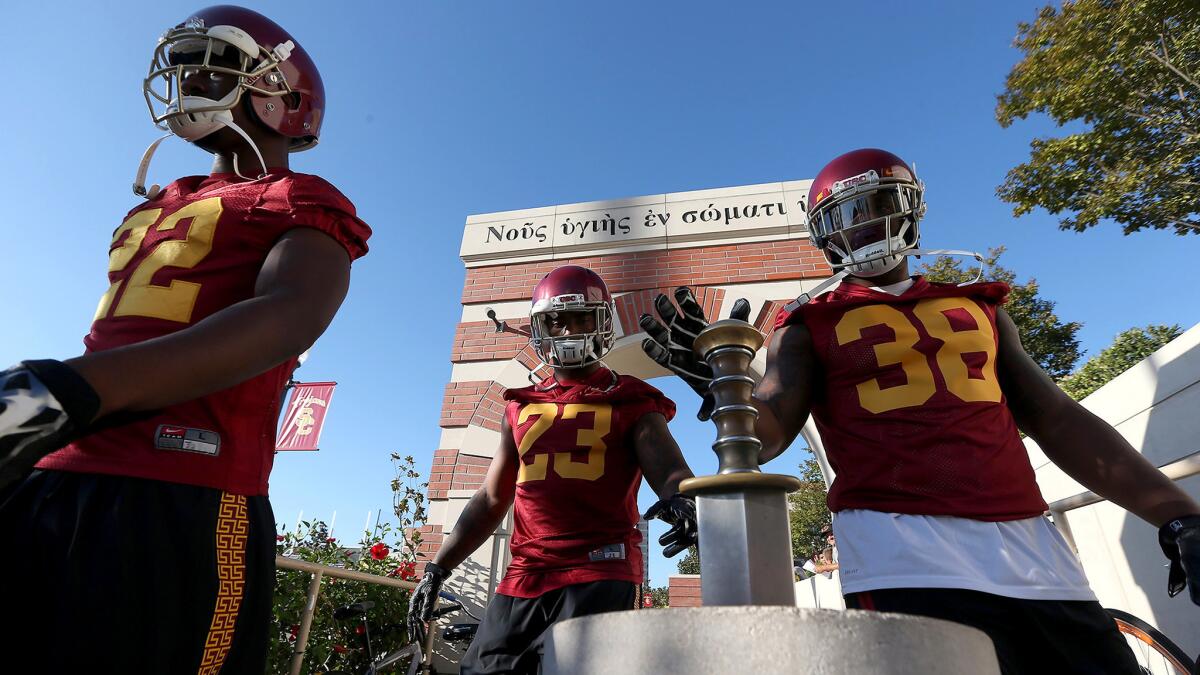 USC is going to the movies.
After five practices, including Wednesday's spirited full-pads workout, the Trojans will take off Thursday and take in a screening of the new film "Straight Outta Compton," which chronicles the story of influential rap group N.W.A.
Dr. Dre (Andre Young), one of the founding members of the group, is a co-producer of the film. In 2013, he and music mogul Jimmy Iovine donated $70 million to establish the USC Jimmy Iovine and Andre Young Academy for Arts, Technology and the Business of Innovation.
"They're really excited," Coach Steve Sarkisian said of his players. "That movie and that era and all that, I think, kind of plays into USC to some degree, and the support of SC and Dr. Dre and of his stuff."
Thursday is one of four days off the Trojans will take during training camp before starting game-week preparations for the Sept. 5 opener against Arkansas State.
Players did not appear to hold back on the eve of the one-day break.
"I always laugh," Sarkisian said. "They're excited to put full pads on now, and then late October and into November I tell them we're in full pads and you hear some moaning and groaning.
"But that's training camp."
Receiver Steven Mitchell Jr. is looking forward to the break. He said the Trojans would bond off the field.
"Relaxing," he said.
Making an impression
With Justin Davis nursing a hamstring injury and Tre Madden getting a break, freshmen running backs Ronald Jones II, Dominic Davis and Aca'Cedric Ware continued to make productive plays while learning the offense.
Running backs coach Johnny Nansen the trio was "ahead" in their study of the playbook and in their performance on the field.
Jones has broken off several long runs and rebounded from physical tackles.
"Any time he gets an open field, he might go all the way," Nansen said.
Davis, Nansen said, was "your do-it-all guy" who can play in the backfield or the slot and create mismatches.
Ware reminds Nansen of former Trojan Javorius Allen.
"He's got great hands," Nansen said, "a great feel for the game."
Temple's recovery
Senior defensive lineman Cody Temple appears fully recovered from the 2013 ankle injury that limited him during spring practice.
The 6-foot-2, 300-pound Temple said he was glad to have the influx of defensive linemen, including Christian Rector, Noah Jefferson, Jacob Daniel and Rasheem Green.
"It's nice to see these freshmen picking up and really stepping in to take this role and this challenge," he said. "Little by little they're starting to get it."
Quick hits
Justin Davis has not practiced since the first day, but Sarkisian said he was close to returning. ... Jordan Simmons is making progress on the defensive line after spending his first three seasons as an offensive lineman. ... Linebacker Michael Hutchings intercepted a pass and made an impressive play tackling Jones. ... The Trojans resume practice Friday at 8:45 a.m.
Get the latest on L.A.'s teams in the daily Sports Report newsletter.
You may occasionally receive promotional content from the Los Angeles Times.