JuJu Smith-Schuster's coaches wouldn't mind if he took it easy now and then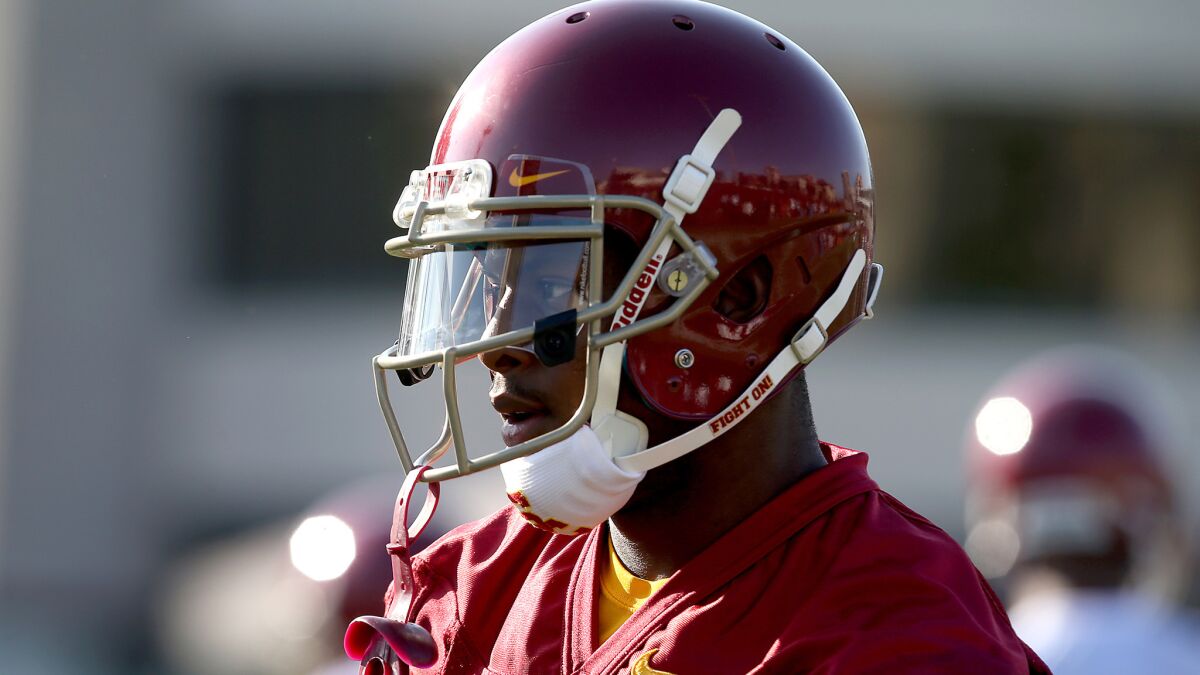 JuJu Smith-Schuster's 2015 season made him a household name among college football fans, but he might have taken that largest step toward contemporary American sports stardom this summer.
He got in trouble because of Snapchat.
Most days, including after USC's twice-weekly 6 a.m. workouts, Smith-Schuster would find a place on campus for extra conditioning: the track for sprints, the beach volleyball court for sand training, the Coliseum for stairs. He'd often return for a second or third session each day.
Then he'd post a workout glamour shot on Snapchat.
"That's how I got caught," Smith-Schuster said.
"I almost had to bring him in in the summer and tell him, 'Stop doing as much,' " said offensive coordinator Tee Martin.
Smith-Schuster has been USC's most potent offensive weapon, but his health has been the subject of the most angst.
He suffered a fractured right hand last October, had surgery to insert a plate and eight screws days later and played the rest of the season with a cast. He also sustained a leg injury. And tweaked both ankles. In high school, an injury knocked him out of a few games his senior season.
This training camp, Smith-Schuster could command his own injury report. He sprained his big toe. When his pinky popped out of its socket, he ran around the field displaying the crooked digit to coaches and teammates before a trainer popped it back in. During early practice, he forayed deep past the sideline, tracking an errant pass, and collided with the wall surrounding the field.
"He just goes so hard," Martin said. "He goes down trying to dive for a freaking ball over by the wall. That's just how he is."
Few players were used as much as Smith-Schuster last season. Nearly one out of every three USC passes last season went to Smith-Schuster, according to Pro Football Focus. He converted the heavy air traffic into 89 catches for 1,454 yards and 10 touchdowns.
So the Trojans have been monitoring Smith-Schuster's workload, trying to prevent damage.
Coach Clay Helton has instructed a trainer to monitor Smith-Schuster's mileage in practice, using a GPS system, to keep it in moderation. Without supervision, he can run as many as eight miles in a session.
"He only knows one speed, you know?" Helton said. "There's no telling JuJu to go out there and go 70%. He's going to be in fifth and sixth gear the whole time."
Martin, who also coaches the receivers, said the unit is deeper (USC has 10 scholarship receivers, plus an occasional Adoree' Jackson appearance), with a talented crop of freshmen. Smith-Schuster invited many of his fellow receivers to partake in his workouts.
"When I'm frustrated, I'm getting covered by three people, two people, I need someone else to step their game up," Smith-Schuster said. "And I have trust and faith in my other boys."
Final tryout
USC will play a roughly 75-play scrimmage Friday, Helton said.
It will be a platform for quarterbacks Sam Darnold and Max Browne to deliver a closing argument before Helton names a starter Saturday.
"I think it'll solidify it for me, where it is," Helton said.
Quick hits
Reuben Peters, Matt Lopes and James Toland were awarded scholarships Wednesday. … Rasheem Green did not practice because of a knee contusion and is day to day, Helton said. ... Noah Jefferson (back) participated in some team drills for the first time in training camp. … Damien Mama (ankle), Isaiah Langley (concussion protocol), John Plattenburg (concussion protocol) and Marvell Tell (hamstring) did not practice. Helton said Mama is out as a precaution and Tell "is getting closer." … Ykili Ross and Cole Smith (stomach illness) returned.
zach.helfand@latimes.com
Twitter: @zhelfand
---
Get the latest on L.A.'s teams in the daily Sports Report newsletter.
You may occasionally receive promotional content from the Los Angeles Times.