Daniel Imatorbhebhe was a revelation for USC against Washington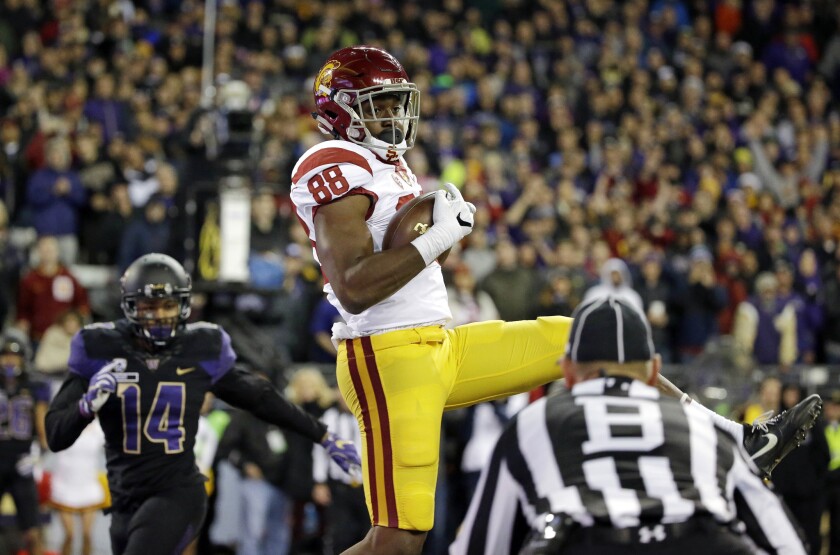 Daniel Imatorbhebhe broke toward the end zone in the fourth quarter of USC's win over Washington on Saturday and stopped abruptly at the four-yard line.
After a split second, he drifted toward the goalpost.
The move froze a Washington linebacker just enough to allow quarterback Sam Darnold to loft a pass over the defender's head and into Imatorbhebhe's arms. The reception capped a career day for the tight end, who caught five catches for 78 yards and a touchdown. And it illustrated the evolution of USC's offense, which has grown more diverse each game.
"We've got so many weapons," Imatorbhebhe said. "We're learning how to use them all."
Imatorbhebhe (pronounced ee-MAT-tor-bay-bay), a redshirt freshman who transferred from Florida last season, is the latest revelation. The 6-foot-4, 240-pound former receiver has become a matchup problem for opposing defenses.
Imatorbhebhe does not start. Before Saturday, he had caught only seven passes. But he has emerged as one of Darnold's preferred targets.
Against Washington, he was the skill position player most involved in each of USC's three touchdown drives.
In the second quarter, he split out wide, broke loose when Darnold scrambled and caught a 23-yard pass down the right sideline. Two plays later, USC scored its first touchdown.
Shortly before halftime, Imatorbhebhe fully extended and hauled in a 21-yard pass while crashing to the ground. On the next play, he took off up a seam in the defense and caught a 22-yard pass. One play after that, USC scored its second touchdown.
And he caught a pass for USC's third touchdown, which iced the game in the fourth quarter.
"He does it all the time in practice," Darnold said.
On most of his catches, Imatorbhebhe split out wide. USC Coach Clay Helton said he prefers the ability to flex all three of USC's regular tight ends — a group that also includes starter Taylor McNamara and Tyler Petite. It leaves defenses in a bind, making personnel decisions a guessing game.
Imatorbhebhe's athleticism makes him an ideal fit in such a scheme.
"If you remember what Daniel was in high school, he was a big receiver that transformed into a tight end," Helton said. "He was, I recall, right around a 217-pound wideout coming out of high school. And now he's looking at about 245 and really has made himself into a really quality tight end."
Imatorbhebhe said that he and Darnold have quickly developed a chemistry. The two played together on USC's scout team last season.
"I don't question Sam anymore," Imatorbhebhe said. "I know he's going to put it where only I can get it. And so my job is just to catch it. He can make pretty much every throw on the field. It's on me if I'm not there. If it's a bad throw, it means I'm out of position."
Sears follows Darnold to USC
The quarterback who replaced Darnold at San Clemente High has committed to the Trojans.
Jack Sears, considered among the best at his position in the Class of 2017, previously was committed to Duke.
The San Clemente team's twitter feed announced that Sears plans to enroll early to participate in spring practice.
Quick hits
Darnold was chosen Pac-12 Conference offensive player of the week. He was the second USC player to win the honor. Cornerback Adoree' Jackson won for special teams play after the second week. ... The start time for USC's Nov. 26 game against Notre Dame will be announced Sunday. … USC resumes practice Tuesday.
Follow Zach Helfand on Twitter @zhelfand
---
Get the latest on L.A.'s teams in the daily Sports Report newsletter.
You may occasionally receive promotional content from the Los Angeles Times.