USC's versatile Chris Hawkins making his mark after switch to safety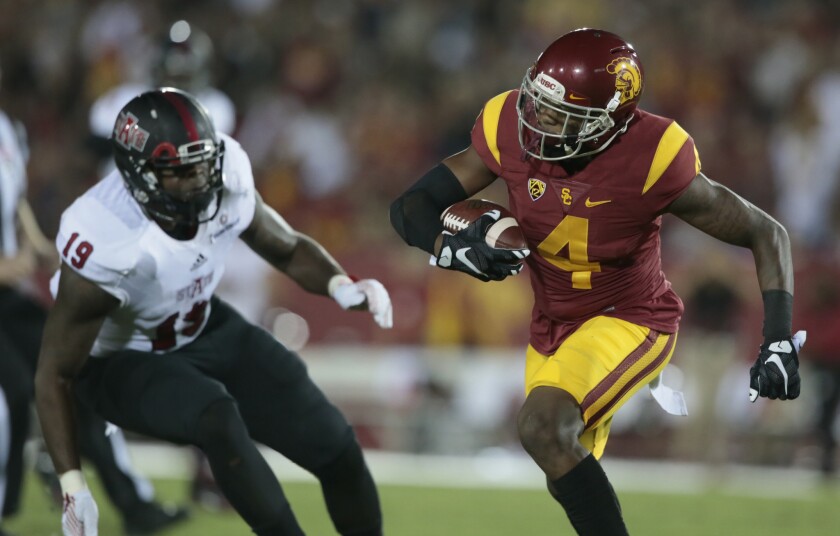 Chris Hawkins saw the fumble, scooped up the loose ball and took off running.
The USC safety quickly surveyed 94 yards of open field in front of him, mentally noting the Arizona State players chasing him from behind.
Hawkins called on his "track days" and told himself to "run with form" as he dashed for a touchdown.
"Everybody tells me I probably should have looked at myself on the big [video] board," Hawkins said, "But I wasn't. I was just making sure I got to the end zone."
Hawkins' play stymied a potential Arizona State rally, set the stage for another turnover, and sent the Trojans on their way to an important 42-14 road victory.
Hawkins has become the closest thing to a turnover maven for the No. 17 Trojans, who play Washington on Thursday night at the Coliseum. He also intercepted a pass and recovered a fumble against Arkansas State.
"Obviously," Coach Steve Sarkisian said, "he's got a knack for the football."
Hawkins, a third-year sophomore, was not the most likely candidate to lead the Trojans in collected turnovers. He lost his job as a starting cornerback last season and was competing against more experienced safeties during spring practice and training camp.
But Hawkins' football smarts and athletic ability help make him one of the Trojans' most versatile players. He starts at safety and nickel back and has also played cornerback.
"He's able to play a little bit ahead because mentally he sees things quickly and can process," defensive coordinator Justin Wilcox said. "His role for us is a guy that understands things and is kind of a utility that way."
Hawkins' mastery of the defensive plan aids teammates — "He knows the scheme probably better than anybody else," freshman linebacker Cameron Smith said — and enables him to shine in the meeting room with fellow defensive backs.
"He always has the right answer," secondary coach Keith Heyward said.
Hawkins graduated early from Rancho Cucamonga High and enrolled at USC in January 2013. Listed at 5 feet 11 and 190 pounds, Hawkins said he thought he was on track to play in his first season until he gave up a long pass to former receiver Nelson Agholor during a spring scrimmage at the Coliseum. Former defensive coordinator Clancy Pendergast put him on track to redshirt, Hawkins said.
Last season, when Josh Shaw was suspended on the eve of the opener, Hawkins moved into a starting role. He intercepted a pass against Boston College, but the emergence of Adoree' Jackson forced him out of the lineup after four games.
"When you've got a guy you can't deny, you can't deny him getting on the field," Hawkins said. "When he got in he was making plays."
Hawkins played as a reserve the rest of the season, which ended with the Holiday Bowl against Nebraska.
It was during early bowl practices that Hawkins first experimented at safety. Shaw had returned from his suspension and Kevon Seymour and Jackson were entrenched.
With coaches off recruiting, graduate assistant Drew Pearson suggested Hawkins give safety a try. "I was like, 'OK, I'll see how it is, maybe I can have some fun back here,'" Hawkins said.
Hawkins intercepted two passes and broke up several more. When spring practice began a few months later, Hawkins was a safety.
Su'a Cravens, who moved from safety to linebacker last season, is not surprised by Hawkins' playmaking.
"He's always had that in him," Cravens said. "He's always had that mentality. It's just in college you've got to find where you fit in. Safety was the perfect position for him."
Hawkins was positioned perfectly when lineman Delvon Simmons forced a fumble near the goal line against Arizona State after the Sun Devils, trailing 21-0, had staged a long drive.
Jackson escorted Hawkins down the field and across the goal line.
"We got into end zone and I was trying to tell him, 'Let's hurry and get off the field because we've got to go back on defense,'" Jackson said. "I turned around and everybody was chest bumping."
Said Hawkins: "I was so tired that once we finished I couldn't say anything. I was just going along with the celebrations like everybody else."
The Trojans forced a fumble on the ensuing kickoff and scored another touchdown just before halftime.
Hawkins intends to take advantage of more turnover opportunities.
"I make plays when the plays come to me," he said. "I've made multiple plays this year being in the right place at the right time."
Twitter: @latimesklein
---
Get the latest on L.A.'s teams in the daily Sports Report newsletter.
You may occasionally receive promotional content from the Los Angeles Times.