Former USC assistant Todd McNair is back 'in his element' on the sideline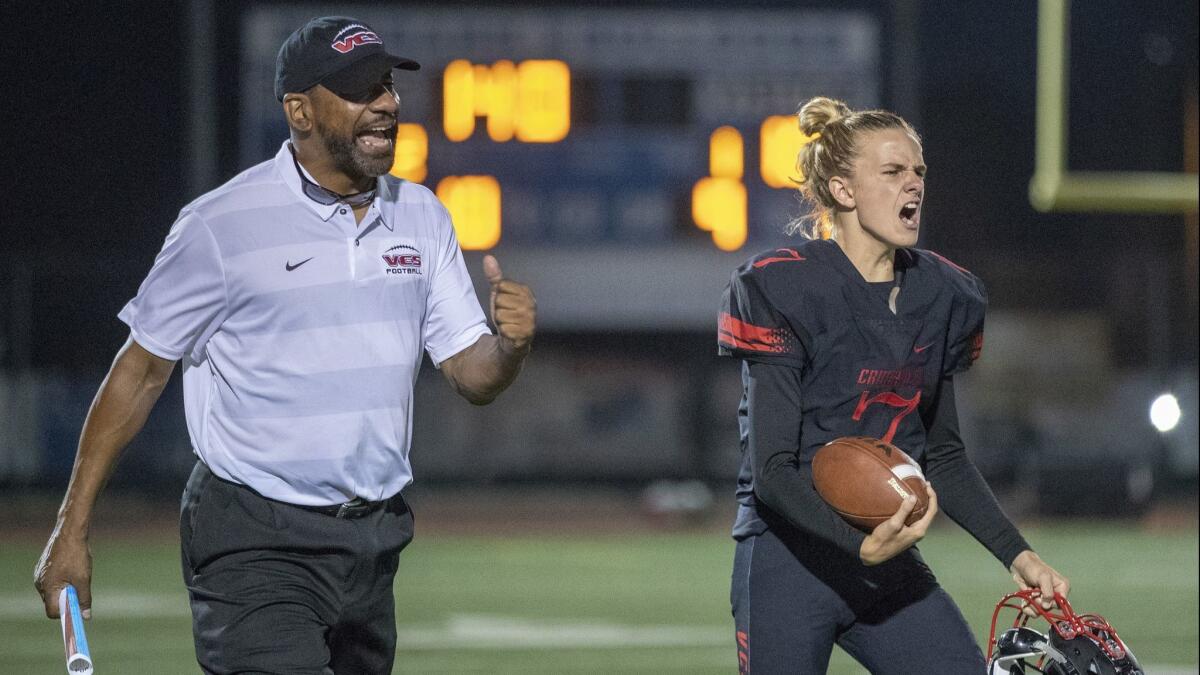 Todd McNair couldn't stop moving.
The Village Christian School assistant coach paced the sideline of Burbank High's football field Friday night as the mountains in the background turned hazy purple. He jabbered with game officials. He hugged other coaches. He ran out of people to high-five after the first touchdown run in the season opener against Campbell Hall.
A knee-high child stamped the hand of each person paying $5 for a ticket. Fans clutched tri-tip sandwiches and cups of shaved ice. A scratchy voice bellowed play-by-play over the public address system. Passers-by peered through a chain-link fence.
McNair's troubles seemed to be a far-off memory under the four banks of floodlights illuminating the field.
The show-cause penalty in the Reggie Bush extra benefits scandal that McNair, the former USC running backs coach, believes ended his college and professional coaching career. The seven-year legal fight with the NCAA. The financial troubles that led to driving for Uber. The verdict in Los Angeles County Superior Court in May that left McNair too distraught to stammer out more than a sentence or two in a low voice.
The band pounded drums. Students passed around a bag of chocolate chip cookies. And McNair looked at home in the first game as a full-paid, full-fledged assistant coach at any level since USC's Emerald Bowl win over Boston College in December 2009.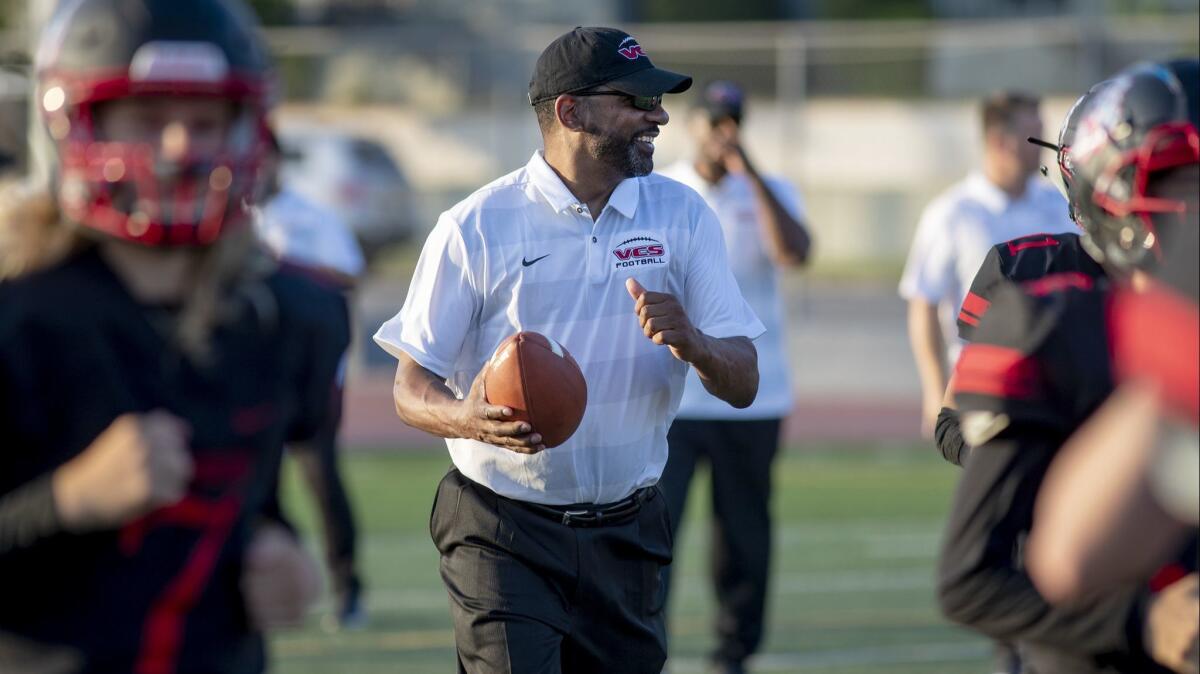 He looks like a kid out there.
— Scott Carr
"He's in his element," said Bruce Broillet, one of McNair's attorneys in the case against the NCAA, as he watched from the second row of the bleachers with colleagues Scott Carr and Christian Nickerson. "It's so clear what he loves to do."
"He looks like a kid out there," Carr said.
During closing arguments in the defamation trial against the NCAA, Broillet asked the jurors for $27 million in damages and promised he'd attend McNair's first game coaching at Village Christian. The nine women and three men ruled in favor of the NCAA after six days of deliberations.
McNair and his legal team declined to comment on the case, but said in a court filing last week they plan to seek a new trial.
"It took me a minute to shake off the results, so I'm just getting back in the swing of things right now," McNair said the day before the game. "That situation threw me out of whack for a while."
After spending eight years in the NFL playing running back and helping coach Bush to the Heisman Trophy in 2005, McNair, 53, took charge of Village Christian's offensive line. The Sun Valley school canceled last season because it didn't have enough players. The new group lead by head coach Richard Broussard is young. McNair, who stood 6 feet 1 and weighed 200 pounds during his playing days, towers over some of the linemen. He's not a celebrity there, just "Coach T-Mac."
Most of his charges don't realize he once coached some of the biggest names in college football. Word about his background spreads from one player to another during water breaks.
It's so clear what he loved to do.
— Bruce Broillet
The surroundings have changed from McNair's halcyon days at USC: first-round draft picks, 90,000-plus supporters packing the Coliseum and the national championship in January 2005.
At Friday's game, children wandered the sideline. One set of goalposts appeared to list to the right. Village Christian's modest equipment included two Gatorade jugs and a small folding training table among a couple dozen players in black jerseys.
McNair's salary reached $255,000 a year at USC. He gets a stipend of $5,000 to $10,000 at Village Christian. During the trial, McNair floated the possibility of taking another job at the school, maybe as a security guard, to help make ends meet. The position didn't work out.
The setback couldn't keep McNair away from the sideline. Not after USC declined to renew his contract in June 2011, not after the long-running lawsuit, not after struggling with depression that made it difficult to leave his couch.
"This is what I do," he said. "I've spent my whole life on the football field. … What else am I going to do? Sell insurance? It's a people business. It's what I'm good at. It's what I know. Especially with the young people, I've got so much to give them."
He wants to start a private training program in the offseason. Bring in Bush. Former USC assistant Rocky Seto. Former Raiders defensive end Greg Townsend.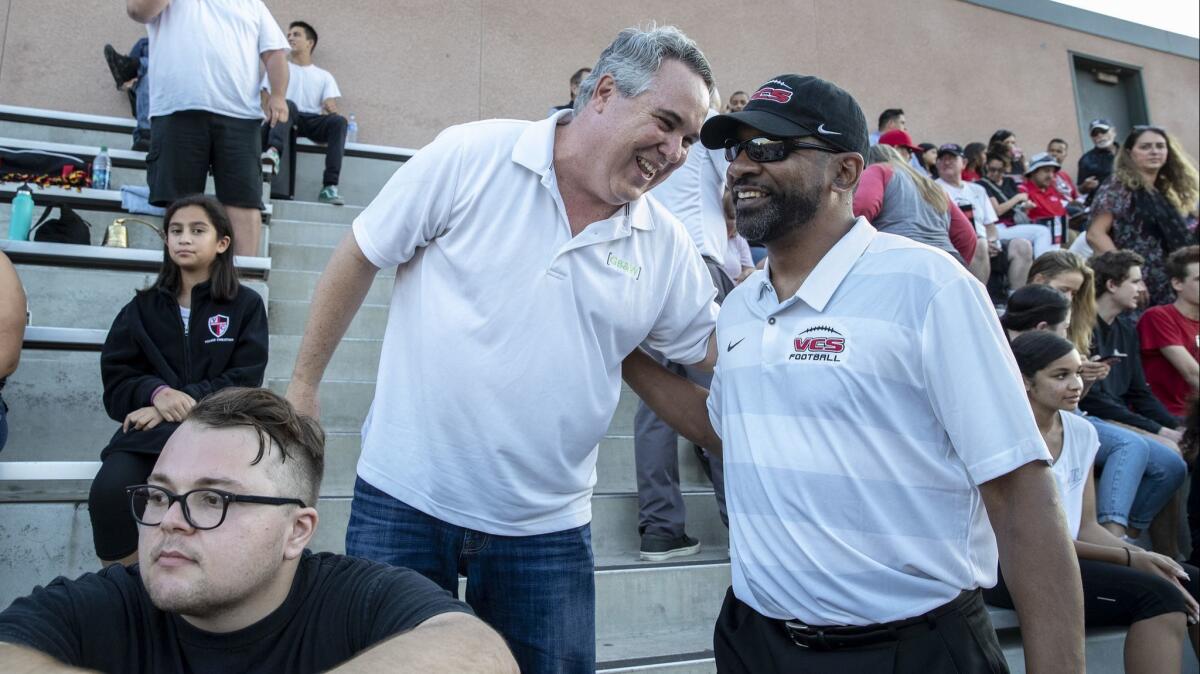 This is what I do. I've spent my whole life on the football field... What else am I going to do?
— Todd McNair
"Kids are spending money for people with no credentials," McNair said. "A lot of it is detrimental to kids' development. … I'm pretty excited to do things the right way."
He helped out Pasadena High's football team last year — "it ended up being volunteer work" — and serves as athletic director for the Pasadena Trojans Pop Warner program. He holds weekly clinics to teach coaches fundamentals and basic schemes. The clinics usually take place on Mondays in April and May, but McNair spent those weeks in Room 500 at the Stanley Mosk Courthouse in downtown Los Angeles for what he calls "the NCAA issue."
That "issue" included two days of tearful testimony from McNair. He insisted he always followed NCAA rules and denied knowing Bush or his parents accepted extra benefits while Bush played for the Trojans. After USC cut ties, McNair recalled, his wife Lynette took a job as a parking lot attendant. Bush provided money. McNair cashed in his retirement account. The family eventually had to use food stamps.
The tears started in earnest when McNair's attorneys played a decade-old video of him coaching spring practice at USC. On the television, McNair joked, slapped players on the back and shouted encouragement.
The coach on the video looked like the same man on the sideline Friday night as Village Christian lost 27-22. The same enthusiasm, the same intensity, the same smile.
"Seeing it on film is one thing," Carr said, "but being out here, you can see how much he loves it."
Twitter: @nathanfenno
Get the latest on L.A.'s teams in the daily Sports Report newsletter.
You may occasionally receive promotional content from the Los Angeles Times.