USC's Su'a Cravens says more NFL teams are looking at him as a safety as opposed to a linebacker
Su'a Cravens left a few things to be determined when he departed the NFL scouting combine in Indianapolis last month.
Will he play linebacker or safety in the NFL? How fast can he run the 40-yard dash?
Cravens answered the latter question Wednesday at USC's pro day workout for scouts, running the 40 in an electronically-timed 4.65 seconds.
But his time, which some scouts said was slower than anticipated, only led to more questions about what position he might play.
Cravens' ability to gain and lose weight — he said he's fluctuated between 215 and 235 pounds in three years at USC — provides flexibility. His posted speed might not.
"I think a lot more teams are starting to want me more as a safety than a linebacker," said Cravens, who was named a freshman All-American safety before USC coaches moved him to linebacker. "It still depends on what team drafts me."
Cravens, who weighed in at 6 feet 1 and 220 pounds, ran through an exhaustive amount of drills at both positions. He worked out exclusively as a linebacker at the combine.
"I had a solid day, I messed up the last drill so that could've made it a great day, but I was all right there," said Cravens, noting a couple of miscues during defensive back drills.
One team scout, speaking on condition of anonymity, said Cravens' position — or lack thereof — would provide an interesting discussion in pre-draft meetings, adding that Cravens' 40 time pointed more to linebacker than safety.
Another scout shrugged and said he would play a hybrid role of some sort.
"I've been practicing for both. I can play both and I can plug in right now and go make plays, so it doesn't matter to me," said Cravens, who has been projected as a second- to third-round selection in the draft, to be held April 28-30 in Chicago.
This year's group of early-round prospects is unusually thin by USC standards, but quarterback Cody Kessler held the attention of the 30-plus scouts in attendance as he ran through about 50 scripted throws.
Kessler aimed to show the ability to complete deep passes after a senior season full of short and intermediate throws. His performance was nearly flawless.
"We put a script together and we executed it like we wanted to and it went better — or as good as I wanted it to go — and it was fun," said the 6-1, 220-pound Kessler.
One scout said Kessler, widely projected as a late-round pick, had a good outing, that he moved well and was accurate, but didn't display great arm strength.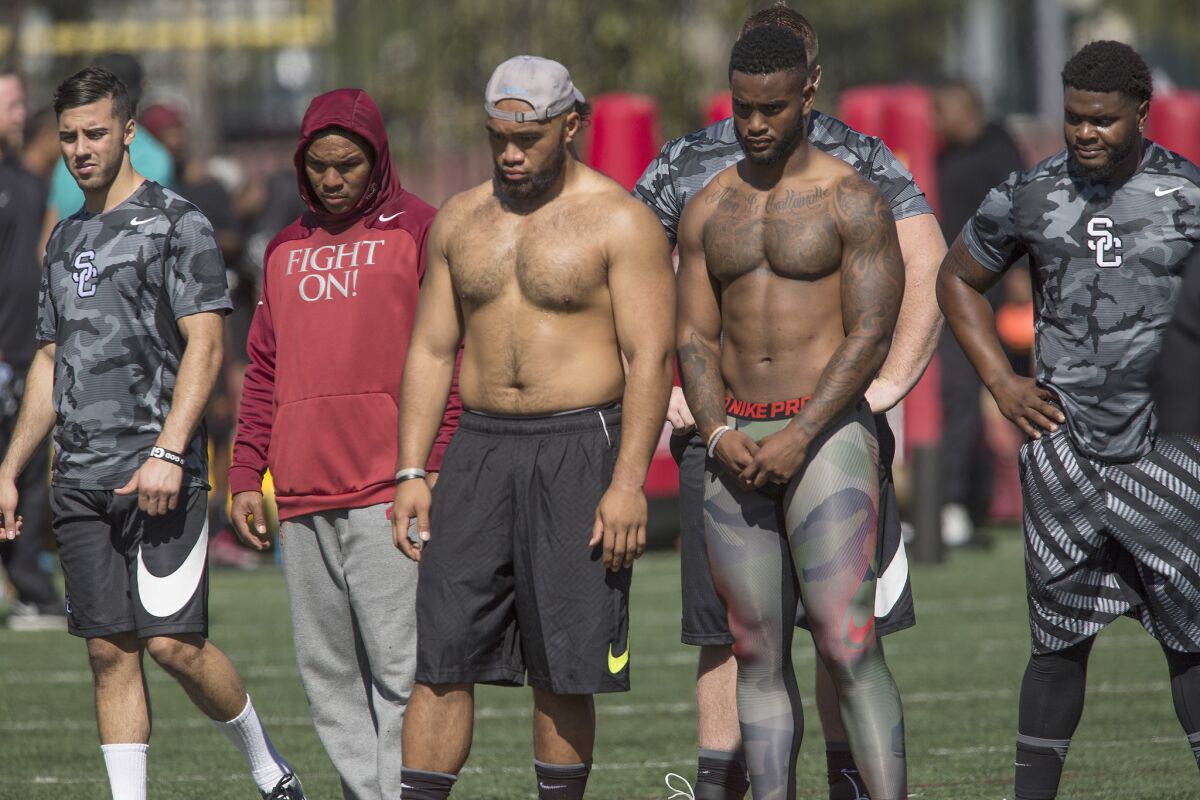 Eleven other former Trojans participated in field workouts: Defensive linemen Antwaun Woods, Delvon Simmons, Claude Pelon, Greg Townsend Jr. and Cody Temple; linebackers Lamar Dawson and Anthony Sarao; cornerback Kevon Seymour; tailback Tre Madden, and fullbacks Soma Vainuku and Jahleel Pinner.
Woods, 6-0 and 318-pounds, ran a swift 5.07-second 40 before he strained his hamstring in his second attempt. He powered through position drills despite the injury.
Offensive lineman Max Tuerk attended pro day but did not participate in drills. He suffered a season-ending knee injury in October and is expected to return to football activities within a couple of months.
Twitter: @LindseyThiry
Get the latest on L.A.'s teams in the daily Sports Report newsletter.
You may occasionally receive promotional content from the Los Angeles Times.