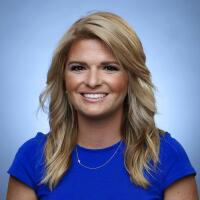 Lindsey Thiry is a former general assignment multimedia sports reporter for the Los Angeles Times. She began working for The Times as a contributor to the digital sports report, with a focus on USC football, and left in 2018. Thiry has appeared on nationally televised sports broadcasts on Fox Sports 1. She grew up in Seattle and graduated from the University of Washington.
Latest From This Author
Hannah Suh had never seen her little brother Justin so happy, and she had never felt more proud.

The progress of Matt Fink and Jack Sears was apparent Saturday during USC's spring practice finale at Cromwell Field.

Iman Marshall took the advice in stride.

USC quarterbacks Matt Fink and Jack Sears are playing with a chip on their shoulder in their final week of spring practices.

The on-again, off-again relationship between USC and J'Raan Brooks is on-again ahead of national signing day.

Clay Helton breathed a sigh of relief.

USC's young quarterbacks are trying to find their footing.

The quarterback competition at USC this spring bares little resemblance to recent battles for the position.

Bryan Ellis didn't get much sleep last season. He's expecting even less in the coming months.

Talanoa Hufanga could be enjoying spring break this week with his high school classmates.