What we learned from USC's scrimmage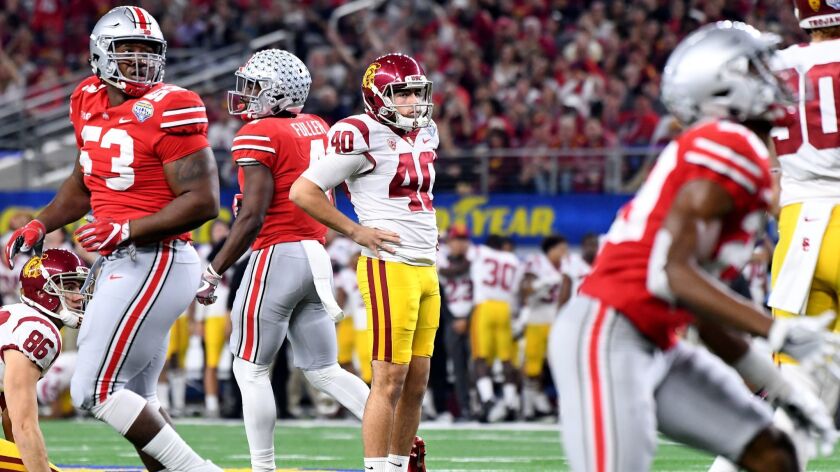 USC coach Clay Helton knows what to expect from his veterans.
So Helton rested his upperclassmen during the team's scrimmage Saturday. It was time for the young Trojans to prove themselves — Helton's last chance to study them before the upcoming week of practice, the team's mock game week.
"We really needed to see, OK, who can realistically contribute in that opening game," Helton said. "And that's what part of this scrimmage was about is to thrust those younger players to the forefront."
Several of those players emerged Saturday, and the team showed improvement, especially on defense. Here are five takeaways from USC's second scrimmage.
Kicking battle arises
Chase McGrath made the most of his time starting when Michael Brown tore his ACL last season. McGrath earned a scholarship and the presumed starting spot.
That means this year, one scholarship kicker will watch from USC's bench.
But Brown resisted being relegated to a backup role. He and McGrath matched each other with down-the-middle makes at varying distances Saturday.
Until the final attempt, that is. After Brown nailed his kick, McGrath booted the ball crooked and just short.
"It was really neat to have Michael Brown back out here, get through a camp, look healthy," Helton said. "And today was excellent, especially on some long field goals."
Explosive plays limited
In the first scrimmage, it looked like the defense didn't know what to make of JT Daniels. Explosive plays became a pattern.
Not this time. The defense clamped down Saturday, limiting the Trojans to a handful of damaging plays. Helton said the effort allowed the offense to practice time-consuming drives and develop the patience to accumulate yardage slowly against an unrelenting defense.
Only Jack Sears found the end zone, with a short rushing touchdown. Helton wanted to see more explosiveness, but he didn't name a fault in the offense. The defense was that stifling.
"We made a point of emphasis, you saw that first scrimmage, that was something that really stood out," Helton said. "That's something that I think defensively they took to heart, and they did a nice job today."
Devon Williams impresses Helton
The offense struggled to string together explosive plays, but not Devon Williams.
Early in Sears' third drive, the freshman receiver completed a catch deep. A few plays later, he did it again, snagging a bullet from Sears and bolting within a few yards of the end zone, setting up Sears' touchdown.
The former four-star recruit was a bright spot to Helton. Now, Williams turns to the next step — mastering the playbook.
"I know he made a mistake or two today, 'cause I could hear Tee [Martin] over the headset," Helton said, laughing. "But that's the beauty of being out here … just to see the reality of where they're at. And you could see his natural play ability."
Trevon Sidney worth watching
Trevon Sidney went down clutching the ball Matt Fink hurled his way, as he rolled onto the ground well past the first-down marker.
He sprang back up with his arm stretched in triumph, gripping the ball as he ran back to the sideline. It was Sidney's second big play of the scrimmage.
The first he made for himself. After catching a short pass from Fink earlier in the drive, he wove around defenders untouched before being brought down around midfield.
The plays are a reason for optimism about Sidney, who contributed 35 yards on three catches last season.
Improvements in open-field tackling
Helton put the defense through a tackling-heavy training camp, and on Saturday, that work paid off. Even when the offense found space in the open field, the defenders shut them down with impressive open-field tackles.
One highlight came when Levi Jones took down Stephen Carr in the open field. Twice.
"He's been battling a little bit of an ankle, but really wanted to go today," Helton said. "And, gosh, he showed it. He looked healthy, and he looked explosive."
Helton was excited at the thought of pairing Jones alongside speedy inside linebacker John Houston.
Twitter: @rblakerich_
---
Get the latest on L.A.'s teams in the daily Sports Report newsletter.
You may occasionally receive promotional content from the Los Angeles Times.