Blind long snapper Jake Olson takes part in USC practice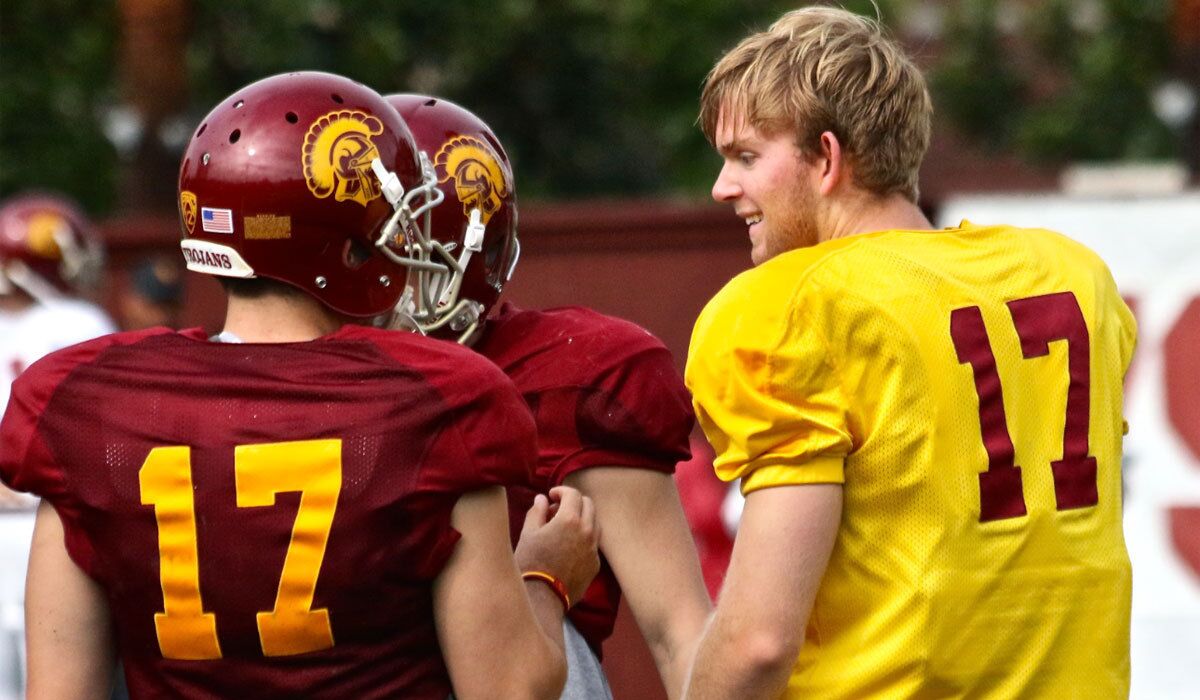 In uniform for his first USC football practice, Jake Olson emerged from the McKay Center on Tuesday morning, placed his right hand on the shoulder of a staff assistant on his way up a ramp, then paused at the entrance to Brian Kennedy-Howard Jones Field.
The freshman long snapper, who is blind, reached up with his left hand and "tapped in" above the gate, just like all Trojans players on their way into the facility.
It was another major step toward fulfilling his dream of playing in a game.
Olson was not made available for media interviews, but he said in a statement posted on the school's website that it was "a surreal feeling."
Olson, 18, was born with retinoblastoma, a rare cancer of the retina. He lost his left eye at 10 months and endured numerous procedures to save his right eye. Former coach Pete Carroll and the USC athletic department embraced Olson and his family before Olson's right eye was removed at age 12.
Olson competed in football and golf at Orange Lutheran High, achieved a 4.3 grade-point average and earned a "Swim With Mike" scholarship to USC, awarded annually from the Physically Challenged Athletes Scholarship fund.
On Tuesday, he impressed teammates as the sixth-ranked Trojans began preparations for Saturday's Pac-12 Conference opener against Stanford.
"He did a good job," Coach Steve Sarkisian said. "I'm proud of the work that he put in."
So was quarterback Cody Kessler.
"It's awesome; it's really cool," Kessler said. "This team is so welcoming to him and it's great to have him in the locker room… He never makes excuses, he never complains about anything. He's out here working his butt off."
Carroll, who has maintained a close relationship with Olson as coach of the NFL's Seattle Seahawks, did not expect anything less.
"Nothing surprises me when it comes to Jake," Carroll said in a text message. "He is one of the greatest competitors I've known. He epitomizes the spirit of 'Fight On!'"
Olson said in his statement: "I can't thank enough everyone who helped make this possible, all the coaches, staff and players at USC, the compliance and medical staffs here, the Swim With Mike program and the NCAA. I'm excited to help this team in any way I can and be a great teammate. I love this team and I always have, and now it feels great to be a part of it. Fight On!"
Olson told The Times in April that all he wanted was a chance to prove himself, like any other player.
"He doesn't want to be treated differently," punter Reid Budrovich said. "He thinks, 'I'm good enough to compete against these people. Why should they go easy on me?'"
The 6-foot-4, 195-pound Olson wore jersey No. 17 on Tuesday. His jersey was yellow, like those worn by quarterbacks, which alerts others not to make contact.
During the workout, Budrovich, starting long snapper Zach Smith, punter Kris Albarado and holder Conner Sullivan helped guide Olson, who could not practice until he was cleared by the NCAA and USC to participate in football. Because the Swim With Mike scholarship is regarded as athletic aid, USC sought a waiver from the NCAA so that Olson would not count against the 85-scholarship roster limit.
"It's a real credit to a lot of people to get this done," Sarkisian said. "A credit to our compliance office to work with the NCAA and it's a credit to the NCAA to understand that this is a special situation."
Dave Schnase, NCAA vice president of academic and membership affairs, said in a statement on USC's website: "Jake's case is a great example of the NCAA national office and its members working together to provide opportunities to college athletes. We are happy that Jake has the opportunity to wear a USC jersey and perhaps even join his teammates on the field this fall."
Players said Sarkisian informed the team about two weeks ago that Olson would be joining them. Olson was not in uniform, but he was on the sideline and inside the locker room for victories over Arkansas State and Idaho.
Olson's guide dog, Quebec, also has been in the locker room before games and barks when the team gets fired up, Budrovich said.
Olson did not participate in live drills Tuesday because he has not been cleared for contact. Other specialists handed him the ball and lined up his hips, then watched him deliver snaps on a line to the holder for field-goal and extra-point attempts.
"All we do is position him, line his feet up and he does the rest," said Sullivan, a fourth-year junior who also played at Orange Lutheran.
Sarkisian and Trojans players said they were inspired by OIson, who co-wrote two faith-based books about overcoming adversity, is an accomplished public speaker and, through his Out of Sight Faith foundation, raises money to put technology in the hands of the blind.
"We all knew he wanted to be a Trojan," Sullivan said. "Now he's finally made that dream a reality."
Quick hits
Senior cornerback Kevon Seymour was held out of drills because of an unspecified knee injury suffered against Idaho. Sarkisian said it was not structural.
::
Linebacker Lamar Dawson, who sat out the first two games because of a rib injury, remains questionable for Saturday's game.
Follow Gary Klein on Twitter @latimesklein
Correspondent Lindsey Thiry contributed to this report.
---
Get the latest on L.A.'s teams in the daily Sports Report newsletter.
You may occasionally receive promotional content from the Los Angeles Times.