Pete Carroll reflects on success before USC Hall of Fame induction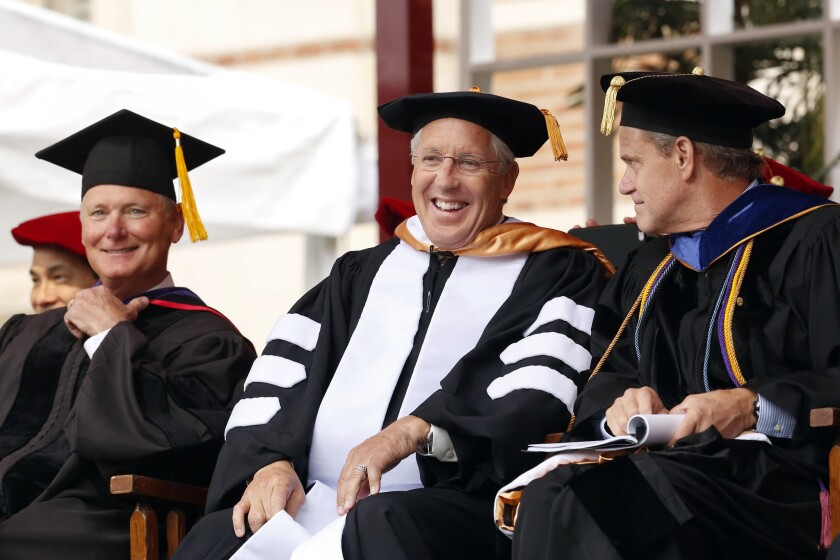 Pete Carroll stood at the podium in the McKay Center team room Saturday and reflected on the success achieved during his tenure as USC's football coach.
Carroll's run, which included two national titles during his tenure from 2001 to 2009, essentially laid the foundation for construction of the McKay Center.
"It really was part of the vision," Carroll said. "It's state of the art. ... It wasn't like this when I was here, so to see it as it is is rewarding."
Carroll made his remarks a few hours before he was inducted into USC's Athletic Hall of Fame. Carroll is part of a 16-member class that includes former football players Jimmy Jones, Jack Del Rio, Tim Rossovich and coach Dave Levy.
"He did a great job of reigniting the passion," Del Rio, a former All-American linebacker and coach of the Oakland Raiders, said of Carroll.
Carroll, who received an honorary degree from USC on Friday, left USC after the 2009 season to become coach of the Seattle Seahawks. He has guided the Seahawks to one Super Bowl title and to within seconds of another.
Asked about NCAA sanctions that were handed down because of infractions that occurred during his tenure, Carroll said "it breaks my heart" that the university and players suffered, and he reiterated that he thought the NCAA overreached. The NCAA's investigation had centered on improper benefits received by Reggie Bush and his family.
USC was hit with a two-year bowl ban and lost 30 scholarships over three years. The Trojans emerged from probation in June 2014.
"We had so much success and we had so much fun doing it, it was uncommon for people to understand. ... I think it rubbed people the wrong way," he said. "There was such a bitterness."
Former assistant Todd McNair sued the NCAA for defamation after it denied his appeal to overturn a "show-cause" order that essentially made him unemployable by a college program.
During court proceedings, a Los Angeles Superior Court judge described the NCAA investigation as "over the top" and "malicious."
In March, the unsealing of nearly 500 pages of documents in the ongoing case included emails and memos that provided a window into the way the NCAA conducted its investigation.
"The fact that Todd continues to fight the way he has to regain his reputation and opportunities, I think, is really stellar," Carroll said. "He's taken a stand and he's stuck to it and there's a lot of information that comes to light because of that."
Carroll said USC "knows what they're doing" but would not speculate on any relief the school might seek.
"What I hope is that the university gets what they rightfully deserve," he said.
Follow Gary Klein on Twitter: @latimesklein
---
Get the latest on L.A.'s teams in the daily Sports Report newsletter.
You may occasionally receive promotional content from the Los Angeles Times.