USC Coach Steve Sarkisian apologizes after using expletive, slurring words at campus event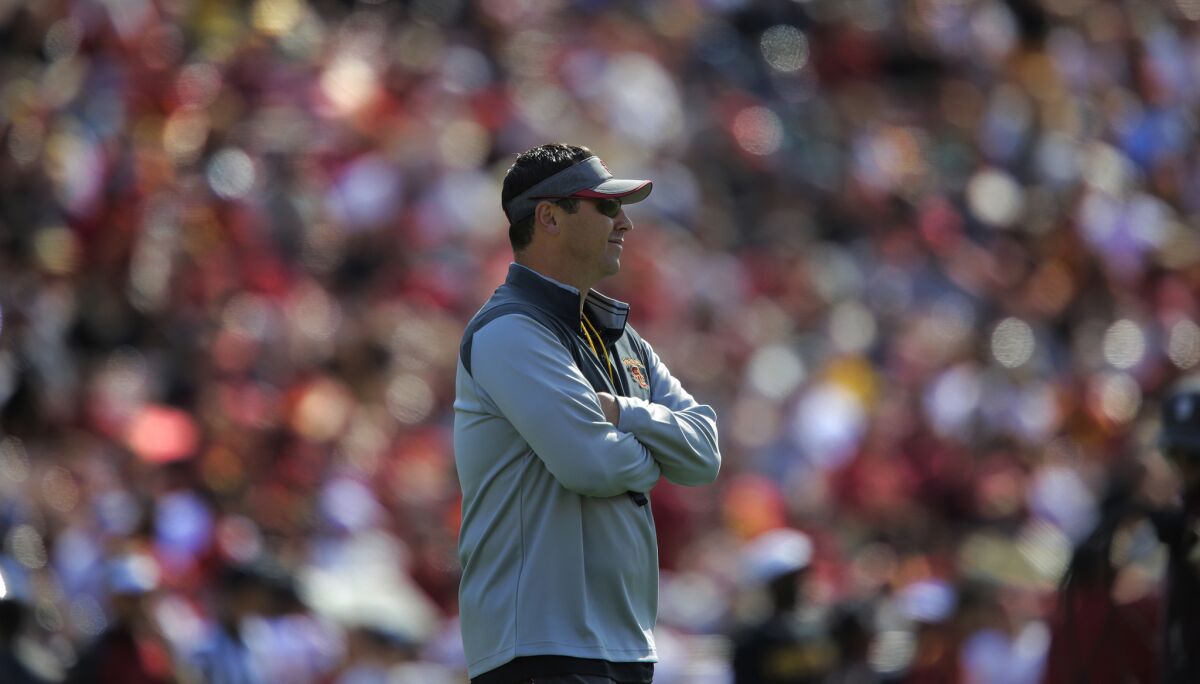 What was supposed to be an event to fire up the faithful for the upcoming season has turned into an embarrassment for USC and football Coach Steve Sarkisian.
Sarkisian on Sunday apologized for his behavior and language during Saturday night's "Salute to Troy," an annual event on campus where coaches and players are introduced to boosters and fans.
The head coach's presentation typically includes his introducing every assistant, but Sarkisian didn't make it that far, according to multiple people who attended the event.
Sarkisian slurred words, said several opposing teams "suck" and uttered an expletive before the rallying phrase "Fight On," several boosters said. Sarkisian appeared intoxicated, some said. The event was closed to the media.
Sarkisian's apology was issued on USC's athletic department website, which also carried a statement by Athletic Director Pat Haden.
"I sincerely apologize to my players and staff and to our fans for my behavior and my inappropriate language at our kickoff event Saturday night," Sarkisian said. "I have a responsibility to all of them and I let them down. Pat Haden talked to me after the event about my actions and I assured him this will not happen again."
Said Haden: "I met with Coach Sarkisian and I expressed my disappointment in the way he represented himself and the University at our Salute To Troy event. While the details of our conversation will remain between us, I am confident he heard my message loud and clear."
USC concluded training camp Saturday. The Trojans, ranked eighth in the preseason Associated Press media poll and 10th in the coaches' poll, open the season Sept. 5 against Arkansas State at the Coliseum.
The Trojans did not practice Sunday and will be off Monday for the first day of fall semester classes. They resume practice Tuesday, when Sarkisian is expected to meet with the media during a regular post-practice session.
Sarkisian is a former USC assistant who was head coach at Washington for five seasons before the Trojans hired him to replace Lane Kiffin. He guided the team to a 9-4 record last season, USC's first since coming off NCAA sanctions.
During the spring, USC confirmed that Sarkisian and his wife were in the process of divorce. Last season, Sarkisian and Haden were reprimanded and Haden was fined $25,000 by the Pac-12 Conference for "inappropriate sideline conduct" during USC's 13-10 victory over Stanford.
Sarkisian summoned Haden to the field late in the third quarter of the Stanford game after he was called for an unsportsmanlike-conduct penalty. Haden, a member of the College Football Playoff selection committee, jogged to the sideline and had an animated conversation with officials.
The "Salute to Troy" event is becoming a flash point for drama. Last year, Haden was absent after being hospitalized for a heart issue. Shortly after the event, former cornerback Josh Shaw injured his ankles after he leaped off a balcony at his apartment near downtown to evade police.
Shaw told USC officials he was injured while attempting to save a relative from drowning in a pool at an apartment complex in Palmdale. USC posted the heroic tale on its website, but Shaw later admitted that he had fabricated the story. He was suspended and sat out 10 games before the police concluded an investigation about the incident at his apartment and USC reinstated him to the team.
Saturday's event featured the emotional return of former USC athletic director Mike Garrett, who received a standing ovation from the crowd. Garrett attended the event as part of the celebration to honor the 1965 Trojans team. Garrett was USC's first Heisman Trophy winner that season.
Haden replaced Garrett as athletic director in August 2010, two months after the NCAA handed down penalties against USC and cited it for lack of institutional control.
Haden has disciplined a coach for embarrassing public behavior at least once before. In 2011 he suspended Kevin O'Neill, then the USC basketball coach, after an altercation with an Arizona fan at a hotel near L.A. Live during the conference basketball tournament.
Twitter: @latimesklein
Times correspondent Lindsey Thiry contributed to this report.
---
Get the latest on L.A.'s teams in the daily Sports Report newsletter.
You may occasionally receive promotional content from the Los Angeles Times.