What does your Christmas tree say about you? (Does it say you're boring?)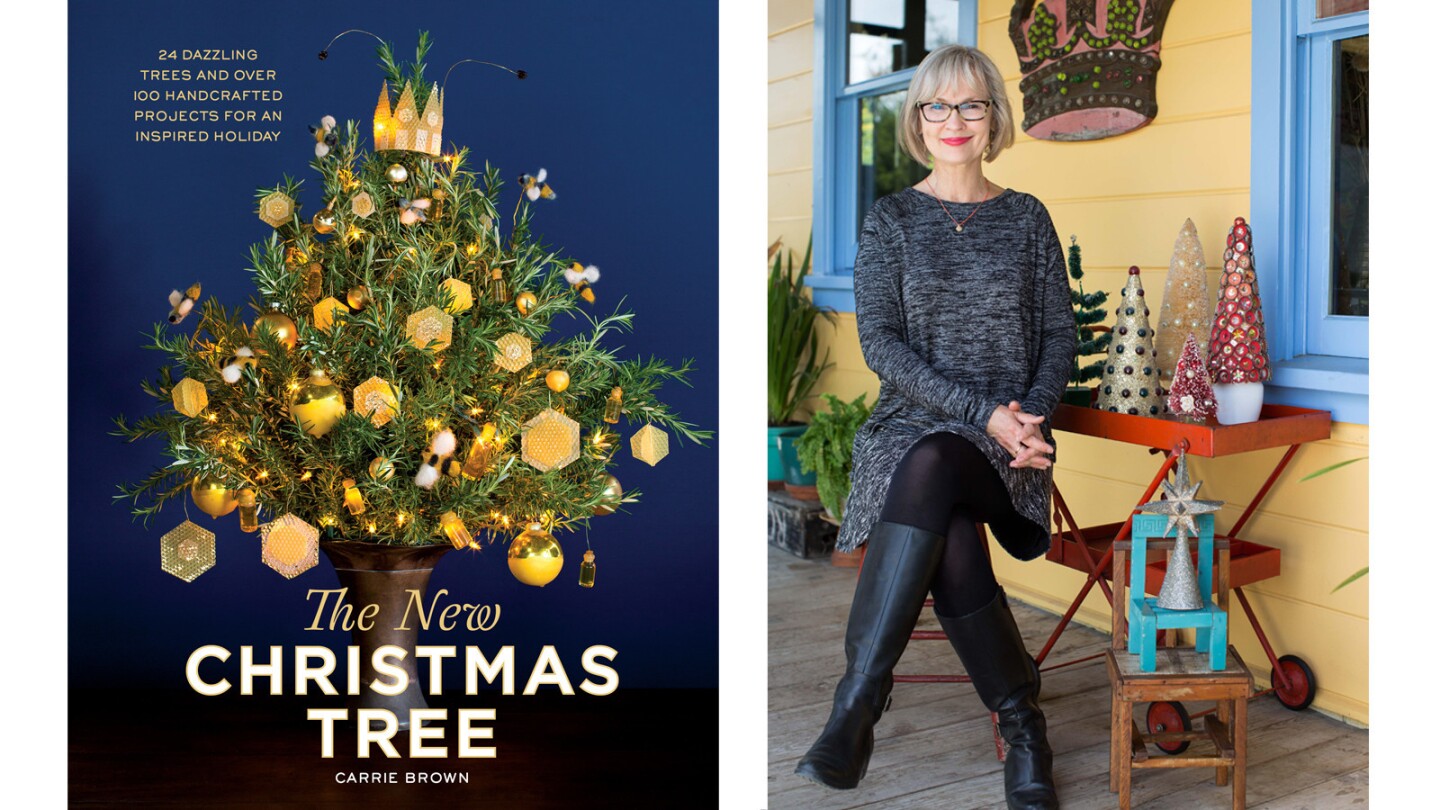 In "The New Christmas Tree," Carrie Brown offers 24 "uncommon" tree designs that lean heavily on hand-crafting.
(Artisan Books (left), Paige Green (right).)
A tapestry tree is one of the designs in "The New Christmas Tree."
(Paige Green)
Carrie Brown explains the giving tree: "Each day, a child opens an envelope that has a good deed written inside — make someone smile today or make a donation to a food bank."
(Paige Green)
A folk-art tree from the book "The New Christmas Tree."
(Paige Green)
The bees tree is one of Carrie Brown's themed designs.
(Paige Green)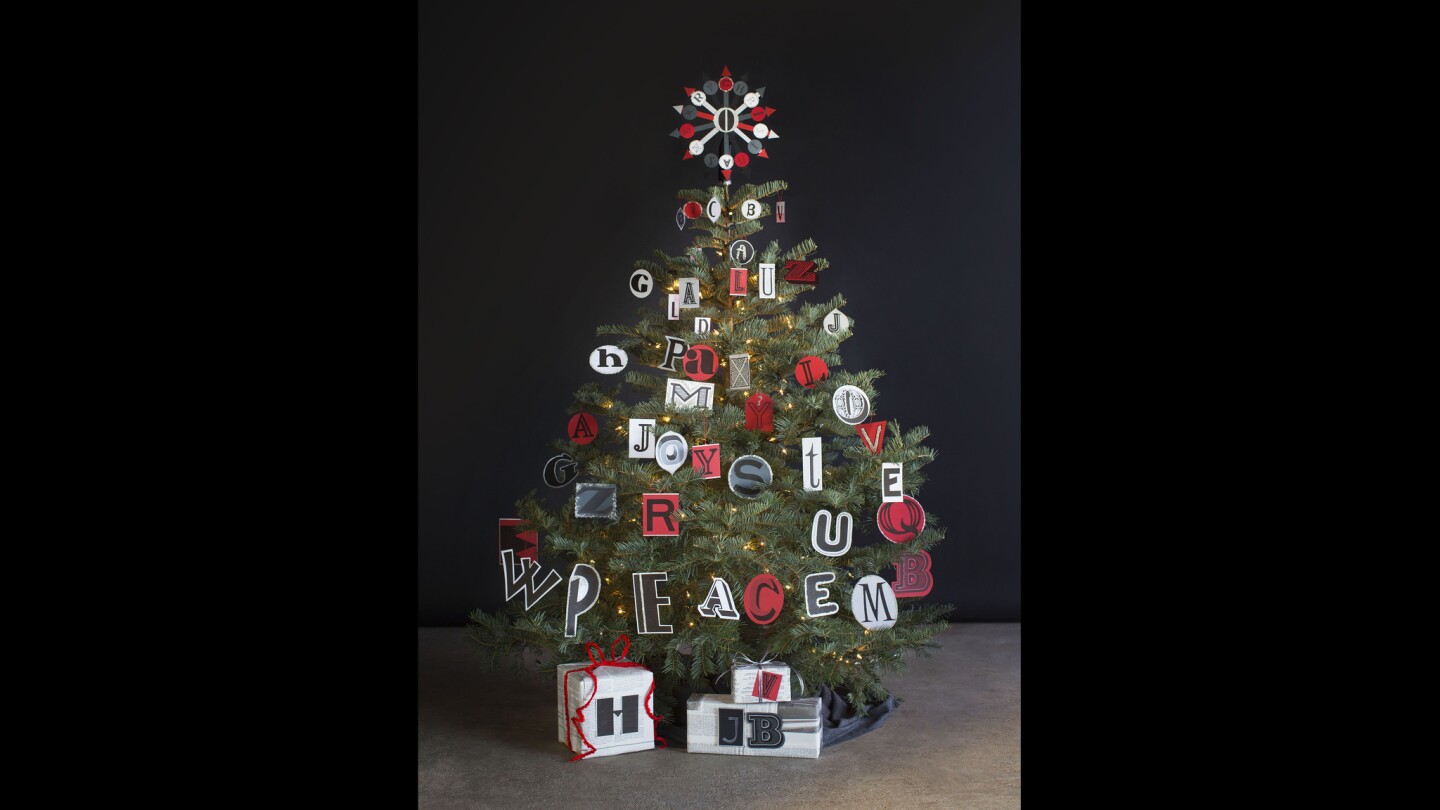 The typography tree from "The New Christmas Tree."
(Paige Green)
Turning things around with the upside-down tree.
(Paige Green )
Carrie Brown is best known to her clientele as the woman who resurrected the 125-year-old country store Jimtown, eight miles outside of Healdsburg, Calif., in the vineyard-rich Alexander Valley. Her unconventional Christmas tree designs — such as the s'mores tree that, as it burns, toasts the marshmallows skewered on its branches — brought her local fame. In her new book, "The New Christmas Tree," Brown offers 24 "uncommon" tree designs that lean heavily on hand-crafting. With her step-by-step ornament instructions, as well as advice on buying and maintaining trees and other decorations, Brown turns tree decorating into an intensely personal experience. "That's the beauty of Christmas," she says, "and the beauty of making something that says: This is very me, this is my kind of Christmas."
What made you want to write this book?
It was an idea that was presented to me, and it was a rich, juicy, creative gift. I had to come up with 24 to 25 themes for new trees, and within 24 hours I had at least 19 of them. Some I had done previously, and others, I thought of what would inspire me and be new and creative. So I scribbled them and drew them and was well on my way.
You wrote, "I'm forever chasing that sense of wonder I had when I was growing up, it's an essential ingredient in a spectacular tree." What is it that people look for in their Christmas trees?
It does have that emotional component. It is that symbol of light in the dark, dreary days of winter. People are looking for something not commercial. They don't want something cookie-cutter or that came from the mall. Young people are yearning for something homemade. It might not necessarily be their parents' tree, because maybe it doesn't resonate with them anymore.
So it doesn't have to be all nostalgia. People should be willing to change it up?
Forms evolve, why not Christmas tree decorations? I think there are components and ornaments that are heirlooms that people want to include. I'm not saying throw those out at all. A lot of the ornaments of the Folk Art Tree in the book come from the boxes in my parents' house. The book is intended to inspire people in different ways, or at least to consider the tree in different ways.
You work around the idea of theme trees. What do theme trees bring to the party that a regular tree does not?
It's a way to make a focused statement and a cohesive design, whether organized by color or subject. There's something about strength in numbers. When you have a lot of them, and they are all different, there is a depth, theme and variations. I think that the idea is to make something beautiful and to interject a little humor and whimsy and sense of fun.
How do you recommend people go about choosing a meaningful theme for their tree?
It might be something fun to think about as a family. Obviously, my book is here to inspire. I think that the book might also act as a springboard in that they might find an ornament they might want to make that speaks to them. You can pick and choose ornaments, using color as the unifying element, or incorporate found objects. There are so many different crafts in this book that you can do together; you can talk and listen to music and have fun doing it as a family or community. I love that aspect of it.
One of the notable things about your designs is that you use a lot of inexpensive materials.
You can find an ornament almost anywhere, make things out of recycled ingredients, collect and find things that are inexpensive. You don't have to spend $25 on some hand-blown extravaganza. It's more satisfying, don't you think, to make something out of nothing?
And you make it clear a Christmas tree doesn't have to be a tree at all.
A tree doesn't have to be a triangle. I love making trees on bare branches, like the Giving Tree, which is my idea of an advent tree. Each day, a child opens an envelope that has a good deed written inside — make someone smile today or make a donation to a food bank. It will say "tree" because it has ornaments and reflects light, but it is an opportunity to make a personal statement. I love the idea of having the tree reflect who you are as a person or a family.
ALSO:
Holiday wreaths: Spread some cheer at your doorstep
9 must-have gadgets for the techie on your gift list
Get all your holiday shopping done on Sunset in Silver Lake: 19 can't-miss stores and boutiques
---
The essential weekly guide to enjoying the outdoors in Southern California. Insider tips on the best of our beaches, trails, parks, deserts, forests and mountains.
You may occasionally receive promotional content from the Los Angeles Times.