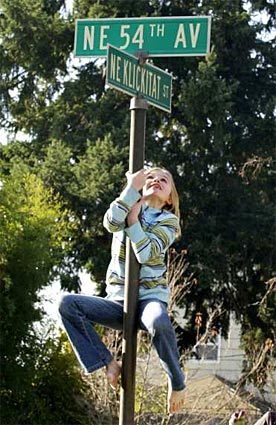 6 Images
Author Beverly Cleary's Portland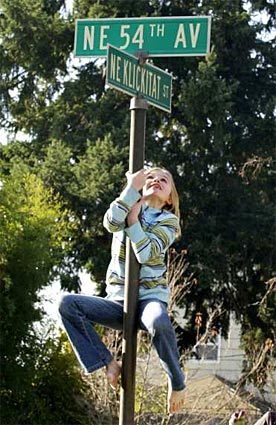 Writer Denise Hamilton explores Henry and Ramona's true turf
Any reader worth her salt knows that Klickitat Street is where Henry Huggins and Ramona and Beezus (née Beatrice) Quimby lived in the classic children's books by Beverly Cleary.
For me, they weren't just characters, they were real children, filled with the desires, dilemmas and annoyances that consumed my own life. I could almost hear them playing a few blocks down the street. And I longed to share their adventures.
"I climb up this pole all the time," exclaims Allie O'Brien as she slides down the Klickitat Street sign near her home in Portland, Oregon.
(Andrea J. Wright / For The Times)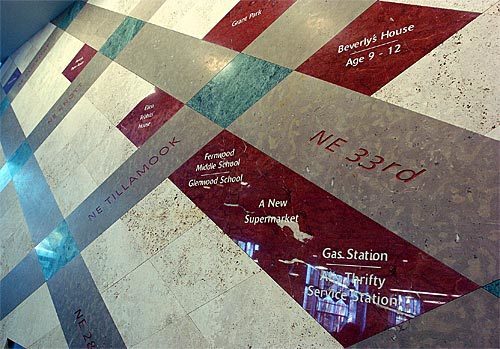 After I grew up, I discovered Cleary all over again when I read her books to my boys. I was almost afraid to revisit them. Her first, "Henry Huggins," came out in 1950. What if it was embarrassingly dated or no longer relevant to wired, 21st century kids? To my delight, Henry, Ramona, Beezus, Scooter and the gang were as engaging to my children's ears as they'd been to mine. So were her other books, especially "The Mouse and the Motorcycle" trilogy, which spotlights those twin icons of boyhood — rodents and bikes.
This map titled "Beverly Cleary's Neighborhood" is on the eastern wall of the Hollywood Library in northeast Portland. The map is 27 inches wide and 12.5 feet high and made of marble, travertine and limestone--a testament to the enduring characters
(Andrea J. Wright / For The Times)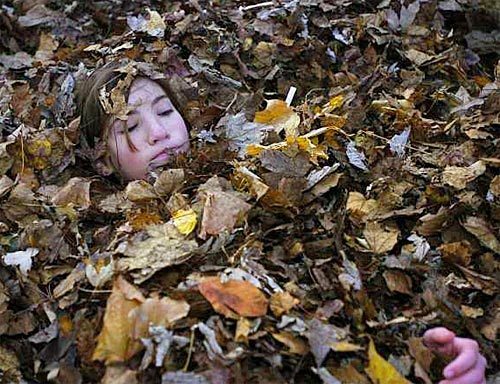 On Klickitat Street, I pictured Cleary in an upstairs bedroom with a notebook on her lap, biting a pencil and staring out at the rain. This was the fount, the touchstone. From here, an entire world had sprung!
Four blocks away, we found Grant Park, a leafy, inviting place with swings, slides and merry-go-rounds. Could this be where Henry caught 1,000 night crawlers to sell to fishermen? Where the Woofies Dog Food Co. had awarded Ribsy a trophy for Most Unusual Dog?
Sydney Folwell, 12, plays in a pile of leaves at Grant Park in northeast Portland, right near Klickitat Street.
(Andrea J. Wright / For The Times)
As we read each book aloud, I analyzed why Cleary's writing seems as fresh today as it did a half-century ago. For starters, the writing is simple, clear and funny. Her plots revolve around elemental themes — a birthday party, odious chores, a lost dog, a pesky little sister, the need for spending money. Lastly, there are no pyrotechnics, no irony, no local color. It could be Anywhere, USA.
Emma Kluegel, 7, plays with her dog Jager near Klickitat Street at the Alameda School park.
(Andrea J. Wright / For The Times)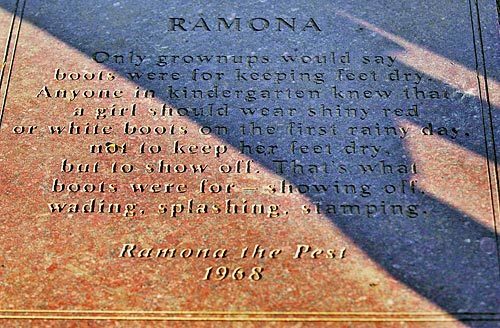 My husband discovered a fountain and sculpture garden and called me over. As twilight fell, I beheld bronze statues of a boy, a little girl in rain gear and a dog. They looked somehow .ƒ|.ƒ|. familiar.
Reading the plaque, I laughed in disbelief. With the serendipity that life sometimes bestows, we¡¦d wandered into the Beverly Cleary Sculpture Garden.
It¡¦s a magical place, with quotes on granite tiles from her most famous books. The sculpted figures by local artist Lee Hunt capture Cleary¡¦s characters in all their pesky, kinetic glory.
This plaque stands near the sculpture of Ramona in Grant Park.
(Andrea J. Wright / For The Times)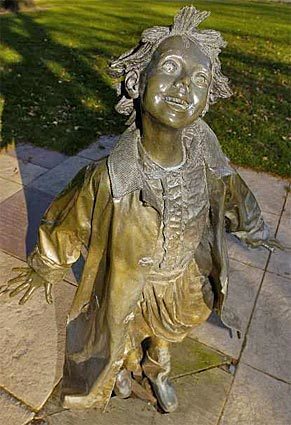 Avid "Ramona" fans will recognize details from Cleary's childhood: In elementary school, Cleary was puzzled by the song lyrics, "the dawnzer lee light"; her father lost his job during the Great Depression; she was teased for naming her doll Fordson-Lafayette after a tractor. (Ramona calls her doll Chevrolet, "the most beautiful name in the world.")
There is a statue of Ramona, one of Beverly Cleary's most beloved and pesky characters, at Grant Park in northeast Portland.
(Andrea J. Wright / For The Times)