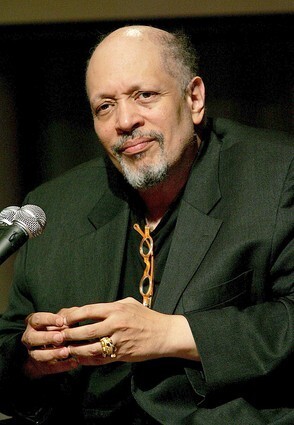 5 Images
Walter Mosley's Los Angeles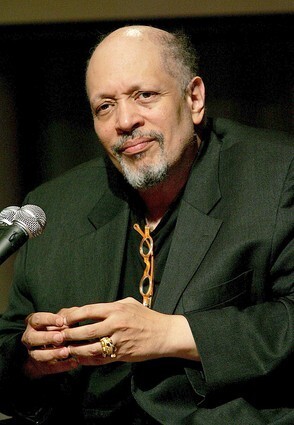 From the moment Walter Mosley's Easy Rawlins arrived in Los Angeles in 1946, he out-Chandlered Chandler with his observations of its street life. From "Devil in a Blue Dress" to the latest, "Blonde Faith," his wise, sad, cynical and offhanded comments chronicle the evolution of this city from a postwar segregated boomtown to a riot-scarred modern metropolis. The following are excerpts about L.A. from Mosley's books.
Author Walter Mosely in 2007.
(Paul Hawthorne, Getty Images)
Los Angeles, 1948.:
"Sophie was a real Southerner, so much so that she could never last in the workaday world of Los Angeles.
"Because in L.A. people don't have time to stop; anywhere they have to go they go there in a car. The poorest man has a car in Los Angeles; he might not have a roof over his head but he has a car. And he knows where he's going too. In Houston and Galveston, and way down in Louisiana, life was a little more aimless. People worked a little job but they couldn't make any real money no matter what they did. But in Los Angeles you could make a hundred dollars in a week if you pushed. The promise of getting rich pushed people to work two jobs in the week and do a little plumbing on the weekend."
--"Devil in a Blue Dress," 1990
103rd Street in Watts
(Los Angeles Times)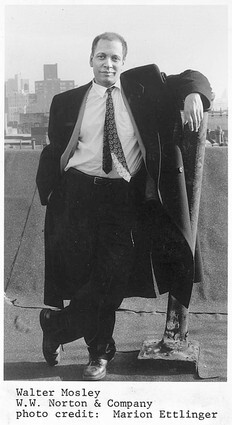 Los Angeles, 1953.:
"I drove north to Pasadena, where I picked up Route 66, called Foothill Boulevard in those days. That took us through the citrus-growing areas of Arcadia, Monrovia, and all the way down to Pomona and Ontario. The foothills were wild back then. White stone and sandy soil knotted with low shrubs and wild grasses. The citrus orchards were bright green and heavy with orange and yellow fruit. In the hills beyond roamed coyotes and wildcats."
--"A Red Death," 1991
Author Walter Mosley, circa 1997.
(Marion Ettlinger / W.W. Norton & Co.)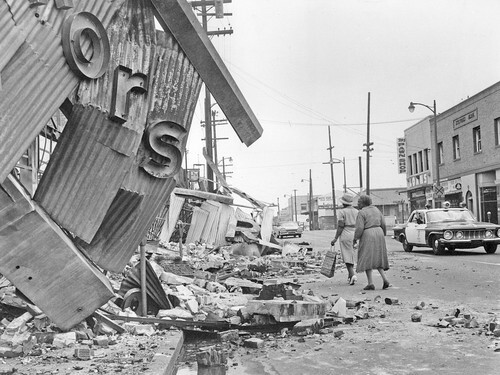 Los Angeles, 1965:
"Poverty took on a new class in L.A. Anyone looking in from the outside might think that this was a vibrant economic community. But the people there were still penned in, excluded, underrepresented in everything from Congress to the movie screens, from country clubs to colleges.
"But there was something else different. The riots were beginning to wear off. Life was becoming what was to become normal after all of the stores had been burned down. People were going to work. The police and National Guard were less present."
--"Little Scarlet," 2004
Rubble from the Watts riots in Los Angeles.
(Los Angeles Times)
Los Angeles, 1967:
"There was a small park down in the center of Watts next to a giant sculpture called the Watts Towers. The gaudy towers were built by a man named Rodia over a period of thirty-three years. He built them from refuse and simple material. It was a whimsical place in a very grim part of town.
"The park had a few trees and picnic tables on grass worn thin by hundreds of children's tramping feet. Meredith Tarr had told me that Timor Reed and Blix Redford were there almost every day, 'Drinkin' gin and wastin' time.' Pericles would go to visit Tim and Blix once a week or so to share their rotgut and play checkers.
"I got there just before noon. ....
"Looking at those men and that board, I felt as if I were witnessing the devolution of a culture.¨
--Blonde Faith,¨ 2007
Watts Towers circa 1956.
(Los Angeles Times)