9 Images
An artful restoration
The roof area of the studio Dave Tourje is building behind his restored 1907 South Pasadena home picks up on the Monterey Colonial farmhouse's artistic beginnings. Tourje discovered the house's history and fused his artistic style with that of former owner Nelibertina "Nelbert" Chouinard, who founded the Chouinard art school and often hosted artistic gatherings at the residence.
(Mel Melcon / LAT)
An iconic poster for the 1966 surf film "The Endless Summer," designed by Chouinard graduate John Van Hamersveld, is one of several pieces by former students that decorate the home.
(Stephen Osman / LAT)
A photo of Nelibertina "Nelbert" Chouinard. Chouinard started the prestigious Southern California art school in 1921. It closed in 1972, three years after Chouinard's death.
(Stephen Osman / LAT)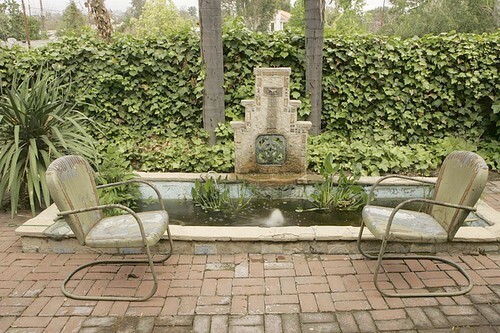 A backyard pond and fountain are studded with Batchelder tiles dating to the Arts and Crafts movement, which was popular in Pasadena at the turn of the last century.
(Stephen Osman / LAT)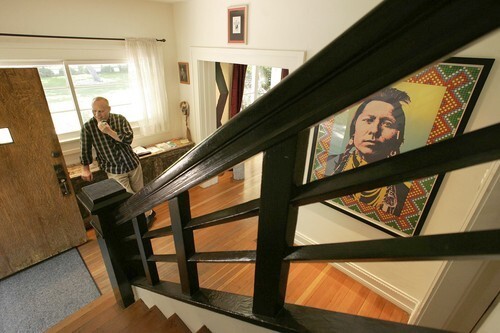 Dave Tourje in the foyer of his home, which has been recognized as a South Pasadena Cultural landmark. At right is a John Van Hamersveld lithograph for the rock group Jefferson Airplane.
(Mel Melcon / LAT)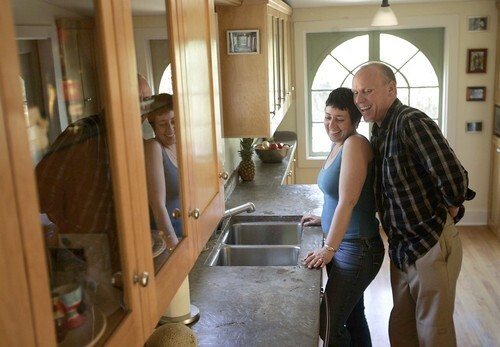 Dave Tourje and wife Linda in the kitchen, which they gutted during the renovation. Tourje poured concrete countertops and reused as many of the original details as he could.
(Mel Melcon / LAT)
Dave Tourje's artwork lines the upstairs hallway of his South Pasadena home. At left is a 1986 piece titled "The Gypsy Woman Told Him Things He Didn't Want to Know." At right is his 2002 mixed media work "Falling Dream I."
(Mel Melcon / LAT)
Dave Tourje lounges on the living room couch while his wife Linda sits at the piano. The living room, like the rest of the house, is filled with Chouinard artists' work and pieces by the Tourjes and friends.
---
FOR THE RECORD:
Artist's home: An article in Thursday's Home section on the South Pasadena home of Dave Tourje included a photo caption that credited three artworks to Tourje's friend and said they hung in the living room. The art was all done by Tourje himself, and it hangs in the smoking room. —
---
(Mel Melcon / LAT)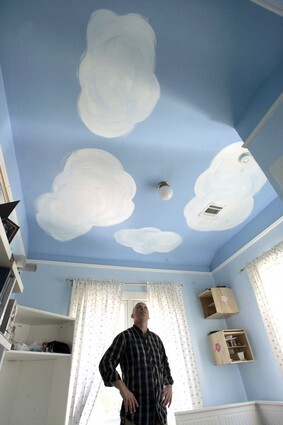 Dave Tourje painted a cloud motif on the ceiling of his daughter's bedroom, one of five bedrooms in the house.
(Mel Melcon / LAT)