6 Images
Mexico City's Condesa
BOHEMIAN:
Condesa, an oasis in the middle of stressed-out Mexico City is home to the artists, musicians, novelists and filmmakers who give Mexico its global identity.
(Don Bartletti / LAT)
AT LEISURE:
Arriaga Jordán and husband John Page relax in their kitchen. "The one thing I really like is the mix of people," Arriaga Jordán says of Condesa's intriguing community.
(Photo By Sarah Meghan Lee)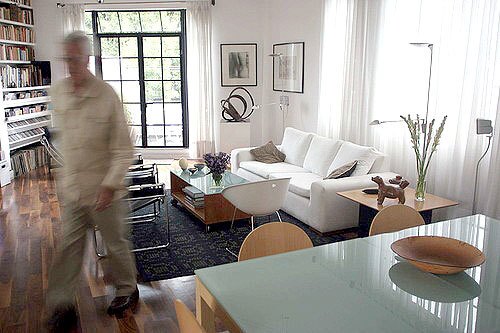 A JEWEL OF A DISTRICT:
John Page's living room is a showcase of gleaming modern furniture and organic art forms. The college professor and his filmmaker wife, Patricia Arriaga Jordán, sold their home in an upper-middle class district to move to the trendy yet gritty Condesa area.
(Photo By Sarah Meghan Lee)
FUSION:
Traditional design mixes with modernism in the Condesa area.
(Don Bartletti / LAT)
GROWTH MAGNET:
Old and new traditions share space in Mexico City, where a vendor sets up in the Condesa district. The Torre Mayor, Latin America's largest skyscraper, towers above.
(Don Bartletti / LAT)
TRANQUIL:
Casa Modotti, a pie-shaped building where Tina Modotti, the famous photographer, actress and muse of Edward Weston lived, was near the heart of Bohemian Condesa in the 20's and 30's.
(Don Bartletti / LAT)