Bloody Marys garnished with pickled green beans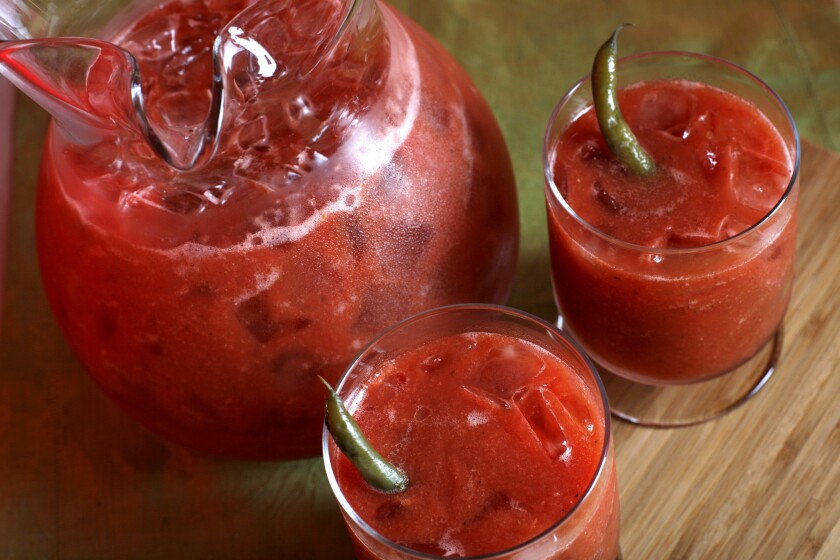 Total time: 35 minutes, plus 24 hours marinating time
Servings: 60
Spicy pickled green beans
1 pound green beans, trimmed
1 cup red wine vinegar
1/2 cup cider vinegar
1/4 cup balsamic vinegar
2 tablespoons mustard seeds
1 tablespoon black peppercorns
2 tablespoons salt
1 tablespoon sugar
2 teaspoons fennel seeds
2 teaspoons crushed red pepper flakes
8 garlic cloves, chopped
8 fresh dill sprigs, chopped
4 bay leaves
1. Cook the beans in a large saucepan of boiling water until crisp-tender, about 3 minutes. Drain and cool in a bowl of ice water. Strain and set aside in a shallow baking dish.
2. In a medium saucepan, combine the vinegars, mustard seeds, peppercorns, salt, sugar, fennel seeds, pepper flakes, garlic, dill and bay leaves over high heat. Bring to a boil, and cook for 1 minute to dissolve the sugar and salt.
3. Pour the vinegar solution over the beans to cover completely. Marinate, refrigerated for at least 24 hours. The beans will keep refrigerated for 3 to 4 weeks.
Bloody Mary mix
6 large, ripe tomatoes, peeled, seeded and diced (juices reserved)
3 tablespoons lemon juice
3 tablespoons lime juice
2 tablespoons Worcestershire sauce
3 cloves garlic, minced
3 teaspoons hot sauce, such as Crystal
2 teaspoons minced fresh horseradish
2 1/2 teaspoons kosher salt
1 teaspoon Old Bay Seasoning
1 teaspoon celery seed
1 teaspoon fresh ground pepper
Blend the tomatoes, lemon and lime juice, Worcestershire, garlic, hot sauce, horseradish, salt, Old Bay, celery seed and pepper until smooth. Cover and chill until needed. This recipe makes 6 to 7 cups, depending on the size of the tomatoes; the mix will keep for 1 week.
Bloody Mary assembly
6 cups Bloody Mary mix
6 ounces good-quality vodka
Coarse salt for rimming the glasses, optional
6 pickled green beans, or 6 stalks celery with leaves, for garnish
1. In a pitcher, combine the mix and vodka.
2. If desired, dampen the rims of 6 old-fashioned glasses and dip them in coarse salt. Fill each glass halfway with ice, then divide the Bloody Marys among them.
3. Garnish each with a pickled bean or celery stalk, and serve.
Each of 6 servings: 112 calories; 2 grams protein; 11 grams carbohydrates; 3 grams fiber; 1 gram fat; 0 saturated fat; 2 mg. cholesterol; 564 mg. sodium.
---
The essential weekly guide to enjoying the outdoors in Southern California. Insider tips on the best of our beaches, trails, parks, deserts, forests and mountains.
You may occasionally receive promotional content from the Los Angeles Times.