Recipe: Pizzoccheri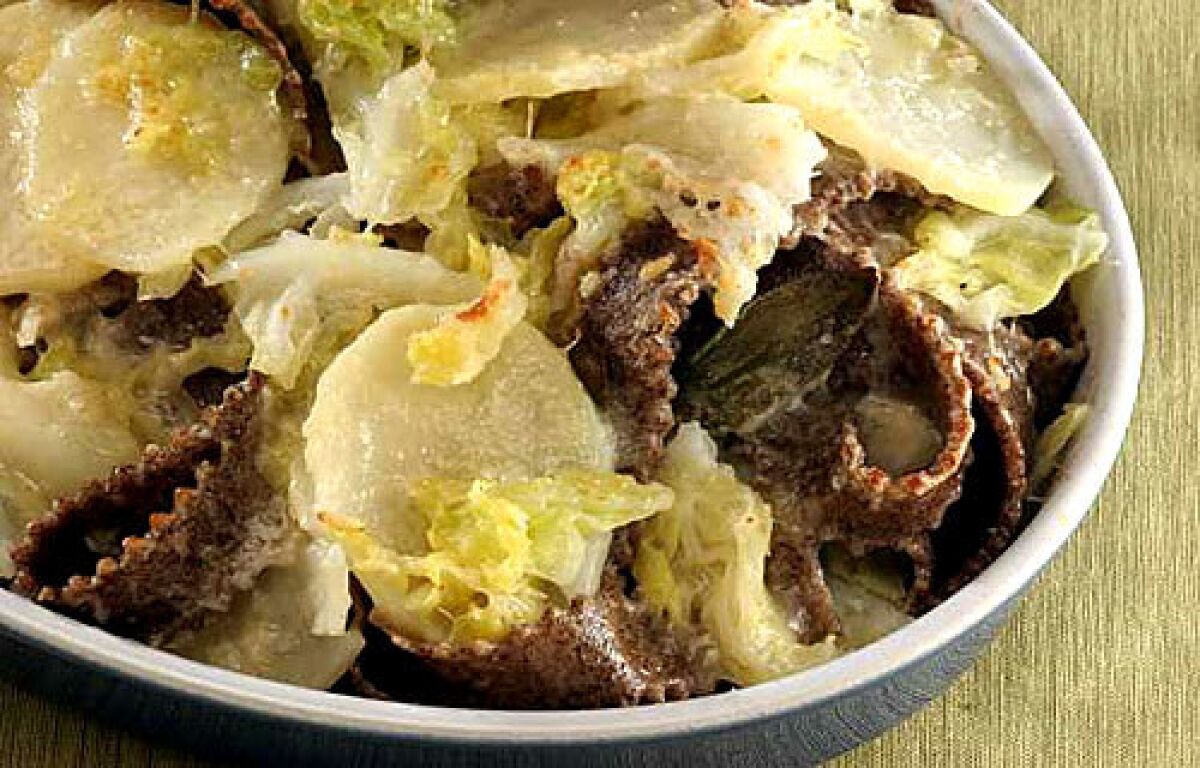 PizzoccheriTotal time: 1 hour, plus 1 hour resting time for the doughServings: 8Note: Adapted from "Cooking by Hand" by Paul Bertolli. Buckwheat and extra-fancy semolina flours are available at well-stocked supermarkets, and cooking and baking supply stores. Fontina valdostana can be found in well-stocked cheese sections of major markets as well as at specialty cheese stores. 2/3 cup buckwheat flour1 1/2 cups extra-fancy semolina flour2 eggs5 teaspoons salt2 large or three medium boiling potatoes, peeled and sliced 1/8 -inch thick 1/2 large head savoy cabbage, separated and torn into pieces7 tablespoons butter8 to 10 sage leaves1 garlic clove, chopped fine1 cup grated Fontina valdostana cheese1 cup grated Parmigiano-Reggiano cheese1. Place the buckwheat flour and semolina in a large bowl and make a well in the center. Add the eggs and one-fourth cup plus 2 tablespoons water. Use a fork to stir the mixture together. When the dough begins to form a shaggy mass, alternately squeeze and press it with the palm of your hand. Press any loose bits of flour into the dough. If it is too dry, add water, 1 tablespoon at a time, until the dough comes together. When the dough feels tacky and the flour is fully incorporated, transfer it to a clean, lightly floured surface and knead for 4 tor 5 minutes, or until it loses its surface moisture, is a uniform color and springs back when pressed. Wrap the dough in plastic and allow it to rest at room temperature for at least 1 hour before rolling.2. Roll out the dough on a lightly floured surface until it is a rectangle no more than one-eighth-inch thick, then use a fluted pastry wheel to cut it into strips three-fourths-inch wide and 6 inches long.3. Heat the broiler.4. Bring 1 gallon of water to a boil and add the salt. Add the potatoes to the boiling water, then after 2 minutes, add the cabbage. Boil the vegetables for about 5 minutes, or until the cabbage is tender but not soft. Remove to a plate with a slotted spoon and keep the water boiling.5. Meanwhile, place a wide sauté pan over medium heat; add the butter, sage leaves and garlic. Lower the heat so the garlic does not brown, and swirl the pan a couple of times so the butter melts and the flavors merge. Remove from the heat and keep warm.6. Cook the pasta in the same water as the vegetables to al dente, about 4 minutes; drain well and add to the sauté pan. Over low heat, stir to coat with the butter mixture. Remove from the heat.7. Butter a 10-inch gratin or baking dish and assemble by layering one-third of the pasta, vegetables and cheeses. Repeat, until all the pasta, vegetables and cheeses are used. Place the gratin under the broiler for 2 to 4 minutes until the cheese is melted and slightly browned. Serve at once.Each serving: 389 calories; 13 grams protein; 40 grams carbohydrates; 5 grams fiber; 19 grams fat; 12 grams saturated fat; 104 mg. cholesterol; 509 mg. sodium.
---
Get our L.A. Goes Out newsletter, with the week's best events, to help you explore and experience our city.
You may occasionally receive promotional content from the Los Angeles Times.