Recipe: Brown butter mashed potatoes with fried sage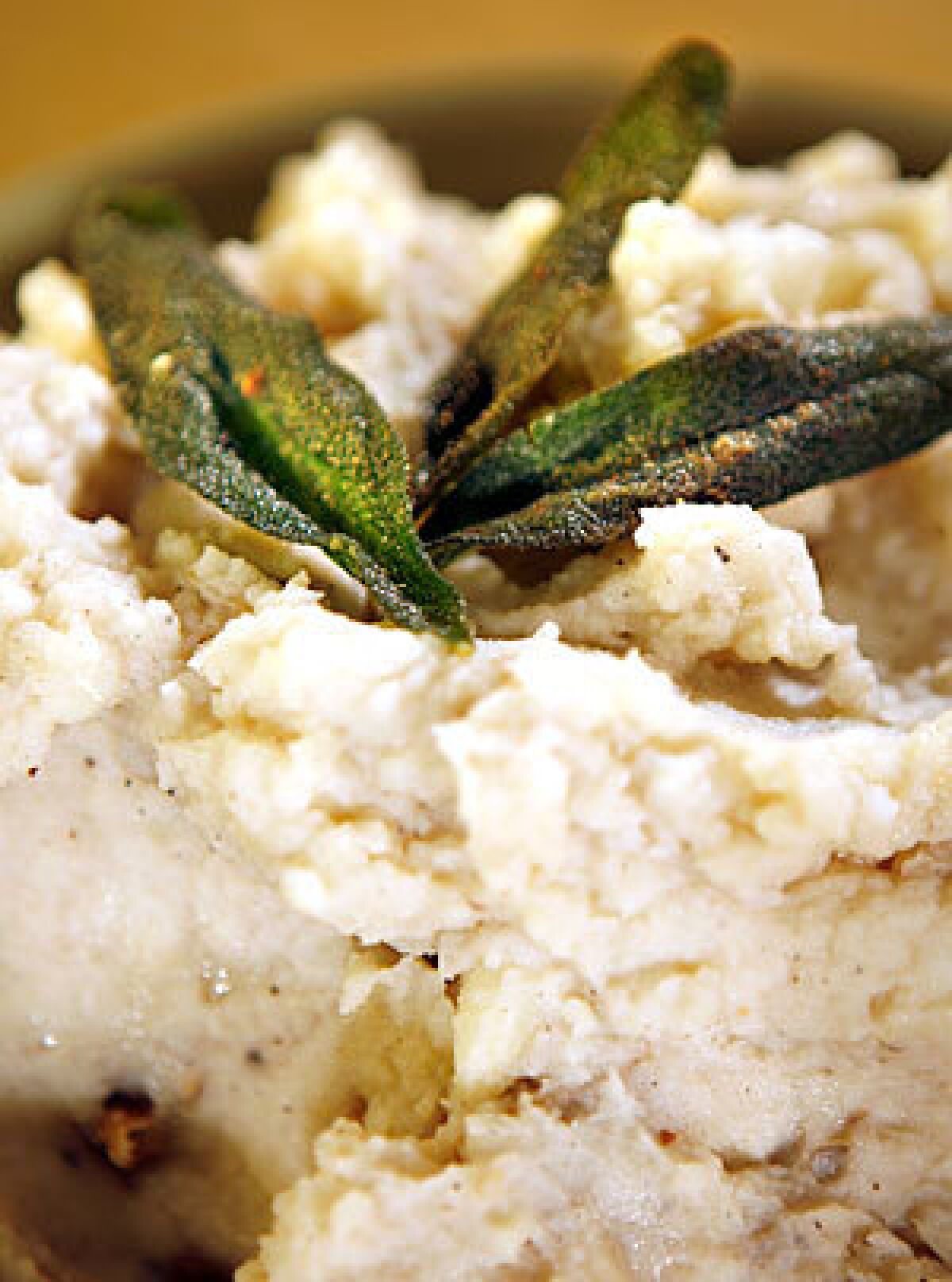 Total time: 40 minutes
Servings: 6 to 8
Note: This recipe can be mostly prepared a day in advance.
3 pounds baking potatoes, scrubbed, skin on, cut into 1-inch chunks
1/2 cup (1 stick) unsalted butter
24 fresh sage leaves
1 cup whole milk
3/4 cup plain Greek yogurt
1 1/2 teaspoons sea salt
1/2 teaspoon freshly ground black pepper
1. Put the potatoes in a large pot or Dutch oven and cover with cold water by at least half an inch. Cover and bring to a boil over high heat. Lower the heat and simmer until tender, about 15 minutes.
2. While the potatoes are cooking, heat the butter over medium-high heat in a medium skillet. When it begins to foam, add the sage leaves and gently fry until crisp, 2 to 3 minutes. Remove with a slotted spoon, place on a paper towel and reserve. Continue to cook the butter until it's golden brown and nutty, watching so that it doesn't burn, an additional 1 to 2 minutes. Remove from heat and reserve.
3. In a small saucepan, heat the milk over medium-high heat just until hot, careful that the milk does not boil. Remove from heat and reserve in a warm place.
4. Drain the potatoes and place them into a large bowl. Using a masher, mash the potatoes to the desired consistency. Stir in the hot milk, yogurt, salt and pepper and browned butter, making sure to get all the dark butter solids. (Recipe can be prepared to this point a day in advance; refrigerate the potatoes tightly sealed and keep the sage in a tightly sealed container at room temperature.)
5. Garnish with the fried sage and serve. (If you have refrigerated the potatoes, gently reheat the mashed potatoes before serving, thinning if needed with additional milk. Garnish and serve.)
Each of 8 servings: 290 calories; 7 grams protein; 32 grams carbohydrates; 2 grams fiber; 15 grams fat; 10 grams saturated fat; 37 mg. cholesterol; 462 mg. sodium.
---
Life is stressful. Our weekly mental wellness newsletter can help.
You may occasionally receive promotional content from the Los Angeles Times.