The York: Your neighborly gastropub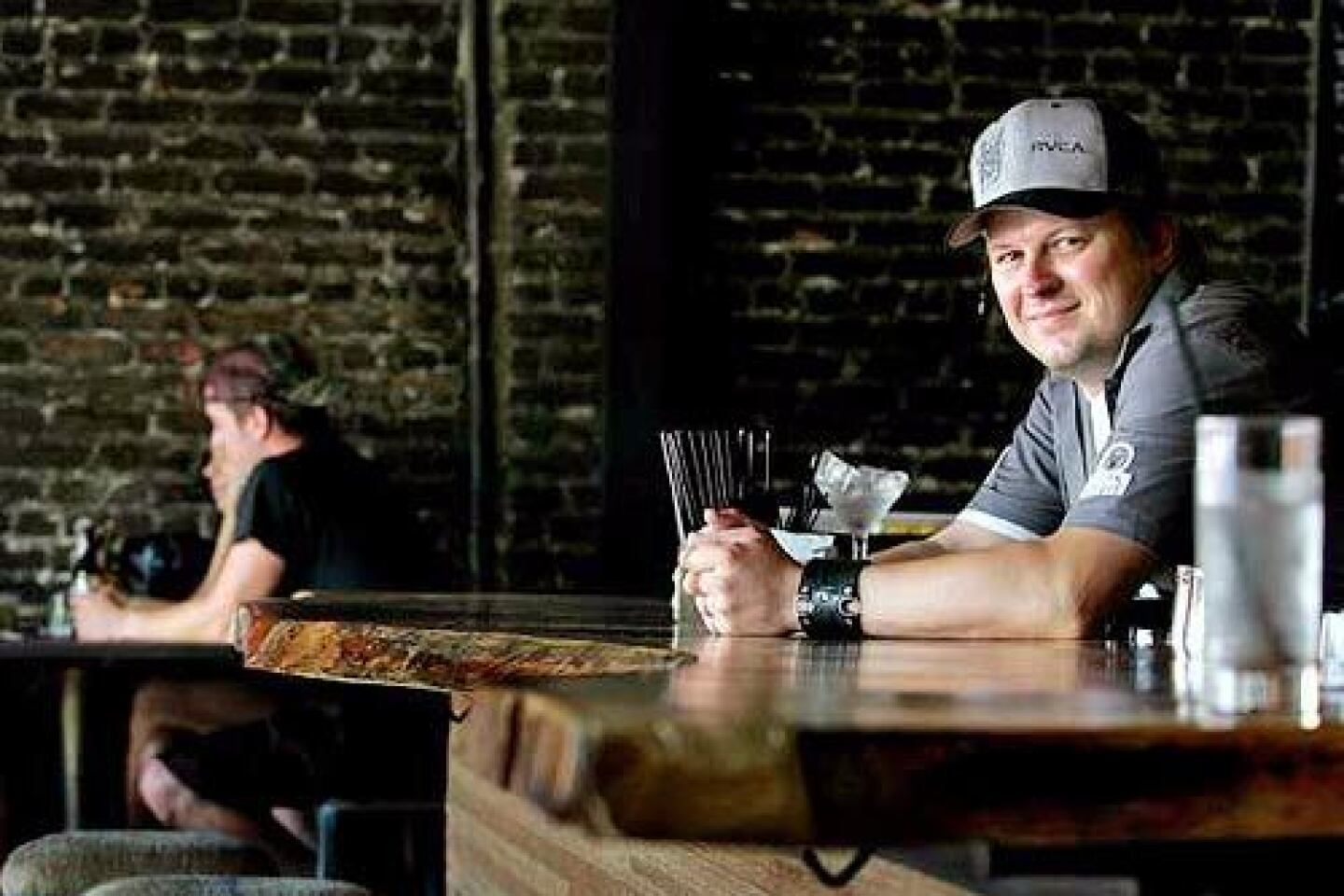 Ryan Ballinger, co-owner with Gabriel Byer of the York in Highland Park, has a seat at the bar, an L-shaped hunk of polished South American hardwood. The gastropub lists its food and drink menu on blackboards on the exposed-brick side walls.
(Christina House / For The Times)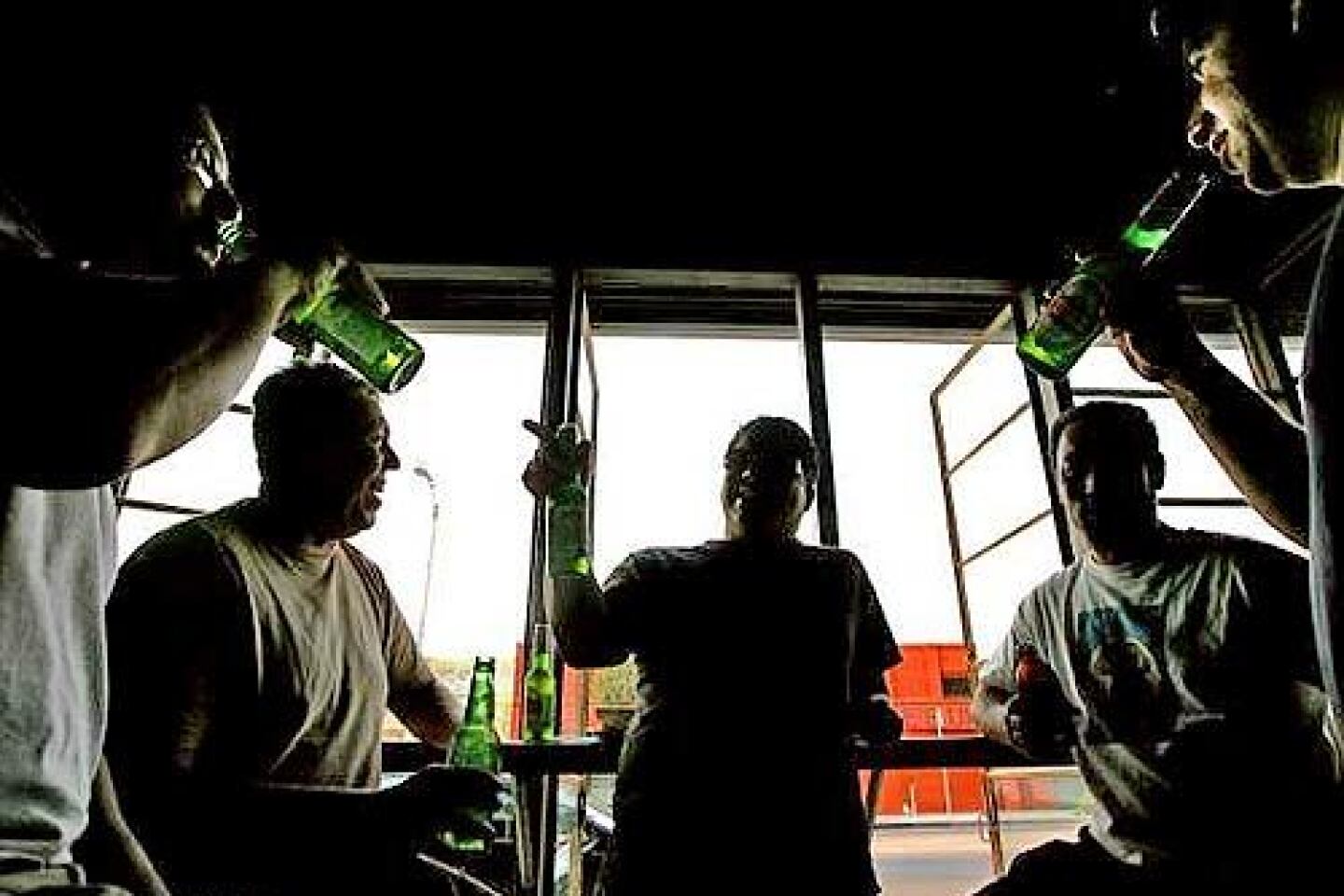 A group relaxes over beers while catching the summer breezes from the York's open windows. The gastropub serves Belgian and British labels in bottles as well as a dozen beers on tap.
(Christina House / For The Times)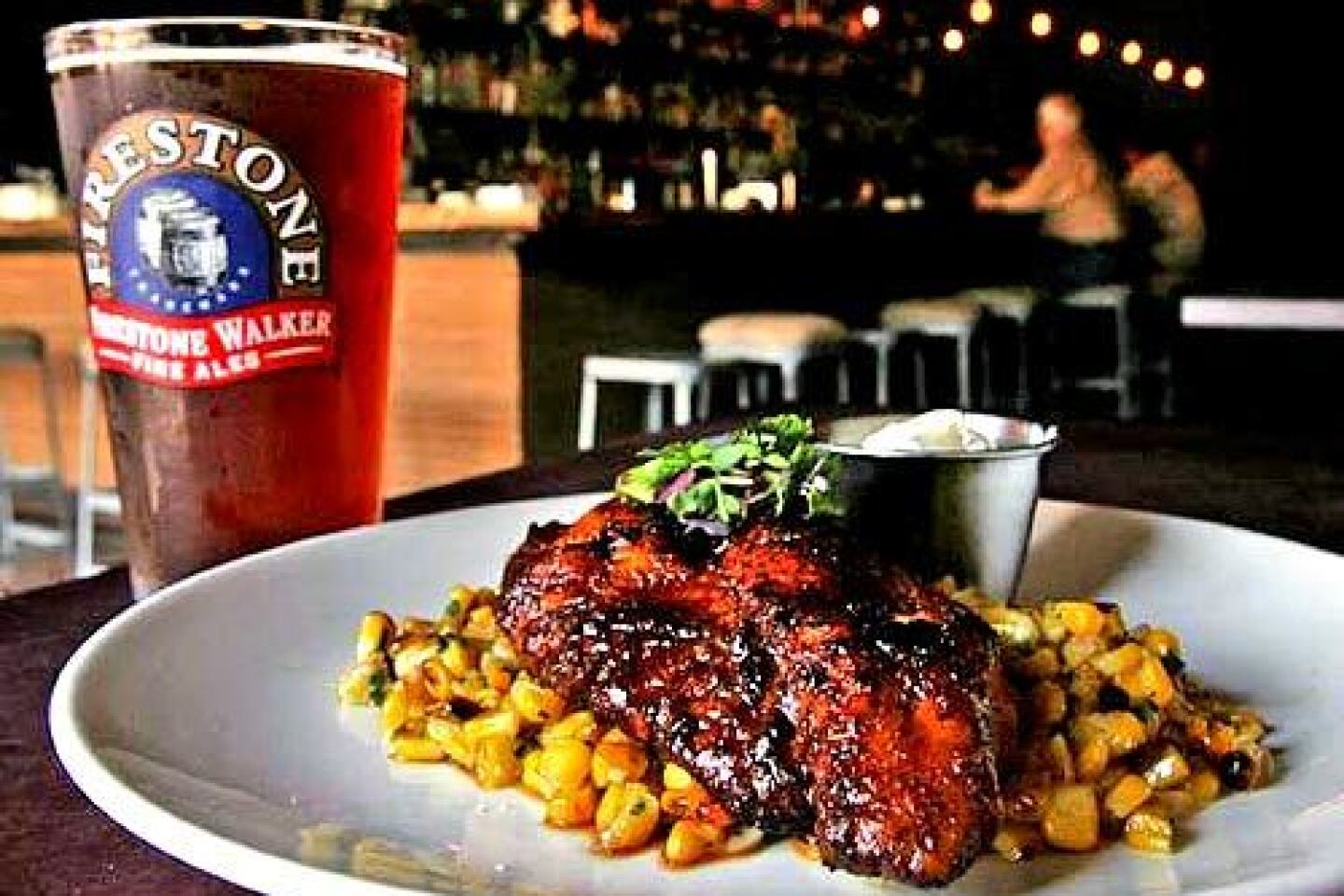 Blackened catfish is served on a bed of grilled corn kernels in brown butter. The York is open daily from 5 p.m. to 2 a.m.
(Christina House / For The Times)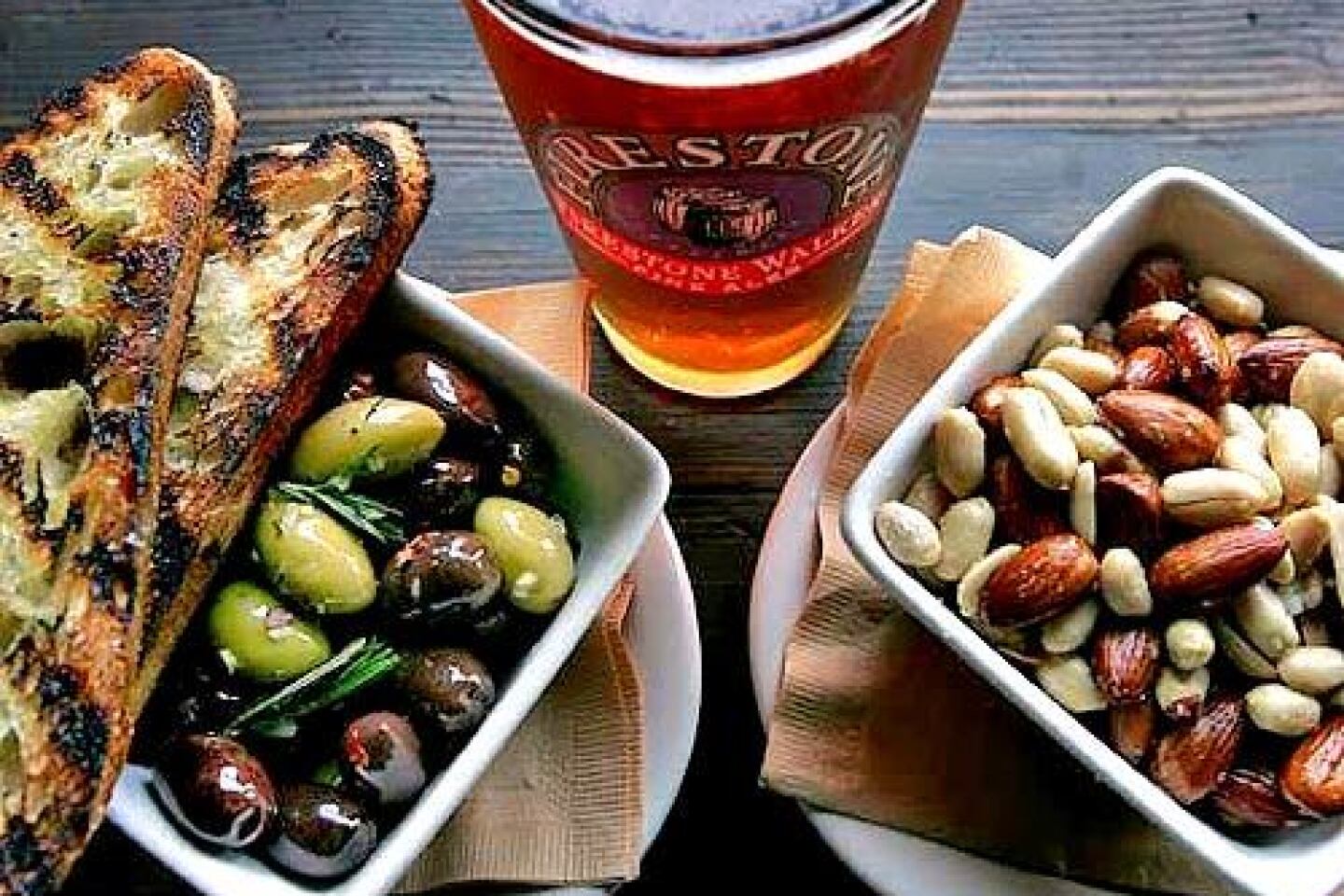 Toasted bread, spiced olives and hot, roasted nuts complement a draft Firestone Double Barrel Ale. The York's on-tap list includes local microbrews, a few British brews and a couple of ciders.
(Christina House / For The Times)
Los Angeles Times Staff Writer
YOU'D have to be a real curmudgeon to find something to argue with at the York, a new gastropub opened about a month ago by two former bartenders with a vision.
It's a Highland Park neighborhood spot with a relaxed but confident indie-boho personality that warmly welcomes folks from other climes as well.
It's a real bar without being either a scene or a dive, a cafe with a frisson of night-life sensibility, a meeting place with pleasingly edgy design and appealing food -- and a homey spot for regulars.
The front is all windows, open to the late-summer early-evening breezes, and a spot at the counter that stretches along the windows and faces out is a perfectly Southern California place to enjoy your draft hefeweizen made at the Craftsman Brewing Co. nearby in Pasadena.
Or you could sidle up to the beautiful hunk of polished South American hardwood that forms the top of the L-shaped bar, which is a way-handsomer-than-it-sounds construction of stacked rough-edge particleboard.
Snacks, entrees, draft beers and wines by the glass are listed on an enormous blackboard on both exposed-brick side walls; place your order at the bar, then grab your drinks and a number that lets the server find you with the food.
Even just a week after opening, co-owners Ryan Ballinger and Gabriel Byer had the York humming along smoothly -- no gaffes, faux pas or pretensions. It's perhaps busier sooner than anticipated, but early-days shortages of favorite dishes were quickly rectified.
Besides cocktails, there are a dozen beers on tap -- local microbrews, a few British brews and a couple of ciders -- as well as eight or so mostly Belgian or British labels available in bottles and some bottled American standards.
There's a rotating selection of about eight wines by the glass drawn from the short list of accessible, affordable (none over $35) bottles, mostly from California, Spain and Italy.
On one visit, I thirstily quaffed a Firestone ale and, with others at our table, compulsively nibbled a generous selection of hot roasted nuts, fried garbanzos and spiced olives. Another time I opted for a glass of Prosecco as a girlfriend and I sat at the bar and shared a crisp, full-leaf romaine Caesar and a tender catfish fillet delicately blackened and served on a bed of grilled corn kernels in brown butter.
Intriguing design details such as bird-cage-like lighting fixtures by New Yorker Poonam Khanna enliven the York's spacious room, and even when the dark, cozy booths along one wall and the banquette tables along the other are packed, the acoustic is friendly: You can converse, identify the music that's playing and let the hubbub around you fade in and out. Maybe it's the open windows; regardless, it's a pleasure.
Bar foods, such as sausages and cheese and fried foods, tend to be heavy on the fats because they taste so good with beer, but the York brings a little finesse to the formula.
The Caesar is garlicky enough to enjoy with a drink but bright and fresh. Fish and chips are light, crisp pieces of cod modernized by their "chips" of sliced potatoes with crisp edges and tender middles -- some might call 'em cottage fries, perhaps.
Bruschetta -- four or five pieces of toast mounded with diced farmers market tomatoes, basil and garlic with chopped arugula -- are nicely seasoned, and a satisfying snack.
The cheese platter includes some nicely ripe Humboldt Fog, a Basque sheep's-milk cheese and a Manchego. Though the latter two cheeses seem a bit redundant (they're both semi-firm sheep's-milk cheeses), they're served at just the right temperature.
Dinner and dessert
LARGER plates -- sandwiches, mostly -- are successful too.
A Cuban pulled-pork sandwich is rich and delicious with melted Gruyère, a note of mustard and a terrific, unusual sweet-sour pickle spear. It's deftly put together, unctuous without overkill. Likewise, the grilled cheese sandwich with tomato salad is impressive -- simple but right-on with buttery crisp toast, truffle-infused Boschetto cheese (a mild semi-soft Italian) and ripe, ripe tomatoes. A big juicy beefy burger comes with really fantastic crisp fries, with sides of ketchup and spicy mustard.
Only the chicken wings -- too sweet and sticky -- and an overly fussy corn chowder fall flat.
It feels more than a little weird to consider dessert in such a thoroughly bar-like environment, but the cobbler -- peach (made with fruit from the restaurant's own tree), sometimes with blackberries -- is very good. It's served warm, not too sweet, and there's plenty for two to share.
Located in the space formerly occupied by the Wild Hare, the York is equidistant from a quartet of freeways, making it a good spot for meeting up if, say, one of your party's downtown and one's in North Hollywood. But it's prime territory for Eastside locals. There's a pawnshop across the street, a hardware store down the block and after 5 p.m., when the place opens, there's nothing much going on -- except the party inside the York, which could go on for years.
susan.latempa@latimes.com
The York
Location: 5018 York Blvd., Los Angeles (Highland Park), (323) 255-9675; www.theyorkonyork.com.
Price: Small plates, $5 to $8; larger plates, $8 to $15; sides $5; dessert $7. Draft beer, $5 to $6; wine by the glass, $6.50 to $10.
Best dishes: Fish and chips, blackened catfish, pulled-pork sandwich.
Details: Open from 5 p.m. to 2 a.m. daily. Street parking. Major credit cards. Full bar.
Get our L.A. Goes Out newsletter, with the week's best events, to help you explore and experience our city.
You may occasionally receive promotional content from the Los Angeles Times.