Bar-B-Kosher: Scents of Marrakech on Garmento Alley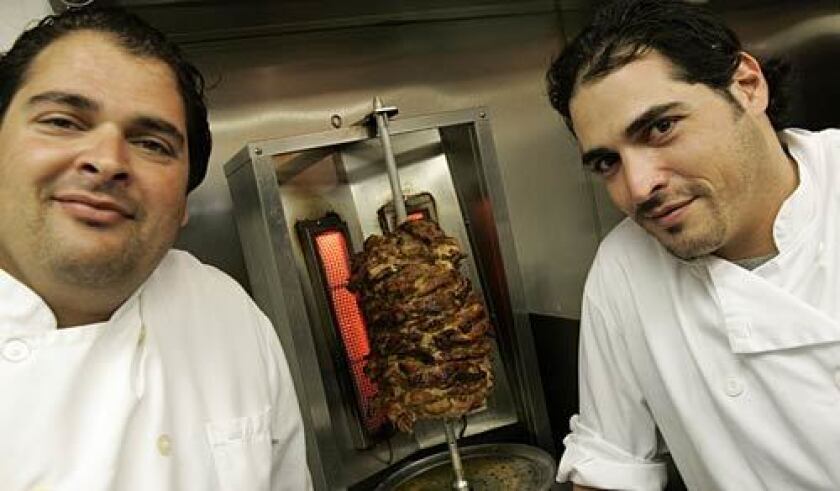 Los Angeles Times Staff Writer
For every high-profile restaurant that opens in downtown L.A. these days, three small, on-your-block cafes spring into life, nothing to make a big deal about in other parts of town. But downtowners -- craving variety and choice -- are all over those new doorsteps immediately. Maybe this one will have great pizza or a hot takeout dinner that's homey and comforting. There are still lots of gaps in the scene.
Well, look no further for fresh, generously portioned Middle Eastern and North African food -- cumin-scented beet salad, spicy baba ghanouj, refined hummus -- and check out these specials: beef ribs, rotisserie chicken, meatballs in lemon sauce. Oh, and do you keep kosher? Got that covered too.
Bar-B-Kosher has been open since May. It's not the kind of spot that you'd think would attract attention right away, but thanks to confident cooking, delicious food and responsive, affable service, it's already a neighborhood institution. Owned by Israeli-born brothers David and Assi Dahan (Assi's the chef), it's near the New Mart in the fashion district.
The diner who keeps kosher may be the cafe's first priority, and there seems to be a strong cadre of regulars, several of whom have made enthusiastic recommendations when I've hesitated over the menu. But you don't need to know a thing about Jewish dietary law to appreciate the omelet baguette sandwich that's spread with a little hummus, filled with a freshly cooked omelet stuffed with parsley, cilantro and green onions, and finished with tangy pickled cabbage. Or the tender-crisp carrot salad, rich with melded flavors of cumin, cinnamon and cayenne. Or the hot, salty fries, hand-cut and unpeeled, soft and roasty.
It's a tiny, no-frills place with six tables inside, two on the sidewalk under the awning outside. The walls, ceiling and floor are all faced with the same faux-wood paneling material, so you feel as if you're inside a wood-lined cube, and as you enter, you think it'll seem crowded and cramped, but it doesn't. Somehow, the waitresses, friendly and efficient young women in black, the delivery guy whose bike is parked out front, and the regulars picking up orders do the choreography, and it works out easily enough.
The room is lively, with several languages being spoken amid the buzzing of BlackBerrys.
But it takes a couple of visits to figure out how to order. Though the menu advises that "pita and baguettes are served with your choice of two side salads," you may not realize at first that the salads will be served on your sandwich. Your best bet is to select one salad that's like a spread, e.g., hummus, baba ghanouj or the spicy Moroccan matboukha (roasted peppers and tomatoes spiced with paprika and hot pepper) and one that's crunchy, e.g., Israeli chopped salad or tabbouleh. Then the kitchen will build your sandwich with, for example, hot, parsley-flecked falafel, juicy little bits of mixed lamb and turkey shawarma, or perhaps a crunchy-on-the-outside piece of chicken schnitzel.
The breads are fresh daily, and the pitas are of a sturdy enough constitution to be well filled without tearing. One works well for one hungry person. Baguettes are large and easily shared by two. In addition to meats, tuna (combined into "the Tunisian" with hard-boiled eggs, olives and harissa) and falafel, there's shakshuka, eggs over stewed tomatoes and bell peppers. All are available as plate lunches as well, in which case they come with an additional side dish such as fries, brown rice or majadra (rice with lentils). and onions). Happily, even the plate lunches are perfectly packed when ordered to go in compartment dishes with covers. This is the first time in recent memory I've ordered takeout that didn't leak.
A together kitchenTHE Dahans have been in the catering business for 15 years, 10 of those in the L.A. area, and the kitchen doesn't get flustered, but neither does it do a fast-food thing. Service is steady and attentive. Meals are prepared to order; nurse a soda and grab a few pieces of seasoned fried pita from the basket on the counter while you wait.
Daily specials are very popular here and although originally were offered on a weekly rotation (meatballs on Monday, Moroccan-style fish and couscous on Wednesday), they're now sprung on customers as surprises. Some are Middle Eastern specialties such as mafroom, stuffed potatoes; others are the only sign of a connection between the menu and the restaurant's name, in that they're roasted meats with barbecue sauce (a sweetish tomato-based, American-style sauce). Still others are simply the chef's improvisations, such as a recent tasty chicken breast stuffed with artichokes, mushrooms and onions and served with mushroom sauce.
Not only do some regulars obviously like to be surprised (I've heard more than one simply order the special before asking what it is), but with the two salads and a side dish of rice and potatoes, an order of the daily special also would be the perfect cozy dish for a local loft-dweller to pick up late Sunday afternoon and heat for supper.
Location: 113 E. 9th St.,
Los Angeles, (213) 623-4955
Price: Pita sandwiches, $7 to $9; baguette sandwiches, $8.50 to $11; plates, $8 to $14.
Best dishes: Hummus, omelet baguette, Moroccan-style beets, Moroccan-style carrots, matboukha, "the mix" pita.
Details: Open Monday through Thursday from 8 a.m. to 5 p.m., Friday until 3 p.m., Sunday from 9 a.m. to 5 p.m. Street and lot parking. MasterCard, Visa.
Special features: Chef's dishes for the weekend/Shabbat. Order two days in advance.
---
The essential weekly guide to enjoying the outdoors in Southern California. Insider tips on the best of our beaches, trails, parks, deserts, forests and mountains.
You may occasionally receive promotional content from the Los Angeles Times.