Recipe: Grilled feta in grape leaves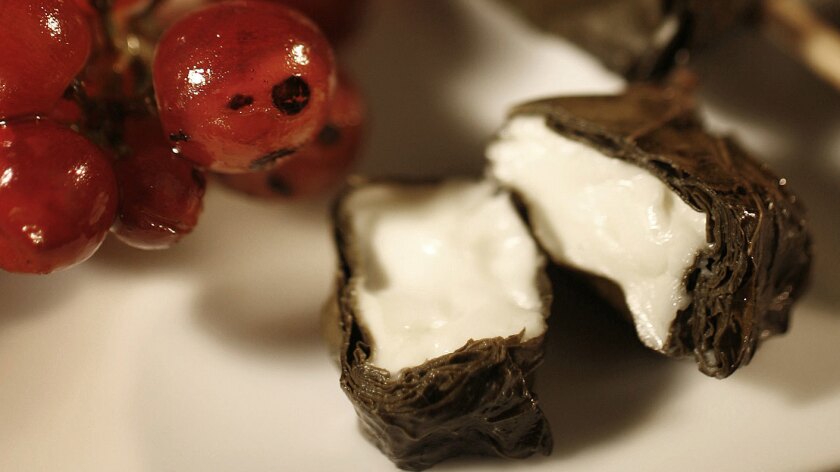 Total time: 45 minutes
Servings: 4
Note: Adapted from "Mediterranean Harvest" by Martha Rose Shulman. Soak the skewers in water while you're assembling the feta and grape leaves.
16 grape leaves packed in brine
8 ounces firm feta, cut into 16 (1-inch) squares
Best quality olive oil for brushing
Wooden skewers for grilling
1. Carefully unroll the grape leaves and rinse well under cold water. Blanch the leaves, a few at a time, in boiling water for 6 to 8 minutes until slightly softened. Remove to a bowl of cold water, then drain and pat dry.
2. Place a leaf on the work surface, vein side up and stem facing you. Snip off the stem. Center a square of feta on the leaf. Fold the bottom up over the feta, then fold in the sides and roll up tightly, tucking in the sides as you go.
3. Run a skewer through the middle. Fill all the leaves, placing four stuffed leaves on each skewer. Brush the packets lightly with olive oil.
4. Grill over high heat, turning often, until the grape leaves are crisp and the cheese inside is bubbling, about 4 minutes. Serve immediately.
Each serving: 161 calories; 9 grams protein; 4 grams carbohydrates; 0 fiber; 12 grams fat; 9 grams saturated fat; 51 mg. cholesterol; 1,089 mg. sodium.
---
The essential weekly guide to enjoying the outdoors in Southern California. Insider tips on the best of our beaches, trails, parks, deserts, forests and mountains.
You may occasionally receive promotional content from the Los Angeles Times.