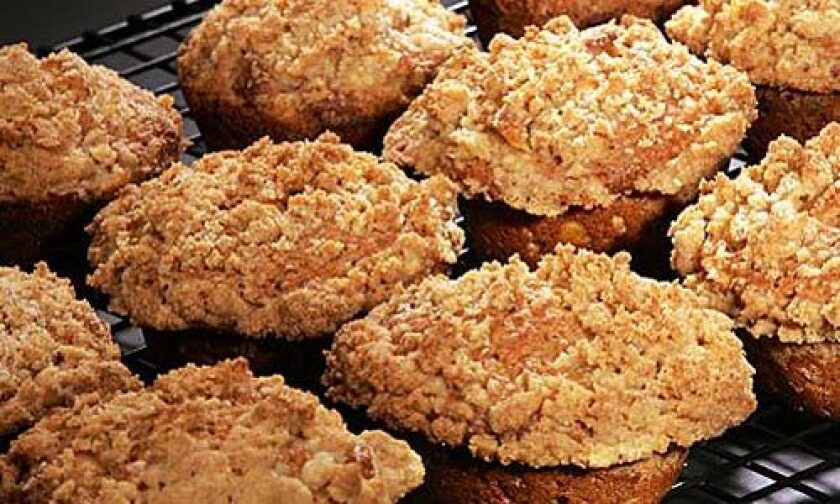 Total time: 45 minutes, plus 1 hour marinating time
Servings: 8 as an appetizer, 4 as a main course
Note: From test kitchen manager Noelle Carter. Mesquite flour can be found online at www.casadefruta.com, www.desertusa.com and www.amazon.com, as well as at select health-food stores.
1 1/2 pounds cleaned, tail-on large shrimp (15-20 per pound)
1/4 cup tangerine juice plus 1 tablespoon grated zest, divided
2 tablespoons Barbados rum, such as Mount Gay
2 dashes bitters
Salt
Freshly ground black pepper
1/2 teaspoon sugar
1 1/2 cups chopped sliced almonds
1 tablespoon plus 1 teaspoon mesquite flour
1/4 teaspoon cayenne or habanero powder
2 eggs
Canola or vegetable oil for frying
1. In a large, nonreactive bowl, toss the shrimp with the tangerine juice, rum, bitters, a pinch of salt, a couple grinds of pepper and sugar. Cover and refrigerate for 1 hour.
2. In a medium bowl, toss the almonds with the mesquite flour, chile powder, one-fourth teaspoon salt and the zest. Set aside. In a separate bowl,whisk the eggs with 1 tablespoon of water.
3. Remove the shrimp from the refrigerator and take them out of the marinade one at a time, shaking off the excess. Holding the tail, dip the shrimp into the egg wash, then shake off the excess and place in the breading. Press the breading onto both sides of the shrimp (do not coat the tail), then place the breaded shrimp on a parchment-lined baking sheet. Repeat with the remaining shrimp.
4. In a large sauté pan, add enough oil to fill the pan 1 inch from the bottom. Heat the oil until a thermometer inserted reads 350 degrees. Gently place several shrimp in the oil, making sure they do not touch, and fry 1 to 2 minutes, until the breading is golden brown. Flip the shrimp over and cook the other side about a minute, until the shrimp is firm and the breading is golden brown. Remove and drain on a paper-towel-lined baking sheet. Repeat with the remaining shrimp.
5. Divide the shrimp evenly between eight plates (use four for a main course) and serve.
Each of 8 servings: 254 calories; 19 grams protein; 5 grams carbohydrates; 2 grams fiber; 18 grams fat; 2 grams saturated fat; 179 mg. cholesterol; 180 mg. sodium.
---