Recipe: Salpicón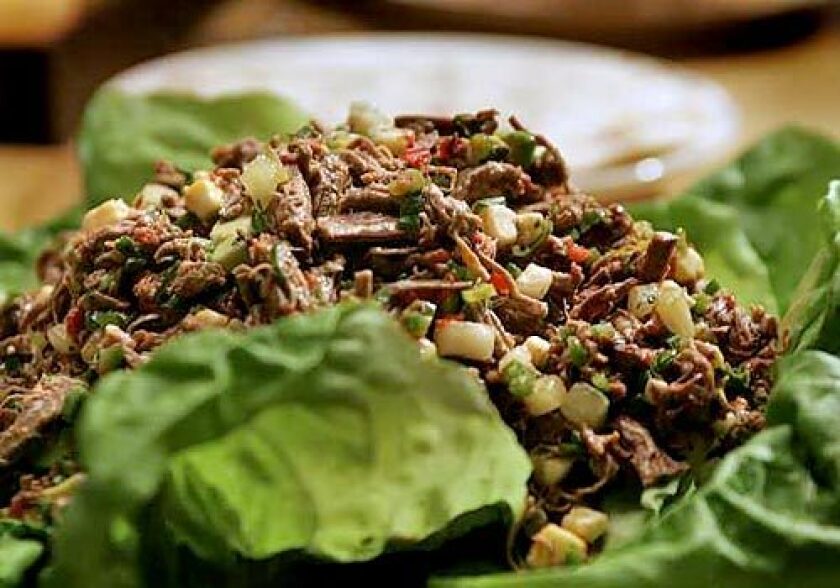 Total time: About 4 hours
Servings: 8 to 10
3 pounds beef brisket
Salt
1 1/2 teaspoons ground cumin
1 1/2 teaspoons dried Mexican oregano
1 large onion, thinly sliced
1 teaspoon whole black peppercorns
1 bay leaf
2 cups beef broth
Juice of 3 limes, divided
2 chipotles in adobo sauce, minced
1/3 cup corn oil
3 jalapeños, seeded and minced
1 medium cucumber, peeled, seeded and cut into 1/4-inch dice
4 ounces Colby Longhorn cheese, cut into 1/4 -inch dice
4 ounces Monterey Jack cheese, cut into 1/4 -inch dice
1 large bunch green onions, green part only, thinly sliced
1/4 cup chopped cilantro
1 large ripe tomato, seeded and finely diced
2 ripe avocados, peeled, pitted and diced
1 head leaf lettuce such as Boston or red leaf, washed
1. Heat the oven to 325 degrees. Season the brisket all over with salt to taste, cumin and oregano.
2. Lay the onion into a baking dish large enough to hold the meat. Add the peppercorns and bay leaf. Lay the brisket on top. Pour the beef broth around it. Cover the pan and bake until the meat is very tender and shreds easily, 2 1/2 to 3 hours. Remove from the pan to a cutting board and let stand until the meat is cool enough to handle.
3. Combine the juice from 2 1/2 limes with the chipotles and corn oil in a bowl and whisk to blend.
4. Cut the brisket crosswise into strips 1 inch wide. Remove the extra fat. Using two forks, or your fingers, separate the meat into thin shreds. Place in a large bowl and pour the lime mixture over the meat. Toss to coat. Add the jalapenos, cucumber, cheese, green onions, cilantro and tomato. Toss to combine. Season with salt to taste. Refrigerate if not serving the salpicón immediately.
5. Just before serving, gently mix in the diced avocados. Season to taste, and add additional lime juice if desired. Serve in a large bowl lined with lettuce leaves.
Each of 10 servings: 409 calories; 36 grams protein; 8 grams carbohydrates; 4 grams fiber; 26 grams fat; 9 grams saturated fat; 80 mg. cholesterol; 191 mg. sodium.
---
The essential weekly guide to enjoying the outdoors in Southern California. Insider tips on the best of our beaches, trails, parks, deserts, forests and mountains.
You may occasionally receive promotional content from the Los Angeles Times.