At Catch, an endless summer
At the new Catch in Santa Monica, chef Michael Reardon's version of John Dory comes with dried tomatoes, olives, parsley and potatoes. The renovated restaurant at the luxe Casa del Mar hotel offers ocean views.
(Ringo H.W. Chiu / For The Times)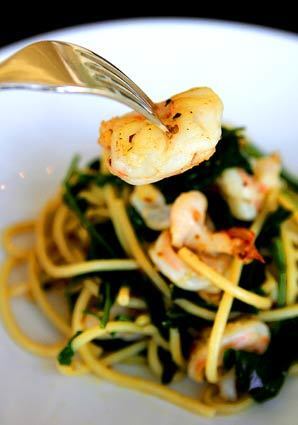 A pasta dish features al dente
bucatini
with Gulf prawns and slightly bitter wild broccoli.
(Ringo H.W. Chiu / For The Times)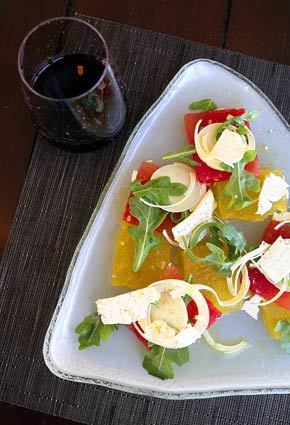 A summery watermelon salad combines a crisp sweetness with the flavors of mild hearts of palm and the sting of arugula.
(Ringo H.W. Chiu / For The Times)
Reardon's free-form ravioli are tender bundles of dough filled with Sardinian sheep's milk ricotta and topped with thin slices of fried artichoke.
(Ringo H.W. Chiu / For The Times)
Reardon's selection of
crudo
, or Italian-style sliced raw fish, includes snapper with slivers of papaya and squirts of lime.
(Ringo H.W. Chiu / For The Times)
Catch's desserts include mango
tarte Tatin
with Tahitian vanilla bean ice cream.
(Ringo H.W. Chiu / For The Times)
A sushi bar with three chefs occupies the center of the hotel restaurant, a draw for lone diners or travelers on their own.
(Ringo H.W. Chiu / For The Times)
Tall windows fill Catch's large dining room with natural light. Servers are professional and relaxed.
(Ringo H.W. Chiu / For The Times)
Los Angeles Times Staff Writer
SUMMER is unraveling, the daylight hours shaved ever shorter. I'd just as soon kiss the long leisurely days goodbye over dinner at the beach, watching the rose-gold fade to dark from the windows of Catch, the new restaurant at Casa del Mar in Santa Monica. It's one of only a few hotel restaurants with any ocean view along this part of the coast, and the view is straight on, just steps from the sand, with palm trees crowding against the windows.
The restaurant is at the far end of the luxe hotel's ocean liner-size lounge, up a few steps from the bar area where guests and locals congregate at dusk to quietly take in the sunset. Catch debuted in June after six months of extensive renovations to the site, the third try for the hotel. The last was Oceanfront and featured familiar California cuisine.
Catch has inherited Oceanfront's last chef, Michael Reardon, who originally came from the hotel's sister property Hotel Andalucía in Santa Barbara. For Catch, Reardon has created a seafood-intensive menu with an emphasis on sushi, crudo and other light, imaginative dishes.
The room has a new energy and seems busier than it's been in years, so something is working. It may be because the restaurant is less intimidating and formal, with a casually elegant vibe instead. But it's also the food.
This menu is pitched more to what travelers and guests want to eat now. You can order just sushi, or share a couple of plates of crudo and maybe a pasta and call it quits, or settle down for a long meal with friends in front of those windows and that view. In the distance is Santa Monica Pier and the red and green lights of the Ferris wheel.
The entire feeling of the room, once one of Santa Monica's most staid, has changed. Decorated in a palette of white and pales, with white, woven-leather armchairs, pleated fabric lampshades and dark wood tables set with place mats and glass vases filled with sea urchin shells, it's contemporary beach chic all the way.
There's now a sushi bar in the middle of the restaurant, which means tables are closer together than ever. But that sushi counter is a siren call for lone diners and travelers on their own.
Three sushi chefs in flat black caps are at work behind the counter. Oddly, though, you can't really see the array of seafood on offer. It's kept in a deep trough below eye level, which means you're just going to have to trust the chef as to what is freshest. Although Catch's sushi-nigiri can't compete with that offered at the best places in town, it's decent -- nothing exciting or particularly unusual, just the basics. I wouldn't go out of my way to eat sushi here, but if I had just arrived from Paris or Sydney, I'd be happy to step in for a few bites before trundling away to sleep off my jet lag.
More unusual is Reardon's crudo. The selections change depending on what's in from the fish market. A plate of tai (spelled Thai on the menu) snapper is very appealing, dotted with slivers of papaya and squirts of lime. Shima aji (striped jackfish from Japan) is sliced to show off a flash of silvery skin against its rose-blushed flesh and comes with a fresh ginger sauce sparked with drops of mustard oil.
Order the crudo of Mano de Leon scallop to share. The giant, deep-water scallop is so rich it would be tough to finish on your own. Instead of slicing the scallop as most chefs would do, Reardon minces it, then forms it into a square patty spread with a layer of osetra caviar. A dab of wasabi sits on the side. A few bites are delicious, but after that, the richness begins to cloy.
A natural attitude
SERVICE at Catch is relaxed. I love that instead of addressing us in waiter-speak, our server one night asks in a natural tone, "Are you doing OK over here?" He doesn't offer his name for our delectation, or inform us that he'll be taking care of us this evening. That's understood.
He knows how to pour wine, and if something's taking a bit longer than expected, he alerts us that it will be just a few more minutes. What's so hard about acting like a normal person? The service alone makes Catch a standout, because it feels like adults with some experience are in charge.
Octopus salad makes an impression as a first course. Reardon cuts the tentacles very thin, almost like carpaccio, so they look like flirty, violet-edged petticoats dressed up with pine nuts, soft burnished eggplant and olives. The dressing is understated and balanced. Caesar salad does a modest turn, slightly overdressed, made with ribbons of Romaine lettuce and shaved Parmigiano. I'm sure the chef racked his brain to come up with his own twist on this salad cliché: a crispy anchovy that, on the night I tried it, had a soggy batter.
More original is his watermelon salad with hearts of palm and wild arugula. The flavors are terrific together, the watermelon crisp and sweet, the hearts of palm clean and mild, the arugula stinging. But shaved bluefin tuna in a soy vinaigrette is dominated by the dressing. You want to be able to taste the raw fish. The same goes for the beef carpaccio: It's too wet.
That carpaccio, though, must have some secret aphrodisiac properties. The couple at a table across the room feed each other bites, and then proceed to hold hands, and stare out at the view. The table next to them has been bitten by Cupid too. They've abandoned their meal entirely and are smooching it up, stopping to gaze ardently into each other's eyes. On that count alone, I'd say this hotel restaurant is a big success.
Give a foodie a menu here and I'm willing to bet that he or she will inevitably home in on the free-form ravioli as soon as the words "Sardinian sheep's-milk cheese" float off the text. And it's an entirely satisfying dish, loose bundles of pasta dough filled with milky fresh ricotta and crowned with thinly sliced fried artichokes. It could also easily do double duty as a main course.
Reardon, in fact, has a fine touch with pasta, going by the three dishes on the menu. In the main course section you find bucatini with Gulf prawns and wild broccoli. The pale pink prawns are barely cooked through, as if they'd just swum through a bath of hot water. The bucatini are perfectly al dente, and the wild broccoli has a slight bitterness that's wonderful with the shrimp and arugula. He had a very similar dish on his Oceanfront menu, and it's certainly good enough to carry over.
Oxtail ravioli have a tender, supple dough filled with soft, shredded oxtail ragù. If he'd stopped there and simply napped the pasta in a little olive oil or butter, the dish would have succeeded better. The sauce dotted with oven-roasted tomatoes adds a sharp sweet-tart element that's distracting.
Standout pork loin
IN general, dishes grouped under the "land" category, which includes that oxtail pasta dish, are less adventurous than the rest of the menu. But there is one standout: Kurobuta pork loin. It's a marvelous piece of pork with a fine texture and terrific flavor served with delicious apple gnocchi and long-braised mustard greens.
And although Reardon can turn out a respectable steak and a homey roast chicken, his heart is clearly with the more creative seafood dishes.
Whether you order Alaskan halibut or John Dory, the fish are cooked with attention and care. Reardon steers clear of heavy sauces, relying instead on the cooking juices or lithe broths flavored with herbs and whatever else sparks his imagination and makes sense with that particular fish.
I liked the simplicity of tai snapper with sautéed Monterey squid and the herbal note of oregano. One night a special of black bass cooked Basque-style in a mess of sweet red peppers and tomatoes tastes direct and uncontrived. He also cooks the same fish pot au feu style, in a broth with root vegetables. Sometimes he strains to come up with something different. Dungeness crab, for example, does nothing to improve the wild striped bass with Meyer lemon and asparagus.
The wine list doesn't try to make a big show with too many boring wines bound in an oversized leather cover. This one is respectable and fits on a single page. Whites and rosés may be served in stemless wineglasses, the better to foster the casual look. But you can also ask for stemware.
Though the list isn't large, I have no trouble finding four or five affordable bottles I'd like to try. There's an excellent dry rosé called Think Pink from Red Car Wine Co. and Roussanne from Tablas Creek. If you're having sushi, the list also has a handful of sakes by the glass or carafe.
Desserts are something of a weak point. Mango tarte Tatin doesn't quite work. The pastry's not right, and it's very sugary. If you want that sweet ending to a meal at Catch, go with the Meyer lemon tart, which does what it's supposed to do: end things with a refreshing tang.
Hotel restaurants have always had a tough time in this town. Unless they can boast a view or a remarkable setting like Hotel Bel-Air's terrace, they're almost completely under the radar when it comes to L.A. dining. It takes a unique approach and an interesting chef to get locals in the door. With Catch, Casa del Mar may have something that works for the first time in recent memory, and works pretty well.
Sushi by the sea? Not many places can boast an ocean view and a chef who has more than just a trendy idea. At Catch, Michael Reardon is doing seafood Santa Monica-style -- casually elegant, approachable and light.
virbila@latimes.com
*
Rating: **
Location: Casa del Mar, 1910 Ocean Way, Santa Monica, (310) 581-7714; www.catchsantamonica.com.
Ambience: Updated beach-casual hotel restaurant with ocean views and palms crowded against the tall windows. There's a sushi bar in the center of the room, good for solo diners, and comfortable, dark wood tables for everybody else. Chef Michael Reardon turns out a menu of sushi, crudo (raw seafood) and local seafood.
Service: Polite and professional.
Price: Dinner: sushi and sashimi, $6 to $32; crudo, $14 to $20; appetizers, $12 to $18; main courses, $23 to $39; desserts, $9. Lunch appetizers, $10 to $16; main courses, $16 to $26.
Best dishes:Shima aji crudo, octopus salad with eggplant and olives, free-form ravioli with artichokes and sheep's-milk cheese, bucatini with Gulf prawns and wild broccoli, Kurobuta pork loin with apple gnocchi and mustard greens, branzino with grilled Treviso, wild black bass, Meyer lemon tart.
Wine list: Respectable, with good choices under $50. Corkage fee, $25.
Best table: Right in front of the windows, looking at that sea view.
Details: Open for lunch Monday through Saturday and for Sunday brunch from 11:30 a.m. to 3 p.m.; for dinner daily from 6 to 10 p.m. Valet parking, $8.
---
Life is stressful. Our weekly mental wellness newsletter can help.
You may occasionally receive promotional content from the Los Angeles Times.