Restaurant Review: Beso -- ready for its close-up?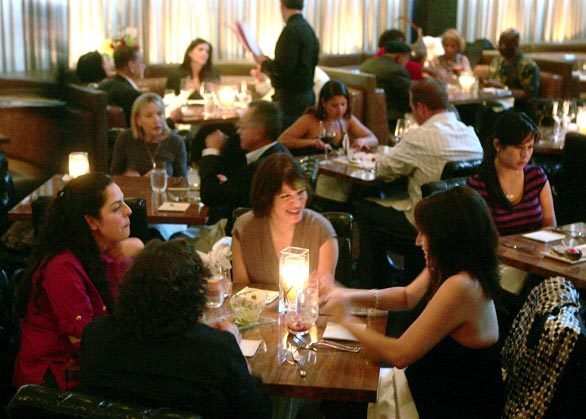 Customers dine by the warm glow of candles at Beso, the Hollywood restaurant that "Desperate Housewives" star Eva Longoria Parker opened in March. She brought in Boston-based Todd English as the chef.
(Ringo H.W. Chiu / For the Los Angeles Times)
Glistening, jewel-like chandeliers illuminate the lofty ceilings in Beso's contemporary dining room.
(Ringo H.W. Chiu / For the Los Angeles Times)
Beso's designer, Tracie Butler, has done Parker proud with a contemporary look that exudes money and sex appeal.
(Ringo H.W. Chiu / For the Los Angeles Times)
An array of seafood, including lobsters, clams and shrimp, is displayed on ice in front of Beso's open kitchen.
(Ringo H.W. Chiu / For the Los Angeles Times)
Beso modifies the traditional preparation of paella by assembling the colorful lobster, roasted chicken, shellfish and chorizo on top rather than cooking them with the saffron rice.
(Ringo H.W. Chiu / For the Los Angeles Times)
The varied tacos, including this soft shell crab taco, are perfect for a small bite in the bar.
(Ringo H.W. Chiu / For the Los Angeles Times)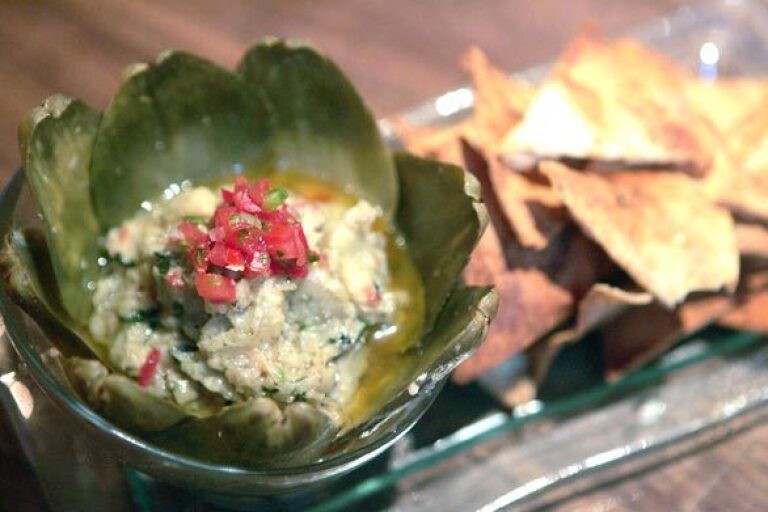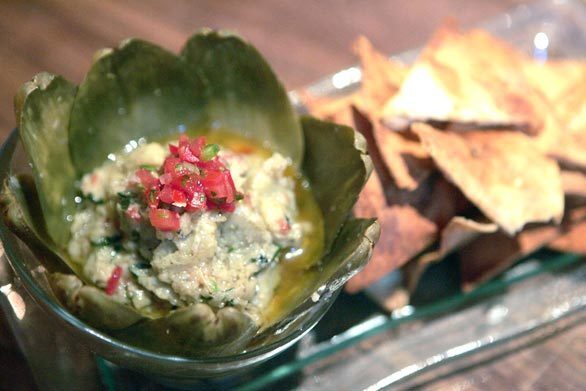 An artichoke "guacamole" is made with mashed artichoke hearts and served with za'taar pita chips.
(Ringo H.W. Chiu / For the Los Angeles Times)
Beso's yellowtail crudo is a colorful arrangement with yuzu citrus, coconut milk and a garnish of diced strawberries.
(Ringo H.W. Chiu / For the Los Angeles Times)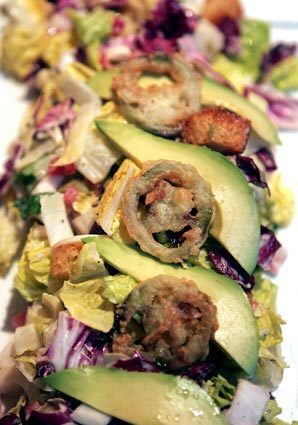 The Beso chopped salad is topped with avocado and spiked with a lime-jalapeno ranch dressing.
(Ringo H.W. Chiu / For the Los Angeles Times)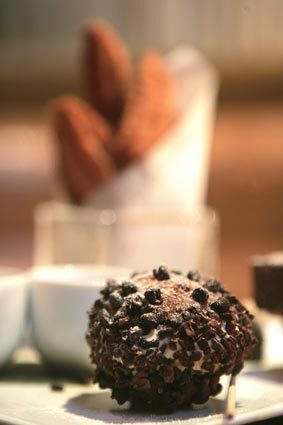 Novelty ice creams are on Beso's dessert list along with churros served with a spicy chocolate sauce.
(Ringo H.W. Chiu / For the Los Angeles Times)
Times Restaurant Critic
Flash! Click! Flash, flash, flash! Digital cameras erupt all over the dining room like popcorn popping. In the next booth, a quartet of young Latinas with a mom in tow crowd closer together, the better to fit in the frame. Smile, says the obliging waiter as he snaps their pic, capturing this night out at "Desperate Housewives" star Eva Longoria Parker's new Hollywood hot spot, Beso -- kiss.
All night, they keep checking the room, in hopes that their idol will show. But, though the waiter swears that Parker stops in almost every night, the curvaceous actress is in Cannes tonight.
But her fans are here, reveling in the gorgeous chandeliers that dangle like Fred Leighton diamond earrings from the lofty ceilings of this spectacular space. The designer, Tracie Butler, has done Parker proud with a contemporary look that exudes money and sex appeal.
And the effect begins in the bar with its offset ivory stone bricks discreetly emblazoned with candles. The bar itself is marble and lighted from underneath so it looks transparent. Overhead, a stainless-steel shelf holds watermelons, stone fruit and citrus that go into the seductive fruit-laced cocktails.
Parker is yet another celebrity smitten by the restaurant bug. Jennifer Lopez has Madre's in Pasadena, which manages to survive despite mediocre food. "Shark" actress Jeri Ryan has Ortolan, but she happens to be married to its French chef, Christophe Emé. Parker was smart enough not to go it alone and brought in chef Todd English, something of a celebrity in his own right as Boston's answer to Wolfgang Puck. But with the Boston-based chef dropping in only from time to time, does the food live up to the hype and glamour of the setting?
It's worth noting that every time I've dined at Beso, the hostesses at the door have said that our table wasn't quite ready and not too subtly urged us to wait in the bar. That's four cocktails times $14 or $15, or, for a Bellini, $23. . . ka-ching. I didn't much like the $10 upfront valet charge either, but this is Hollywood -- and in Hollywood, sad to say, $10 or more to have your car parked has become the norm.
When your table is ready, a hostess threads her way through tables with posh, black, tufted-leather chairs, past the seafood -- lobsters, oysters, clams, shrimp -- laid out on ice in front of the open kitchen, which is half ceviche bar, half steak grill.
The best seats
IF YOU'RE very lucky, you'll get one of those swell, half-curved booths upholstered in metallic faux croc. It feels very grand and very Hollywood. But if you ask for one when you make a reservation, no promises. There aren't, however, many bad tables here. And maybe the best are the ones on a sort of mezzanine looking down over the room. (There's also a back entrance for celebrities to slip in unnoticed.)
For this, Parker's first restaurant venture, the actress has teamed with movie-star handsome chef English, who is based at his first restaurant, Olives, in Boston, but has restaurants all over, including Manhattan, Seattle and various airports, plus one on the Cunard Line Queen Mary 2 cruise ship.
Suffice it to say, he's not likely to be in house on any given night. In fact, I saw him just once, very early on after it opened in March, the first time I dined at Beso.
Parker is Latin, English is forever identified with Mediterranean cuisine. So Beso's menu is a little bit Latin, a little bit Mediterranean. The left side lists crudo and items for the table, which can also be ordered in the bar.
First up is guacamole, in two versions: one a traditional avocado dip with a chunky texture and mild-mannered flavor, though a little watery, in fact; the other an artichoke "guacamole" (no avocado involved) made with artichoke hearts mashed in a molcajete, the volcanic stone mortar and pestle traditionally used to make guacamole.
The first time I ordered it, the artichoke dip was served in a molcajete too, rimmed with the artichoke leaves and scooped up in za'taar pita chips, a Mediterranean version that made complete sense. Weeks later, though, it came in a square white bowl, and the artichoke tasted waterlogged.
Chilled shrimp cocktail comes with a Bloody Mary cocktail sauce that doesn't quite live up to its name and an oddball lemon jam, pleasant enough, but not that compelling. There's also raw ahi tuna and watermelon with cojito cheese crumbled over the top -- innovative, pretty, but not as convincing once you taste it.
And what's up with the yellowtail crudo? It's slicked with coconut milk and a squirt of yuzu citrus -- and garnished with gorgeous diced strawberries. Trust me, strawberries and raw fish have no business in the same bite. And this, like many of the dishes here, seems more designed for the camera than for the palate.
But there are always oysters on the half shell to accompany a glass of Marquès de Gelida brut cava from Spain. Pity those who happen to know that the bottle sells for the same price retail as a glass does here. (Ouch, a bottle sells for $65 -- a markup of more than four times.)
Aside from high markups, the wine list offers some affordable bottles, particularly if you stick with Spanish wines, such as the rosado (rosé) from Bodegas Muga for $36. But it's annoying that so few bottles are less than $50. There's only one Tempranillo, for example. For a few dollars more you can get a bottle of "Tre Vigne" Barbera d'Asti from Vietti or a Vino Nobile di Montepulciano from Avignonesi, both in Italy.
Dressed-up tacos
TACOS GO uptown too. One is made with skirt steak, the usual pico de gallo salsa and a dab of smoky chipotle aioli in a fried taco shell. Others are filled with tuna tartare or plantains and black beans. Any of them are perfect for a small bite in the bar.
But the best I had was a special, "CraBLTA" taco, again in a crispy shell, with fresh crabmeat, crispy bacon, lettuce, tomato -- and avocado.
My party each night gobbled down the long, grilled lavash that's served instead of bread, with a spicy olive tapenade. This is flat-out delicious and better than any of the flatbreads we ordered, which sometimes tasted underbaked, a little floury.
Bold flavors
TOPPINGS ARE simple. It could be a spicy tomato sauce with cilantro and some fresh Mexican cheese crumbled over. Or a delicious special of thinly sliced serrano ham (from Kentucky!), pineapple and red onions with espelette pepper from the French Basque country, and Manchego and mozzarella cheeses. That works, and beautifully.
Mostly though, I'd stick with the salads, maybe the light and refreshing butter lettuce wedge with a creamy dressing based on Cabrales, a Spanish blue-veined cheese. The Beso chopped salad is fine too, with its lime and jalapeño-sparked ranch dressing.
I'd probably skip the tortilla soup purportedly made from Parker's own recipe and served in a ridiculous asymmetrical bowl. There's nothing distinctive about it. And should any of the intensely orange soup happen to fall on somebody's expensive outfit, it's a surefire spoiler of the evening. Not worth risking.
Beso hedges its bets with a mini-menu of steakhouse cuts. The beef comes from the family-owned Brandt farm in Imperial County, which is to the good. But you can find flat-iron or Porterhouse for two everywhere lately.
The one Latin-inspired cut is a chile-rubbed skirt steak with a jellied texture served with a tortilla fattoush, a bread salad that's the best thing on the plate.
On a first visit the paella is awful. What a difference a few weeks make. The most recent version is possibly the best paella in town, even though the lobster, roasted chicken, spicy chorizo and various shellfish are likely assembled on top rather than cooked with the saffron rice.
I can say that Todd English really knows how to write a menu: Dishes sound intricate and interesting, but don't always live up to the description.
So we look forward to dessert -- churros, which arrive warm and dusted with sugar, ready to dip in a spicy chocolate sauce. With a cup of coffee laced with milk, these make a satisfactory ending to a meal. And if the diva shows up at her restaurant, well, that's what everybody has come for, isn't it? Me, I'm enjoying the flat-out grandeur of the room.
Parker bills her restaurant as a supper club. It does have that look of New York's finest glimpsed in vintage photos: everyone dressed up, seated at little tables, sipping cocktails. Too bad the kitchen isn't performing up to the concept. But then the food at those supper clubs of yore probably wasn't so excellent either.
Beso Rating: *Location: 6350 Hollywood Blvd. (at Ivar Avenue), Hollywood; (323) 467-7991.Ambience: Glamorous supper club from "Desperate Housewives' " Eva Longoria Parker and Boston chef Todd English. The menu is a mix of Latin and Mediterranean, sometimes both in the same dish, with a bar menu that includes guacamole, dressed-up tacos and crudo (raw seafood).Service: Varies from professional to overbearing.Price: Guacamole, $14; shellfish and crudo dishes, $14 to $16; tacos, $13 to $18; starters, $10 to $14; steakhouse cuts, $32 to $60; seafood and other entrees, $26 to $36; sides, $8; desserts, $8 to $14.Best dishes: Artichoke guacamole, serrano and pineapple flatbread, CraBLTA taco, butter lettuce wedge salad, Beso chopped salad, flat-iron steak, paella, creamy feta spinach, churros with spicy chocolate sauce.Wine list: High markups with few bottles less than $50. Corkage fee, $25.Best table: One of the swell booths, or a table on the mezzanine overlooking the action.Details: Dinner Monday through Saturday, 6 to 11 p.m. Full bar. Valet parking, $10 upfront.Rating is based on food, service and ambience, with price taken into account in relation to quality. ****: Outstanding on every level. ***: Excellent. **: Very good. *: Good. No star: Poor to satisfactory.
---
Life is stressful. Our weekly mental wellness newsletter can help.
You may occasionally receive promotional content from the Los Angeles Times.