Dip into bold, nutty romesco sauce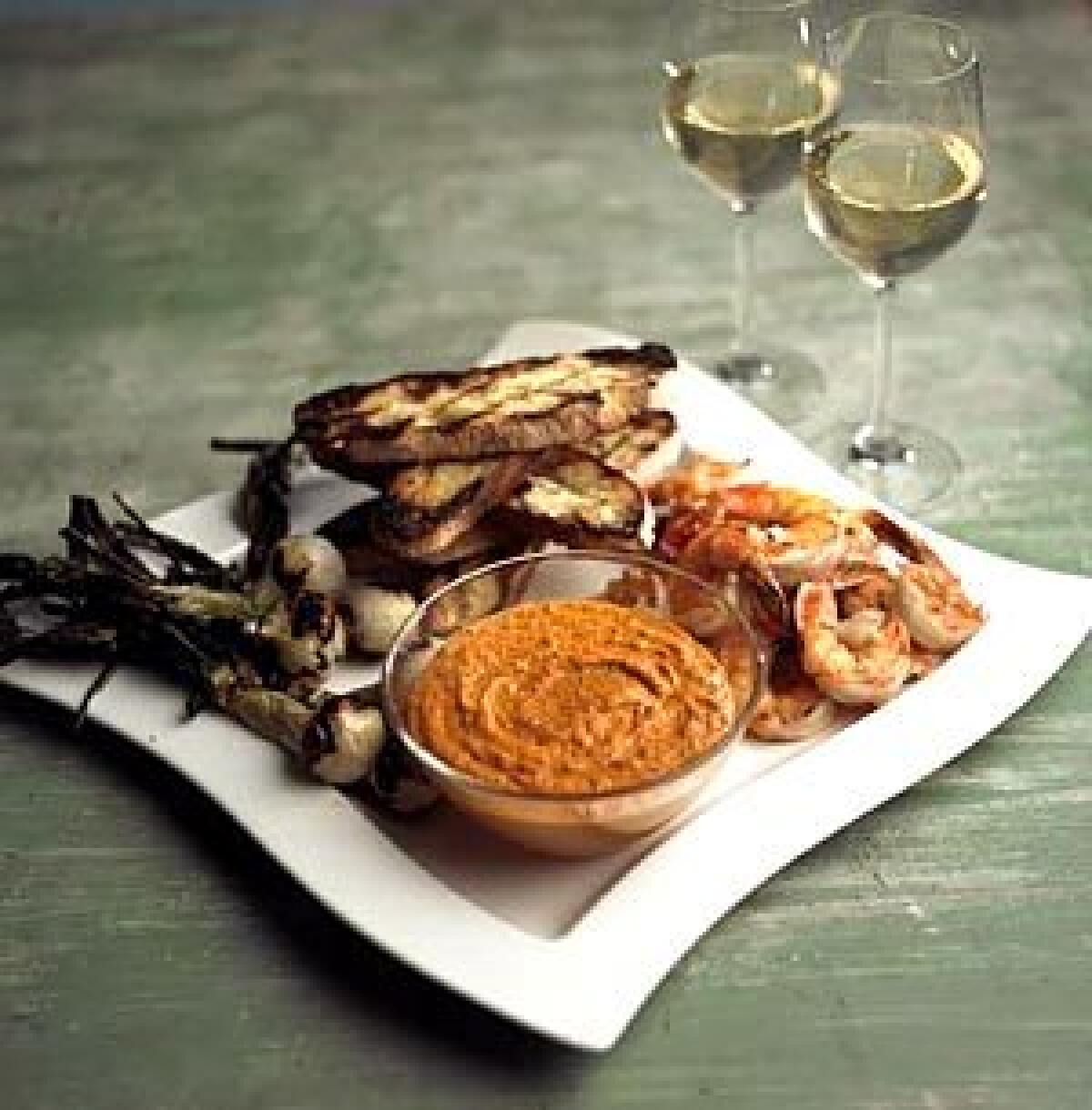 Los Angeles Times Staff Writer
SOMETIMES A sauce is more than, well, just a sauce. Discovered for the first time -- on the menu of a restaurant, amid the pages of a cookbook -- it looks ordinary enough. But in one bite such a sauce transforms the dish, then the meal, then the diner.
If you think I'm overstating (food is not always alchemy; sometimes, as Michael Pollan has famously observed, it's not even food) then you've never experienced a good romesco sauce.
This classic Catalonian sauce -- thick as pesto, the color of rust, textured with nuts and a bit of fried bread -- packs an astonishing amount of flavor into such small acreage. Earthy, toothsome, definitely habit-forming, romesco is rough magic in a bowl.
It's also surprising, as nut sauces can often be, because at first you can't quite place the earthy undertones and complex textures. High notes of sherry and paprika yield to the round, deep flavors of hazelnuts and almonds; sweet octaves of tomato and pepper follow next, then there's an aftershock of garlic, maybe another of chile.
Make a bowl of it, a very large bowl. Then scoop up the sauce with a slice of toasted bread, a shrimp from the grill, a sweet spring onion slipped from the charred filigree of its skin.
Not just a pretty dish
IN CATALONIAN cooking, romesco is stirred into seafood stews, spooned over fish and served in bowls as a condiment.
Because it's a sauce built with healthful nuts instead of, say, butter, a romesco is more than just an aesthetic addition or a flavor boost to a dish. Paired with some bread or onions, it can be a satisfying course unto itself. You can also ladle it into soups or over spring lamb, fish kebabs or grilled vegetables. Eat it out of the bowl with a spoon.
Romesco isn't a hot sauce. It's a subtle cohesion of flavors and textures, with a little sweet heat and depth but nothing overpowering. The nuts form the base of the sauce and give it a slightly rough texture. And the bread isn't a thrifty cook's filler, but a way to smooth and balance the nuts and add body. A mild bite comes more from the garlic and vinegar and paprika than the peppers. The finely balanced, intricate notes of nut and spice underscore delicate flavors -- briny seafood, sweet onions -- without overwhelming them, providing a little punch rather than a knockout.
That's why in Spain the sauce, in a regional variation called a salbitxada, is paired with the grilled spring onions called calçots. It's the featured sauce in the spring onion festival -- the calçotada -- where the delicate onions are grilled, then dipped in bowls of the heady stuff. Traditionally, romesco is made with dried Ñora peppers, a Spanish variety that's a visual dead ringer for the Cascabel chile pepper, a Mexican pepper named for the drum rattle it resembles. The Ñora has the same color and earthy notes as the Cascabel but is sweeter.
Ñoras are available in stores supplied by Spanish importers (such as Harbor City's La Española) or online. But since the peppers weren't always so easy to find outside of Spain, many cooks have improvised, using roasted red peppers, a bigger hit of paprika or replacing the Ñoras with ancho peppers or something even hotter. As with any good sauce, variants abound.
Pepper play
AT BAR PINTXO in Santa Monica, chef-owner Joe Miller throws a few pickled Spanish green Guindilla peppers into his romesco; Mozza executive chef Matt Molina does his with earthy smoked paprika. La Española's co-owner Juana Faraone has a copy of a 50-year-old Catalonian recipe that, along with the Ñoras, includes roasted onions.
If you don't want to use Ñoras, or if you want a sauce with more heat, you can experiment with using some of the many dried peppers available. Many cooks like making romesco with anchos, but I like the verisimilitude of using Cascabels. Blend in a pair along with a charred red bell pepper and a little parsley, and you'll have a romesco with a little more depth and bite than a traditional version.
A classic version, with more finesse and less heat, showcases the delicate notes of the nuts and a sweet Spanish paprika. For an additional touch of refinement, use plump Marcona almonds with the hazelnuts -- their delicate, buttery flavor comes through in the milder sauce.
And since it's spring onion season, now is the perfect time for your own calçotada. Roast a bunch whole, maybe throw thick slices of bread and some plump shrimp on the grill too, and eat them all with a bowlful of romesco -- and your hands. Some sauces are not made for dainty dipping but for palpable, messy, unapologetic pleasure.
amy.scattergood@latimes .com
Get our L.A. Goes Out newsletter, with the week's best events, to help you explore and experience our city.
You may occasionally receive promotional content from the Los Angeles Times.