Recipe: Blackberry scones from the perfect N. Calif. getaway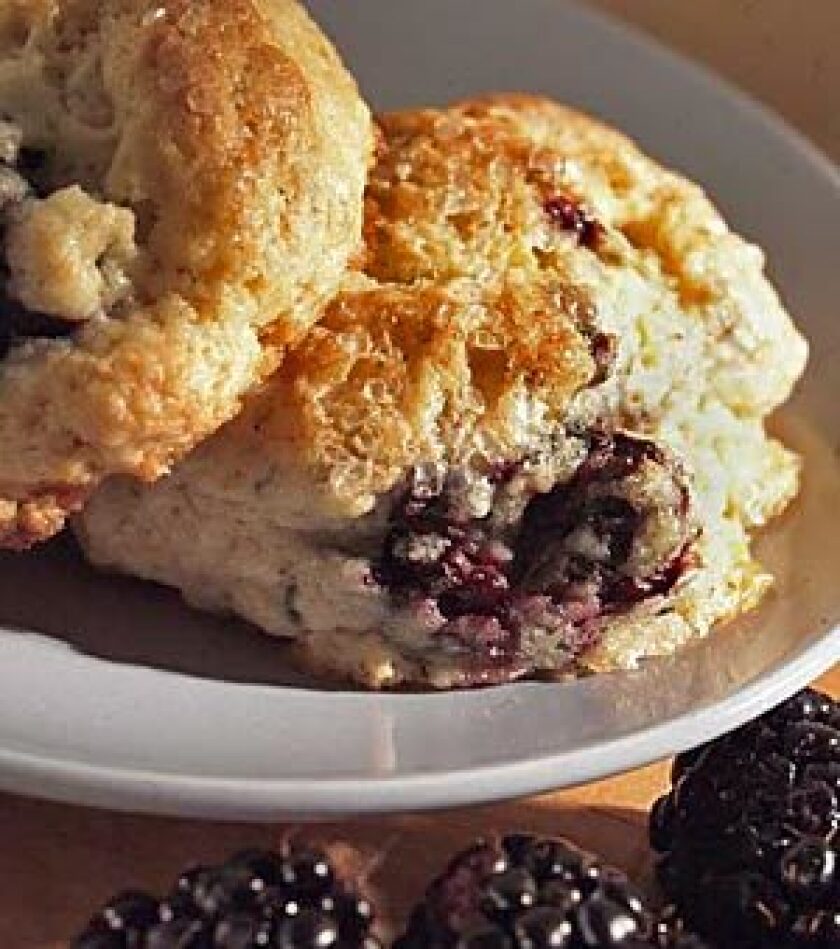 Los Angeles Times Staff Writer
WHAT'S the perfect Northern California getaway? Beautiful views, rambling beachfront garden and, of course, delicious blackberry scones served with breakfast. The scones at Alegria Oceanfront Inn & Cottages in the coastal town of Mendocino are a big draw for columnist Russ Parsons. "These scones have the perfect texture: firm, but slightly crumbly," Parsons says. "And the flavor is just sweet enough without being overpowering."
Blackberry scones
Total time: 1 hour, 10 minutes
Servings: 12
Note: Adapted from a recipe by innkeepers Eric and Elaine Wing Hillesland at the Alegria Oceanfront Inn & Cottages in Mendocino.
1 beaten egg, divided
3/4 cup buttermilk
1 teaspoon vanilla extract
1/2 teaspoon grated lemon zest
2 cups flour
2 teaspoons baking powder
1/2 teaspoon baking soda
1/2 teaspoon salt
1/4 cup sugar
1/2 cup plus 2 tablespoons butter (1 1/4 stick) chilled unsalted butter, cut into 1/2 -inch pieces
1 cup blackberries (fresh or frozen)
1/2 cup heavy cream
1 tablespoon coarse sugar
1. Heat the oven to 375 degrees. Mix together half of the egg, buttermilk, vanilla extract and grated lemon zest in a medium bowl.
2. In a large bowl, sift together the flour, baking powder, baking soda, salt and the sugar. With a pastry cutter or fork, cut the butter pieces into the flour until the mixture resembles coarse cornmeal.
3. Gently fold the blackberries into the flour mixture, then add the buttermilk mixture, carefully stirring to avoid breaking up the berries until a loose, soft dough forms.
4. In a small bowl, whisk together the remaining half of the egg with the heavy cream; set aside. Using an ice cream scoop or measuring cup, scoop out rounded one-fourth cup portions of dough onto a greased baking sheet about 1 1/2 inches apart. Brush each of the scones lightly with the egg-cream mixture (you will not use all of it) and sprinkle each with a little of the coarse sugar. Bake 30 to 35 minutes until the scones are puffed and the tops are golden brown. Makes 1 dozen.
Each serving: 233 calories; 4 grams protein; 24 grams carbohydrates; 1 gram fiber; 14 grams fat; 9 grams saturated fat; 57 mg. cholesterol; 258 mg. sodium.
---
The essential weekly guide to enjoying the outdoors in Southern California. Insider tips on the best of our beaches, trails, parks, deserts, forests and mountains.
You may occasionally receive promotional content from the Los Angeles Times.