A plot-driven garden story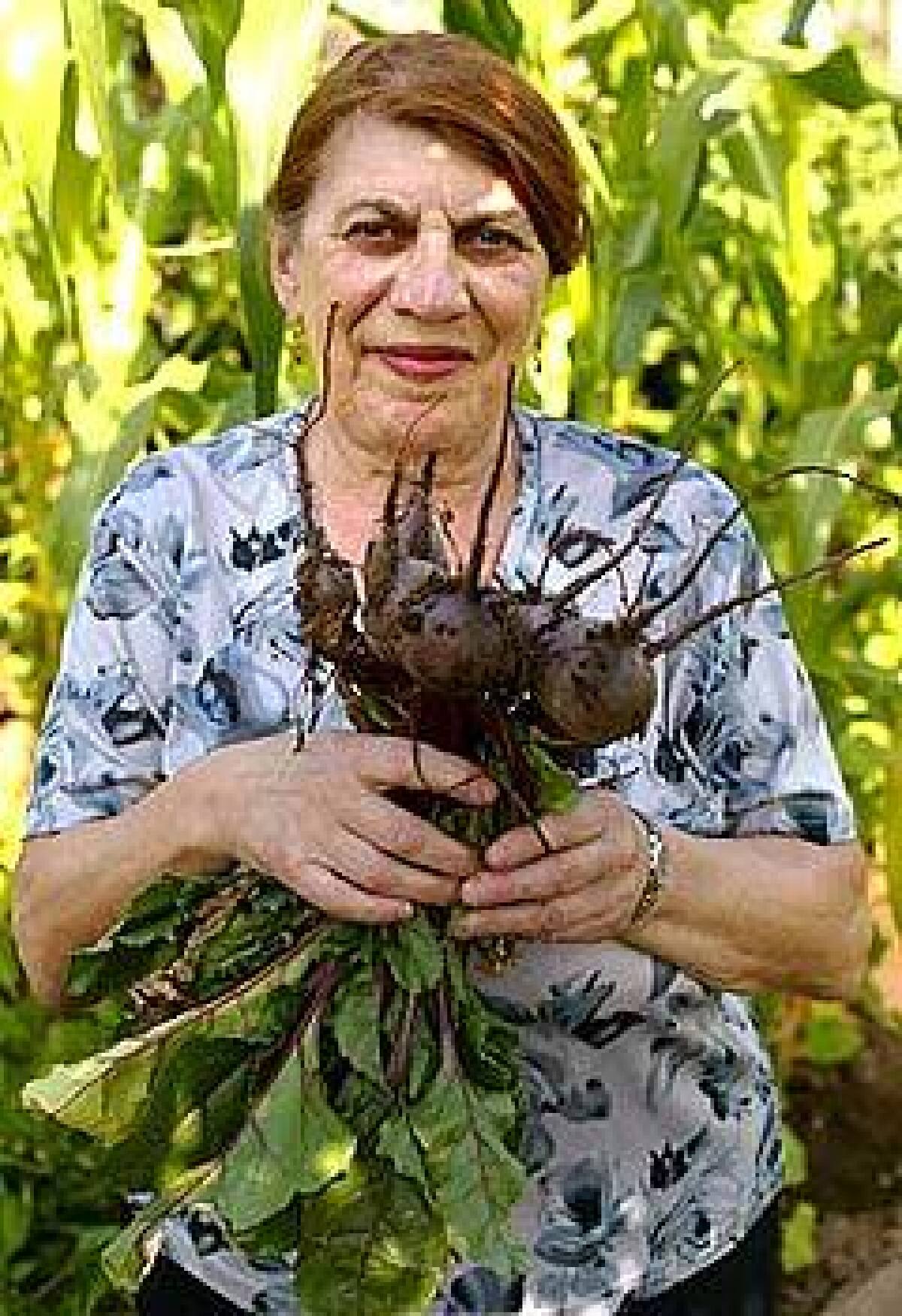 Special to The Times
Stepping through the gate into Wattles Farm, one of L.A.'s oldest community gardens, is like stepping into a soft green salad and wrapping yourself in lettuce and fragrant herbs.
You're just half a block above Hollywood Boulevard, but the noise of the traffic is muffled by the ancient trunks and leafy branches of dozens of avocado trees. As you walk down the paths that wind through 163 individual garden plots, the overall sensation is one of fresh new green.
A woman in shorts and a straw hat is watering a grapevine whose huge leaves are back-lighted by the sun. A man in jeans weeds well-fed tomato plants that line up before him in healthy green rows. Fig and loquat trees border raised beds of eggplant, squash, cilantro, parsley and dill. Beans wind up their poles. It's an urban farm in what was once the avocado grove and fruit orchard of the historic Wattles Mansion in Hollywood.
On warm summer evenings, the garden's members sit at tables under rose arbors or screened by vine-covered trellises, dining on just-picked tomatoes, avocado and lettuce salads or simple snacks of cheese and pickles.
Sam Trueblood, one of five garden masters and a member from the first year, says gardeners have been dining on site since Wattles Farm was created in 1975 and the acreage was reclaimed after years of neglect. "There were a lot of picnics in those days. People brought their lunches and we'd stop for breaks while we were developing the land."
Cooking, eating and gardening have been intertwined throughout the garden's history. An early Wattles newsletter printed recipes for pesto and ratatouille that Trueblood still uses, and while they're weeding or watering or kibitzing from plot to plot, Wattles gardeners share not only seeds and produce but also recipes.
And twice a year — in early summer and early fall — all 300 members of the Wattles Farm community are invited to a potluck supper. This year's summer celebration is next week, and members are pulling out recipes, watching their crops ripen and planning their contributions to what is surely one of the city's most pastoral feasts.
Although there is a small grassy public park farther up the hill that's part of the city-owned Wattles Mansion area, the 4.2-acre farm is only open to members, who pay $40 annual dues and contribute labor on community work days. There's a waiting list of more than 100 prospective members, and it takes two or three years to obtain your plot. Completely organic, the garden is run by a nonprofit organization, Wattles Farm and Neighborhood Gardeners Inc., in partnership with the Los Angeles Department of Recreation and Parks. It's one of 60 community gardens in Los Angeles County.
"More than half our members live in apartments in the area," says Toby Leaman, another garden master and president of the board of directors, as she tugs at some errant nut grass that's encroaching on a riotous bush of flaming orange roses. "There aren't a lot of parks in the immediate area. So we have picnic tables; we come for dinner in the summertime. And we have some marvelous cooks!"
On any given weekday, you'll find retirees and actors mulching and trimming. Shift workers appear mornings or afternoons for some fresh air and exercise. Parents stop by after picking the kids up from school and gather tomatoes and cukes for dinner. White-collar types and professionals hit the dirt on weekends.
Each 15-by-15-foot garden plot reflects its owner's personality, and often hints at ethnic background and cooking style as well. Some plots are amazingly neat, with individual raised beds for onions, lettuce, tomatoes, cilantro and radishes. Other plots must belong to free-spirit types — artichokes are blooming royal purple and the mint's a foot high.
At the present time, 51% of the gardeners are immigrants from countries that made up the former Soviet Union. This is reflected not only in the bilingual English/Russian signs and notices throughout the garden, but in the preponderance of crops such as beets and dill that are central to the cuisines of the gardeners' homelands.
Wattles has attracted many members from the former Soviet Union not only because of the demographics of the surrounding neighborhoods but also because urbanites in those countries have a tradition of gardening in community gardens or at "summer houses" outside city centers.
The potlucks, Trueblood says, are a heady hodgepodge of international tastes. "Some of the Russian members bring wonderful pirogi. There are quite a few Armenian gardeners who bring things like stuffed grape leaves and wonderful eggplant dishes. We'll get stuffed chiles and other Mexican dishes, and we have some Italians, too, so we see vegetable lasagnas."
Although Leaman says that she, for one, "grazes" right out of her garden while she works, many Wattles gardeners take their harvests from the garden to the kitchen counter, knock the dirt off the roots, rinse the grit off the leaves and create dishes inspired by the flavors and textures of their crops — and the need to use up more veggies than you'd buy in the market on a given day.
Tradition and improv
Actress Michelle Farr, a 14-year plot-holder with her husband François De La Giroday, makes a lemon-zucchini vichyssoise. It combines sautéed leek, onion, garlic, potato and "a large zucchini — one of those ones that got out of control before you picked it." Puréed in a food processor after cooking and smoothed with cream, then spiked with lemon juice, Farr's chilled soup is, she says, "one of my faves for the summer zucchini glut."
Farr's husband is the farmer in the family, and his herb garden yields the oregano, marjoram and parsley that Farr uses with a generous hand in an eggplant dip. And at the end of a day of weeding, they take home plenty of fresh mint to crush for a Wattles mojito.
Another gardener, Slava Sukhotskaya, who came to the U.S. from Slutsk, Belarus, in 1999, was a professional cook in Belarus, and also had a huge summer-house garden, explains her daughter, Irina Kukharenok, who translates her mother's remarks. Sukhotskaya's refrigerator pickles, made with cucumbers she grows and picks when small, are half-sour deli-style pickles, fresh-tasting and snappy with the dill she grows.
"In Russia we do a lot of marinating and preserving — jams, pickles, compotes," Kukharenok says, translating. "She did it in the summer so her family would eat in the winter." The pickle recipe is a variation on a family recipe. "She was trying to have her pickles be more crunchy, and she likes the smell of dill. This is to her taste," says Kukharenok. "My grandmother puts in other ingredients, like cherry leaf and black currant leaf, so her pickles taste quite different."
Kukharenok's grandmother, Ida Khrypun, has her own plot at Wattles, where she grows virtually all the ingredients for her classic garden borscht, made according to a family recipe passed down from her mother. With three-fourths of a cup of chopped fresh herbs, it's a flavorful summery version of the hearty soup, made with chicken or beef stock and served hot.
Some Wattles gardener-cooks make up new dishes as they go along. Gloria Corgnali, a waitress who's had a plot for one year, began gardening with lettuces, herbs and zucchini. That first season, she says, "I had a good year for chile peppers. My husband, Santiago Diaz, is Mexican, so he enjoyed those. And my garden master gave me some seeds from Italy, so now I have different types of radicchio."
Her blackberry strudel was created on the fly one day when she came home from the garden with just-picked berries.
"That day," she says, "I was a little short of time. They called me into work early. I took a recipe for a mixed berry pie. I didn't have time to make pastry, so I used some puffed pastry I had in the freezer. And I tried not to use too much sugar."
The result of Corgnali's hasty improvisation is a dense, blackberry-rich dessert, vibrant with fruit flavor and not too sweet.
Experienced gardeners show off not only by growing the biggest or most bountiful vegetables but by knowing what to do with their harvests. Writer Laurel Delp was staring at a row of 4-foot-high chard just a few months after starting her garden this spring, when an old hand told her how to make an easy, tasty appetizer with the greens.
You steam a big bunch of chard, then squeeze out the water, Delp's mentor told her, then add it to a pan with sautéed garlic, toasted pecans, balsamic vinegar, olive oil, lemon zest and Parmesan. After cooking for a few minutes, says Delp, "you give it a swipe with a stick blender, and serve it with crackers."
Come potluck time, Wattles members start reminding each other to bring favorite dishes from past years.
Trudy Gilbert, for example, is a longtime member whose late husband, Herschel Gilbert, was considered the father of the community garden system in L.A. County. Her leek tart has been requested for this year's potluck. Rosemarie Gregg marinates cauliflower, beans and peppers with Italian herbs to make a colorful antipasto. And although a dish Trueblood's wife makes, called Harriett's Beans, is the most-loved family contribution to the buffet, a Provence-inspired Swiss chard tart Sam creates with raisins and pine nuts might be a contender, too.
Of course, there's another breed of gardener-cook: the last-minute types. They'll wait until the morning of the potluck, then wander over to their garden plots and sniff the herbs, pinch the tomatoes, measure the eggplants and taste a few berries. The time will be ripe to dream up a perfect summer dish.
*
Garden borscht
Total time: 40 minutes
Serves: 4
Note: From Ida Khrypun
1 large beet
1 large carrot
1 large potato
1/2 medium onion
1 medium-large tomato
1 tablespoon olive oil
1 teaspoon minced garlic
4 cups chicken or beef stock
1/2 teaspoon salt
1/2teaspoon sugar
1/4 cup chopped dill
1/4 cup chopped parsley
1/4 cup chopped basil
1 to 2 tablespoons lemon juice
1/4 cup sour cream
1. Peel and thinly slice the beet, carrot, potato and onion. Slice the tomato.
2. Heat the oil in a large skillet over medium-high heat. Add the sliced vegetables and the garlic and cook for 5 to 7 minutes, stirring often.
3. In a separate medium saucepan over medium-high heat, bring the stock to a boil. Add the cooked vegetables to the stock. Reduce the heat and simmer for 15 minutes.
4. Stir in the salt, sugar, dill, parsley, basil and lemon juice. Cook for 5 minutes. Serve hot with sour cream.
Each serving: 184 calories; 4 grams protein; 27 grams carbohydrates; 5 grams fiber; 7 grams fat; 3 grams saturated fat; 7 mg. cholesterol; 1,027 mg. sodium.
*
Quick fresh dill pickles
Total time: 10 minutes plus at least three days pickling time
Servings: 14
Note: From Slava Sukhotskaya
2 pounds small pickling cucumbers (about 14)
1 head fresh garlic, trimmed, peeled and divided into cloves
4 to 5 dill heads (substitute 3 to 4 tablespoons dill seeds plus 1 bunch dill)
4 to 5 cups filtered water
1/2 teaspoon black pepper
1 tablespoon kosher salt
1. Wash the cucumbers and remove the blossom ends. Place a few cloves of garlic and 2 of the dill heads in the bottom of a clean half-gallon glass jar that has a lid. Add some cucumbers, then continue to fill the jar with cucumbers, garlic and dill until the jar is full and you've fit as many cucumbers as possible.
2. Pour the water into the jar to cover the cucumbers. Add the pepper and salt. Cover with the lid and shake vigorously until the salt dissolves.
3. Remove the lid and weight the cucumbers so that they remain beneath the brine (a small cup filled with beans or pie weights works), but do not replace the lid. Cover the weighted jar with a towel and allow the brined cucumbers to sit on the kitchen counter for three days.
4. In three days, the pickles are ready to eat. Now, you can close the lid on the jar and put it in the refrigerator. The chilled pickles are crispy and continue to take on garlic and dill flavors over the next several days. They may be kept in the refrigerator for weeks (although they don't usually last that long).
Each of 14 pickles: 8 calories; 0 protein; 2 grams carbohydrates; 0 fiber; 0 fat; 0 saturated fat; 0 cholesterol; 250 mg. sodium.
*
Blackberry strudel
Total time: 1 hour
Servings: 8 to 10
Note: From Gloria Corgnali
1 sheet frozen puff pastry
Butter for baking sheet
4 cups blackberries
1/4cup plus 1 1/2 tablespoons sugar (less if berries are very sweet), divided
2 tablespoons instant tapioca
2 tablespoons cornstarch
1 egg white, lightly beaten
1/8teaspoon vanilla extract
1. Heat the oven to 400 degrees. Defrost the puff pastry sheet according to package directions. Butter a large rimmed baking sheet or jellyroll pan.
2. Mix the berries with one-fourth cup sugar, the tapioca and cornstarch. Let them sit for 15 minutes.
3. Roll out the puff pastry to an 18- by 12-inch rectangle on a lightly floured board. Brush the edges with some of the egg white. Spoon the berries lengthwise down the center of the pastry.
4. Pull one side of the pastry sheet up and over the top of the berries and tuck it under the berries inside the other part of the pastry sheet. Pull the other side of the pastry sheet up and over and tuck it under the pastry roll. Press the ends down to seal and tuck under. Brush the entire surface with the remaining egg white. Place in the freezer for 10 minutes to chill.
5. Bake until golden brown, about 30 minutes.
6. Remove the strudel from the oven and cool slightly. Combine the remaining 1 1/2 tablespoons sugar with the vanilla extract. Sprinkle over the surface of the strudel. Serve warm or room temperature.
Each of 10 servings: 95 calories; 1 gram protein; 19 grams carbohydrates; 3 grams fiber; 2 grams fat; 0 saturated fat; 0 cholesterol; 17 mg. sodium.
---
Get our L.A. Goes Out newsletter, with the week's best events, to help you explore and experience our city.
You may occasionally receive promotional content from the Los Angeles Times.