8 Images
Bohemia With Killer View
Lucy Bivins walks to the front of the Mount Washington home that Bestor designed.
(Richard Hartog / LAT)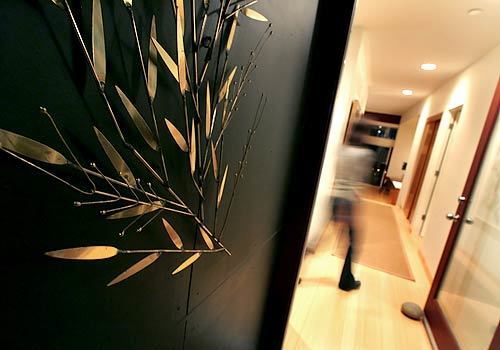 A metal bamboo sculpture creates a focal point at the softly lighted entryway of the Bivins-Schmidt home. Other Bestor-inspired features in the home include a mirrored kitchen backsplash that affords all guests at the dining table with a view, as well as bathrooms bathed in natural light with colorful window decals providing privacy.
(Richard Hartog / LAT)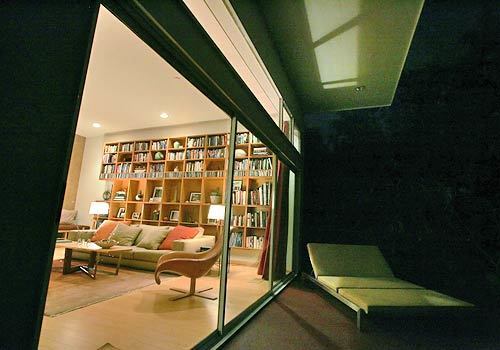 At the 1,600-square-foot home of Lucy Bivins and Eric Schmidt, Bestor designed sliding glass doors that open between the deck and the living room, which is lined with her signature built-ins, including a bookcase with a cutout providing a glimpse of the city skyline. Bestor designs with cardboard topographical models to minimize cost, maximize natural light and allow privacy and views.
(Richard Hartog / LAT)
Charlotte, 6, plays on a hardwood floor, which Bestor painted to look like spilled paint.
(Stephen Osman / LAT)
Bestor designed the Hollywood Hills home for Roberts and Robert VanNewkirk with family features such as the shelves tucked under the staircase as a convenient place to store the family's shoes.
(Stephen Osman / LAT)
Angel Roberts enters the glass-doored kitchen, with its colorful custom-made cabinets, from the backyard.
(Stephen Osman / LAT)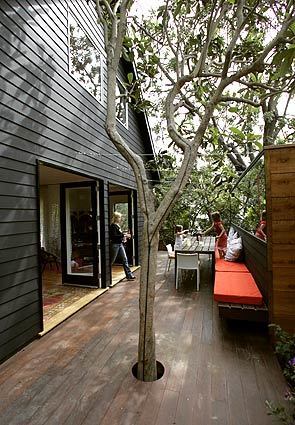 Bestor joins her two daughters, Charlotte, left, and Beatrice, on the deck of the Echo Park home she remodeled.
(Stephen Osman / LAT)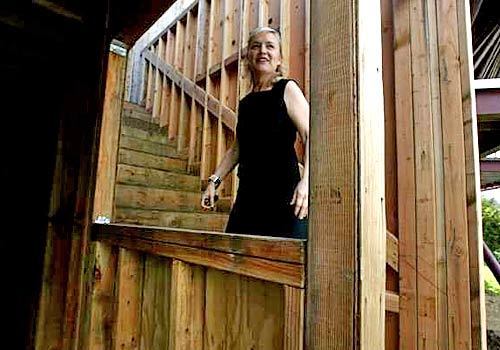 Architect Barbara Bestor amid construction of one of her many current projects.
(Richard Hartog / LAT)