Make way for the 'manutailer'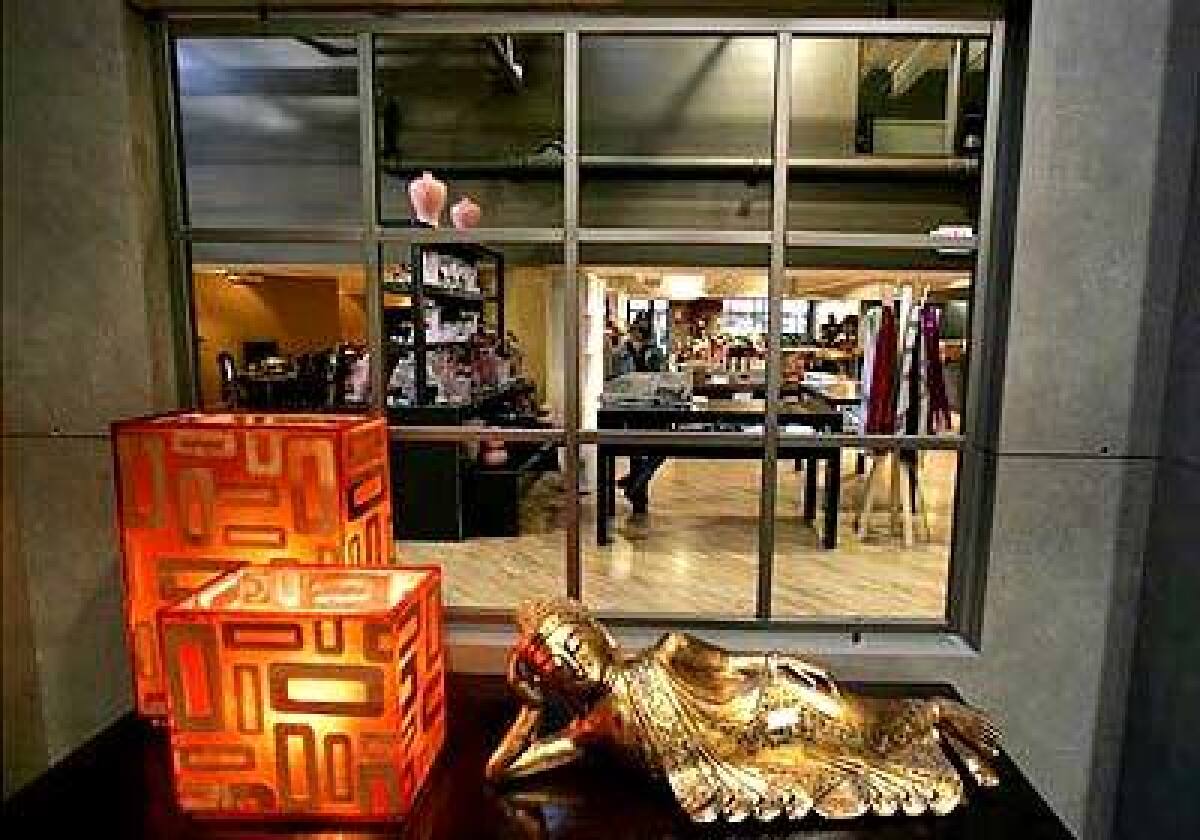 Special to The Times
If the '80s were about discount outlets and the '90s saw the rise of warehouse clubs, then Evan Cole has one word for the 21st century: "manutailer."
After two decades as chief executive of New York City's trend-setting ABC Carpet & Home, the 44-year-old Cole has left that superstore and opened H.D. Buttercup, an upscale furniture emporium in L.A.'s historic 1930 Helms bakery. At this marketplace, manufacturers become retailers, selling directly to the public.
"There's no middleman," Cole said while walking through the 100,000-square-foot facility, an IKEA-sized space where some of the 50 vendors were still unpacking this week.
Though it is housed in a former bakery and shares its name with a brand of bread, Buttercup is anything but a bargain bin for day-old design. "It's an incubator for little baby home-furnishing brands," Cole said, "that really care about quality design."
While rolling out carpets, fifth-generation dealer Tony Abrahim of Khyber Pass cited rugs made in his father's Afghanistan factory, which recently reopened after the fall of the Taliban. "These," he said, pointing to a pile of carpets with patterns derived from ancient Egyptian textiles, "are 100% wool, made with 100% vegetable dyes to give them an antique look — all at killer prices." The rugs, he said, sell for up to $4,000 elsewhere but are priced at less than $2,000 here.
H.D. Buttercup also houses 19th century European treasures from Mollen Antiques and modern white lacquered Asian cabinets lined with blue and silver brocade at Wabi-Sabi. Accessories include Turkish copper vessels in the Arts and Crafts style at Material Culture, Indian silk bedding from Jiti and Tuscan earthenware trimmed in pewter at Arte Italica.
Contemporary design is a strong suit of manutailers such as Directions, which makes furniture for Crate & Barrel. Cindy Ciskowski's updated traditional lamps are a highlight, as are Blu Dot's modern storage systems. For midcentury at a mid-level price, Skypad has reproductions of Mies van der Rohe's Barcelona chair and its own streamlined sofas. H.D. Buttercup also has flowers from Rolling Greens Nursery, coffee table books published by Assouline and the Provençal bath and body line Lothantique.
For Cole, the biggest draw is the landmark location. Built by the architectural firm Grant and Bruner during the Depression to celebrate the 1932 Olympic Games in Los Angeles, the Helms bakery building is a superb example of Art Deco.
Cole fell in love with the space when it housed the Antique Guild in the late '70s, using it as his model for turning a historic building in New York into ABC Carpet & Home in 1982.
For Elle Decor editor in chief Margaret Russell, that store "is a true destination for fine design created by people with a passion for home furnishings who traveled the world to find beautiful things."
Hoping to re-create that success, Cole leased the Helms building and spent $10 million on restoration, a process that revealed red brick walls and maple floors with concrete pads where ovens once stood, all flooded with sunshine from skylights in the 30-foot zigzag ceiling.
Unlike today's cluttered home stores, H.D. Buttercup is a return to airy showrooms with elegant settings. Cole has in-house interior design services, a restaurant and party space in the works and a goal of turning Helms Avenue between Venice and Washington boulevards into a pedestrian street.
Amid shoppers with dogs and strollers, interior designer Penelope Francis took it all in. "It's fabulous," she said of the selection. "It's going to be one-stop shopping for home accessories."
Cole is counting on that. "People in L.A. love shopping for their houses," he said. "On Beverly Boulevard, you have to park 19 times to see what's out there. Here, you valet park and get 50 stores in one shot."
---
H.D. Buttercup, 3225 Helms Ave.; (310) 558-8900, https://www.hd buttercup.com.
Get our L.A. Goes Out newsletter, with the week's best events, to help you explore and experience our city.
You may occasionally receive promotional content from the Los Angeles Times.