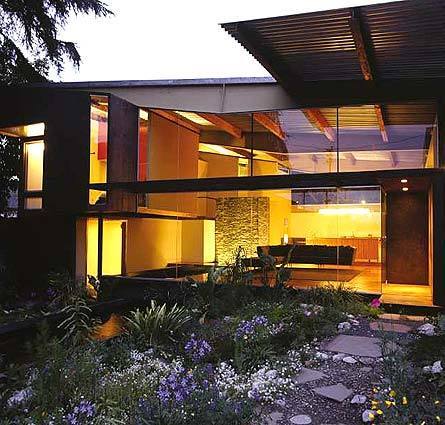 7 Images
Sustainable, for Earth and eye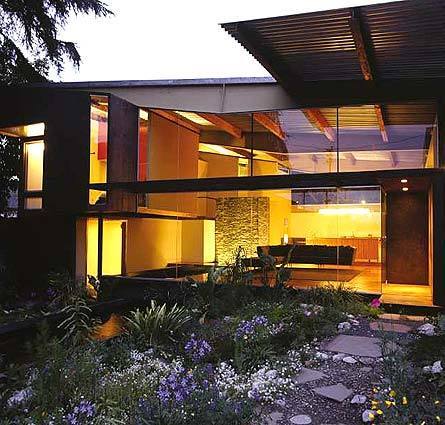 Developer Richard Carlson's home in downtown Los Angeles, below, was built largely of old metal shipping containers stored at the site. Designer Jennifer Siegal used large sheets of glass and a slanting roof to connect the containers.
(Princeton Architectural Press)
An extensive garden, with an 85-foot-long stream, frames the structure. Other recycled materials include Douglas fir beams in the living room ceiling, left.
(Princeton Architectural Press)
Colorado Court's 199 solar panels enable the low-income housing complex to satisfy 92% of its power needs.
(Lori Shepler / LAT)
When Venice architect David Hertz decided to enlarge his home from 2,500 to about 4,400 square feet, the staunch green-design advocate made sure it was environmentally sound - open to natural light and making use of solar energy and recycled materials.
(Béatrice de Géa / LAT)
The design was inspired by Indonesian architecture - a sort of Balinese Modern - with mahogany wood along the stairs, trellises and panels, which complement the exterior concrete walls.
(Béatrice de Géa / LAT)
Colorado Court's bright blue panels soak up the sun's energy in Santa Monica.
(Lori Shepler / LAT)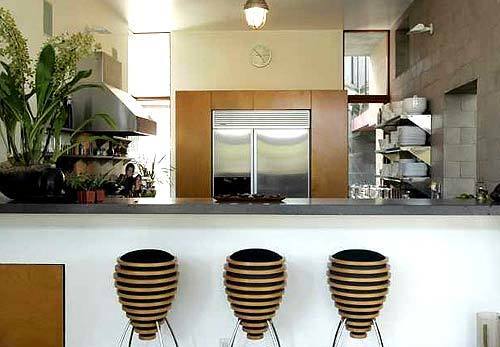 The countertop in David Hertz's kitchen is made of Syndecrete, a concrete he formulated to contain about 41% recycled content. The material, used throughout the house, helps to moderate temperature levels.
(Béatrice de Géa / LAT)