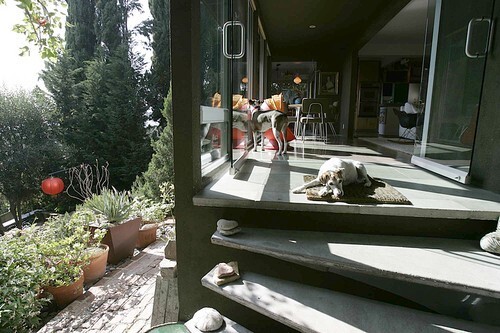 5 Images
A Set Designers Style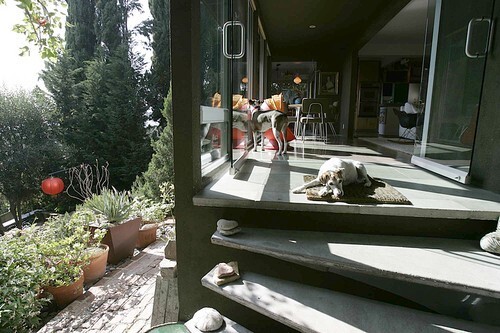 When my contractor found out that the glass mall doors would cost $3,000, he thought I was crazy. "You can buy carved mahogany doors for that!" he cried. "Yes," I said, "but you can't see through them." I ordered them from Slater Glass & Mirror in Arcadia
(Christine Cotter / LAT)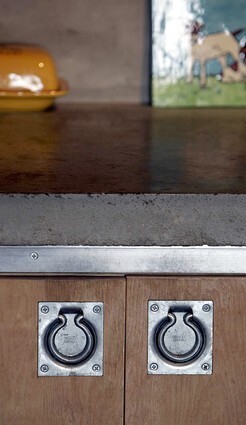 I got the idea for the kitchen cabinet ring pulls from the grips and prop makers who use them on their carts because they're flush.
(Christine Cotter / LAT)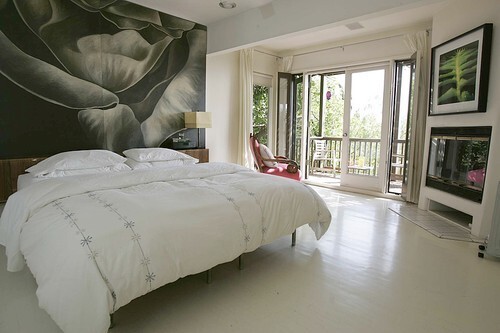 I like white on white on white. I painted the floors white because I wanted a sense of openness and calm. The bed is the only one that my father designed. The headboard is a console that sits directly on the platform. The middle cabinets open to house extra pillows, so the lines of the bed remain clean. The cabinets on both ends of the console open down and become end tables. I love it because it's simple and elegant, and it's the only thing I own that my father designed. The painting is by Nancy Nye. I love that she did a close-up of a rose, but in chocolate. I found the chair in what used to be Architectural Details on Melrose, and I re-covered it in a crazy pink. The drapes are from IKEA.
(Christine Cotter / LAT)
In the kitchen, I couldn't figure out where to put the paper towel holder. I don't have that much wall space, so I put it on the ceiling. I can reach up and grab it. Tall people love it. People always laugh when they see it. I talked the maintenance man out of that crazy clock when I was on a location scout. I thought it was weird and I liked it. A lot of the things I like crack me up.
(Christine Cotter / LAT)
Sometimes people have great yards but don't use them. The gravel creates beautiful lines with a sense of order. I don't have room for a big table in my house so we eat out there. Amélie uses the picnic table to paint and draw and dance on. To me, it's like having two more rooms outside: a bigger dining room and the sitting area with butterfly chairs. It's a nice place to sit and relax. There are certain things that transcend time and the butterfly chair is one. It is utterly brilliant. We grew up with them in the '50s. I love the tangerine chair covers. I also bought the biggest Chinese lantern I could find in Chinatown for $20
(Christine Cotter, Los Angeles Times)