The high life without airs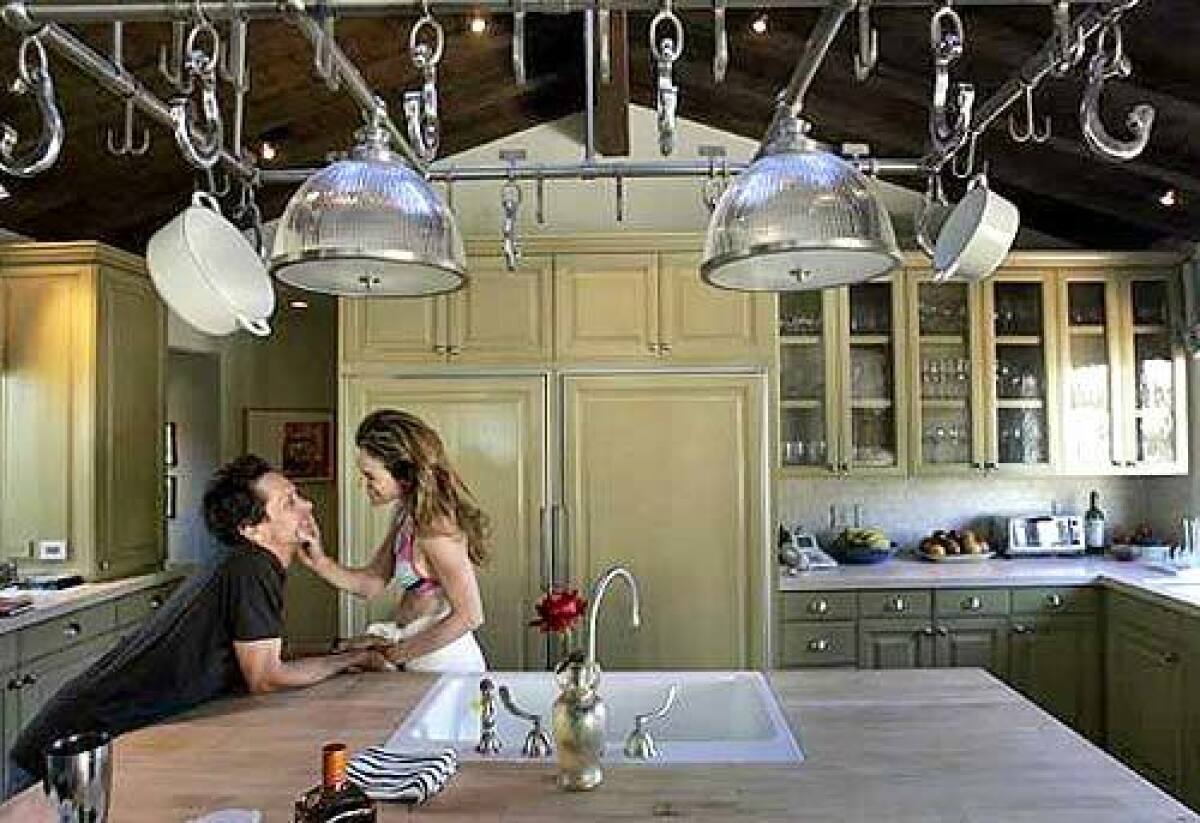 Times Staff Writer
"I never thought I'd be one of those women who had a relationship with her interior designer," Gigi Levangie Grazer says. She is standing in the kitchen of her Pacific Palisades home, surrounded by honed limestone counters and cabinets painted the color of fresh hollandaise. The shade of paint, brushed nickel drawer pulls and a weathered farmhouse table in the adjacent family room were all chosen by Michael Smith, the interior designer who has become such an adored buddy that Gigi sometimes refers to him as "my next husband." Her current husband, Academy Award-winning producer Brian Grazer, he of the spiked hair and $11.2 billion in gross revenue, would undoubtedly understand her comment as a compliment, in Gigispeak, not a plan.
The odd coupling of an interior designer with flawless taste and a bright, spunky woman with a wealthy mate is such a leisure class cliché. No problem. Whenever Hollywood reality swerves toward the trite, passes absurdity and winds up on the cover of Us Magazine, 42-year-old Gigi laughs, and then fictionalizes it.
Her new novel, "The Starter Wife," follows the adventures of 41-year-old Gracie Pollock after she is dumped by her studio executive husband and banished from El McMansion, the Brentwood starter castle decorated by her dear friend Will. Gracie, Gigi wrote, "had sworn she'd never be one of those Hollywood wives who paid for friendship — whose best friends were their Pilates instructors, personal trainers, interior decorators…. But she grew to love Will; she loved that he told her the truth — that basically, she had no taste." Actually, Gracie is discerning enough to observe that "The house was supposed to be Modern Spanish, but it veered more into Modern Office Building with Spanish moldings."
How can Gigi, a busy, happy, irreverent "wife of," create a sweet-and-sour fairy tale about a bored, miserable, insecure and increasingly angry "wife of"? Like the proverbial amorous porcupine, she conducts her business delicately, careful to make fun of herself first and to avoid wounding friends. And who better to detail the folkways of a company town where the sign-off "Love ya" must be followed by "mean it," than this very well-informed girl guide in her uniform of Dolce & Gabbana shirt and size 25 jeans? She can ridicule moneyed enclaves where homes are equipped with security systems so elaborate and confounding that they're never used, because she knows the territory.
Before her husband Kenny left to pursue a better matrimonial deal in "The Starter Wife," Gracie wondered "how she had come to live on a street where a three-year-old, five-million-dollar mansion was considered a tear-down." The Grazers live on such a street. Every weekday, workers' trucks clog the road where a nouveau Mayan temple, a shingled supercottage, a Georgian manor and a majestic Prairie-style villa are in various stages of completion.
A thick wooden gate, a long driveway and an attitude separate the Grazers' home from its neighbors. "I like to call myself blue-collar," Gigi says, "but my husband always says that's ridiculous, at this point." When the revolution comes, her heart might be on one side of the barricades. She knows she'll be stuck on the other. Yet rich is one thing. Showy is another, and the Grazers don't go there.
Their compound was built in the late 1930s by Cliff May, the ranch house prophet of the West Coast. May was a sixth-generation Californian whose idealized single-story houses recalled a mythical frontier where homes sprawled over wide, open spaces. His most romantic designs combined the informal layout of historic adobe homes with modern amenities, but he also built lots of prosaic tract houses. The former would suit Butch Cassidy, in a good year. The latter were more Ward Cleaver. Gregory Peck and his first wife once lived in the Grazers' house, from 1947 to 1952. Brian bought it from a USC professor 12 years ago.
The low-slung, U-shaped hacienda sits on a grassy four-acre spur with 300-degree views — of a wild, wooded canyon, the Santa Monica Mountains, the Getty Center and the Hollywood hills, Century City, downtown and the coast. The house is partially notable for what it is not. Not grand: There is no baronial living room that looks freshly dipped in a vat of caramel, nor a kitchen vast enough to serve up three squares to a regiment. Not pretentious: It is not accessorized with the sort of safe, status art (Hockney, Graham) displayed in so many self-described collectors' homes.
It is not overdone. Not huge, or at least it appears, at first, not to be. The front of the structure curves around a courtyard of stone and gravel, revealing no hint that its wide corridors lead to other wings with rooms opening onto secluded patios and terraces. "I used to get lost in that house," Brian says, "because the hallways have these twists and turns."
A lower floor occupied by a screening room and Gigi's office isn't visible from the entrance, nor is a pool or a guest house built into the hillside. Brian's office, the original guest house, is in sight, but it looks like a fetchingly landscaped ranchero outbuilding, not a 3,000-square-foot space that contains his work room and art studio on one level, a gym hidden beneath and balconies overlooking the Pacific.
Brian's latest film, "Cinderella Man," a Depression-era drama starring Russell Crowe and Renée Zellweger and directed by his partner, Ron Howard, opens June 3. Even when pre-premiere buzz is strong, he is always as nervous as a virgin bride until the first weekend's box office is tallied. The house felt like a refuge the first time he saw it. It still does. "Sometimes I walk out on the lawn and look over the whole city and the ocean and I feel so grateful," he says.
The producer, 54, has been making movies ("A Beautiful Mind") and television shows ("24"), for more than 25 years, and has done time around Hollywood moguls who value their residences as symbols of power. In his heyday as an agent, Michael Ovitz would invite business aquaintances to his home and show off his art collection, a deliberate and frequently effective intimidation technique. Instead of aping such methods, Grazer reverse-patterned.
"I made a choice about 20 years ago, when Michael Ovitz was my agent, to create the opposite effect from what he tried to have, in every environment that I have control over," he says. "I want to make people feel relaxed and super comfortable. When people are intimidated, you don't get the best out of them, they don't tell their best stories. At my house, the bar is just a place to have a martini and relax. The bedroom has a great view, but it's only as big as it was 40 years ago. When we were thinking about expanding, some people suggested we could build up and have even better views. I didn't want to do that. I didn't want to make it overpowering."
The couple have been together 14 years, married nearly eight. Gigi went to Hollywood High and UCLA, then worked her way up from receptionist to head of television development for programming guru Fred Silverman, dispensing with a starter marriage along the way. She bumped into Brian at Orlando-Orsini on Pico Boulevard, where they'd each gone for a business lunch. "I kind of fell in love with her at first sight," he says. "Beyond being beautiful, she was so clever. I loved that she's so creative, and there's an untamed quality about her." One dinner and a margarita and a half later, they were inseparable.
While Brian was becoming one of the most successful producers in Hollywood, Gigi found her own tutors in how not to live. "I remember going to the home of the head of an agency," she recalls, "a very fancy, dark house that felt ominous and heavy to me. The women who worked at the house wore starched aprons. We'd seen a movie in the screening room, and on the way out, we noticed that the table in the dining room was set for breakfast. I didn't even have my own kids at that point, but I thought, 'No. Not in my house. Not ever will my children wake up to a set table. Who do they think they are?' We're not royalty. Kings and queens can live that way, but look how screwed up their children are."
Five-year-old Thomas Grazer makes his own bed, and his mother cooks him pancakes for breakfast. He was a toddler when designer Smith started working on the house. For two years, while the Palisades spread was expanded, renovated and decorated, the family — including Riley and Sage, the teenage son and daughter from Brian's first marriage who spend half their time with each parent — lived in their Malibu Colony house. For part of their exile, Gigi was pregnant with Patrick, now 19 months old.
They also have a home on the north shore of Oahu; he surfs, she doesn't. The family plans to spend some time at their Malibu beach house again this summer. Gigi hopes the neighbors will still welcome them. In "The Starter Wife," Gracie describes the Colony as "the most expensive ghetto in the world," with houses "inches apart." If that doesn't offend the locals, perhaps the pilot Gigi's written for ABC, "The Colony," will. But she doesn't consider it her job to tend fragile egos. In her opinion, anyone who doesn't get the flavor of satire that spices her work should just lighten up.
A producer often incubates ideas, then finds a creative team able to understand and execute his vision. On the Palisades property, Brian played his customary role. "I look at a lawn and see a lawn," Gigi says. "Brian Grazer looks at a lawn and sees a football field and a guest house underneath it."
Work had been done on the house when he first bought it — walls were knocked down to make some rooms more spacious and a new living room was created by enclosing a patio. But the narrow lawn beyond the library's picture window bothered Brian. "I always wanted to have a big lawn," he says, "and the way it was, if you threw a ball, it went over the hill."
So in the second round of construction, the edge of the cliff beyond the home's picture windows was extended. Dirt was removed from the hillside below and a new guest house built into the void, supported by the kind of caissons used to hold up freeways — 25 of them, at $30,000 each. From the main house, a verdant meadow now stretches toward the horizon like an infinity pool; some of it covers the roof of the guest house. In all, almost 11,000 square feet of living space was added: two children's bedrooms, the screening room and Gigi's office in the main house, and the guest house, thanks to the caissons.
Furnishing it all took an interior designer a year. When it was done, the Grazers were not happy. Their home wasn't hideous. It just wasn't them.
"I'd never thought about atmosphere," Gigi says. "I've lived very happily in an apartment with a mattress on the floor and nothing on the walls — just a table from Wertz brothers and a computer from Radio Shack and a tiny refrigerator. I was raised primarily by a man who was an ex-staff sergeant in the Air Force. We didn't know from décor."
Smith does. His roster of clients includes Steven Spielberg and Kate Capshaw, Cindy Crawford and Randy Gerber and Wendi and Rupert Murdoch. The Grazers had been in a number of homes he had done and found each one different and personal. "Having the first round of furniture not work out was horrible," Brian says, "because it was wasteful. Nobody likes waste, and coming from a middle-class background, it made me sick. What Michael gave us is comfortable and classic. I thought it would cost less. It didn't."
Smith's style is the interior design equivalent of a woman who deftly applies a great deal of makeup in order to present herself as a natural beauty. Limestone fireplace mantels throughout the house look as if they have always been there. In fact, they were salvaged from homes in France and Spain and acquired from European dealers and auctions. Rooms that appear deceptively simple are a quiet riot of luxe textures. Creamy walls are hand-layered, burnished Venetian plaster; the tint applied to ceilings is almost imperceptibly darker. The colors of the robust linen, linen velvet and aged leather used for upholstery and curtains are subdued. Pattern is nearly nonexistent, except for muted Turkish rugs made for the European market at the end of the 18th century that lie on stained wood plank floors. And a pair of chairs in the living room the color of worn jeans wear Ikat cotton woven in Thailand.
"Brian has a very bright, avant-garde art collection," Smith says. "The conventional idea is to have a white room with bright, colored furniture to put the art into. But if everything is subtle and of quality, the art holds its own."
Antique mirrors with wide, carved wooden frames of dark wood that hang in many rooms are a nod to the house's Spanish ranch architecture, but everywhere pieces of diverse ancestry blend together — a 19th century French wood chair covered in antique French sheets piece-dyed a mellow lavender, a brass-studded Arts and Crafts table, a venerable ebony Dutch cupboard and a carved Italian table. Smith says, "This house was never designed to impress. It impresses because it works, but that wasn't the intent."
Small pads of paper and pens are placed on tables throughout the house. With a writer and producer in residence, who knows when an idea might strike? All the objects perched on tables and bookshelves, the chunky candles, small clocks, vases, bowls, dark wooden tissue boxes, stacks of books and framed family photos, are functional. "My mother used to spend every Saturday dusting her knickknacks," Gigi says, wrinkling her nose. "Knickknacks cloud the mind. I like clarity, even if I don't have to do the dusting. I told Michael, 'Let's not crack our children's heads on any tables. Let's not worry about breaking stuff.'
"There are people who work with Michael who spend half a million dollars on a table. That's not us, even if we loved it…. Brian doesn't need to be reminded constantly how much money he has, and he doesn't have to remind other people. It's not even something he really thinks about. For him, it's always about the next project."
In the house, order and chaos coexist: The inside of the refrigerator is as organized as one in a laboratory, with bottles of Fiji water lined up like test tubes and labeled plastic containers of food neatly stacked. Yet books on disc, one about a wacky British fashion designer, another by a psychiatrist in the vanguard of research on happiness, litter a kitchen counter.
"There's a reason Brian's able to jump from subject to subject, that he has so many interests," Gigi says. "He challenges himself, and he also wants a woman who is somewhat challenging. He's made some sacrifices by being with someone like me. I'll be at a party and I'll say things that other wives probably wouldn't, maybe because I've always had a job and I have a strong sense of who I am and that I could survive, no matter what. Poor Brian has people working for him all day long saying 'Yes, yes, yes.' And then he comes home…. We have gone to therapy over this thing where I don't schedule social activities. I like to fly by the seat of my pants. Each day winds up filled-up anyway."
Every six weeks or so, she does invite a close group of friends for girls' nights. Sometimes a movie is shown in the screening room. The women, a mix of old friends and mothers of her children's friends, drink girly cocktails, eat, dish and giggle. Her other talents notwithstanding, Gigi did not spring from the Martha Stewart gene pool. "I know my limitations. I completely delegate and I don't get nervous about whether everyone will have a good time," she says. "Do we have great drinks to start with and something chocolate for dessert? Then we'll have a good time."
There is something of a gap between the Grazers' self-image and real life. "We don't think of ourselves as very social people, as people who entertain a lot," Brian says. "But in the last couple of years, we've had several hundred people at our house many times, with golf carts bringing guests up the driveway."
One of his favorite occasions was the "high-low" bash they threw in Malibu, a party that included Hollywood luminaries and his young surfer pals. Gigi considers children's birthday parties an excuse to invite everyone she knows who has children, and everyone who doesn't. She hosted a fundraiser for 400 on the lawn to benefit Best Buddies, an organization that aids children with learning disabilities. When friend and neighbor Steven Bochco's first novel, "Death by Hollywood," was published, about 60 of his close friends gathered on the Grazers' deck on a summer night. "We give parties for people we love," Gigi says. "We love Steven and we love Cheryl." That would be Ron Howard's wife, Cheryl Howard Crew. Party planners staged a celebration for 300 when her novel, "In the Face of Gin," came out last spring.
They also love Brad Grey, the new head of Paramount Pictures. Hence the "inauguration party," attended by 250 of the entertainment industry's power players. At one point in the evening, Sumner Redstone, Michael Eisner and Rupert Murdoch shared a loveseat in the family room with Cecil, Gigi's miniature dachshund. "That night was amazing," Smith says. "People who had never been to the house were flipping out in a way that was really profound. They loved that it's cozy and warm."
---
Times staff writer Mimi Avins can be reached at mimi.avins@latimes.com.
---
Life is stressful. Our weekly mental wellness newsletter can help.
You may occasionally receive promotional content from the Los Angeles Times.