13 Images
Photo Gallery: Roots of a tradition
For the harried homeowner of today, a classical Japanese garden — if not necessarily as lavish as this one in Beverly Hills — can be an oasis of tranquillity. In Southern California, it is also the fruit of a long relationship between Japanese Americans and landscape design that is finally getting its due recognition.
(Wally Skalij / LAT)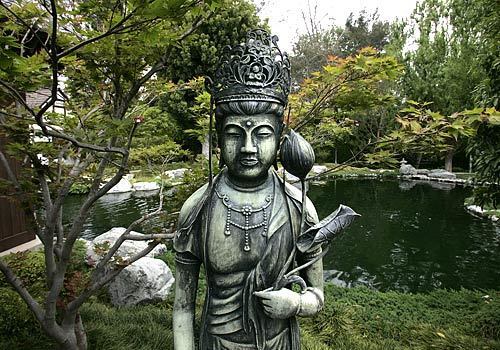 A Buddhist statue, set off by a red maple tree, adds a decorative accent to the garden
(Wally Skalij / LAT)
Takeo Uesugi, landscape designer, stands in his creation. Uesugi came to the United States in the 1960s to study his craft and now has a firm in West Covina.
(Wally Skalij / LAT)
A traditional teahouse offers a view of the water and places to sit.
(Wally Skalij / LAT)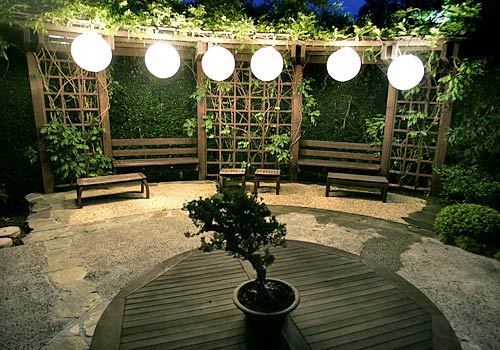 An arbor is lighted for the evening, and a bonsai accents the table. The art of creating miniaturized plants and trees caught on in this country partly thanks to the founder of Yamaguchi Bonsai Nursery in West Los Angeles.
(Wally Skalij / LAT)
Water is an important part of the Japanese garden, in waterfalls, ponds and fountains. Here, one can follow a Buddhist statue's example and meditate.
(Wally Skalij / LAT)
"I'm 1,000 miles away from my hometown," reads the carving on a stone, which could have been uttered by one of the area's early Japanese immigrants. Rocks are as significant as greenery in the garden, which is supposed to be a microcosm of the natural world.
(Wally Skalij / LAT)
The meandering path encourages people to stroll, not hurry, through the 2-acre garden, appreciating the unfolding aspects of its beauty. It's a style that dates to the Edo, or Tokugawa, period in Japan (1603-1867).
(Wally Skalij / LAT)
Jewel-colored koi swim in a pond in the home garden of Shinkichi Koyama, president of the Southern California Gardeners' Federation.
(Wally Skalij / LAT)
It's relaxing just to listen to the sound of water tumbling into the pond.
(Wally Skalij / LAT)
Much care went into crafting this patch of nature, which, though small, is well thought out.
(Wally Skalij / LAT)
Water trickles from a bamboo fountain into a stone bowl called a tsukubai. It was traditionally found in Japan at temples and tea gardens, and visitors would wash their hands and mouths using the dipper provided.
(Wally Skalij / LAT)
Koyama tends his garden, the most rewarding work of all.
(Wally Skalij / LAT)