10 Images
2008 Kitchen/Bath Industry Show
Conspicuous consumption is so yesterday. That was the buzz among the more than 900 exhibitors at the Kitchen/Bath Industry Show in Chicago last week. Comfort and function, not bling and glitz, are in. A lighted, walk-through display shows new designs by Ann Sacks, including Perennial, center.
(Stacie Freudenberg / For The Times)
The spa-like design of this bathroom flanks the center tub with separate his and her bath areas. This was one of five demonstration kitchen and baths at the 10,000-square-foot Idea Design Center.
(Stacie Freudenberg / For The Times)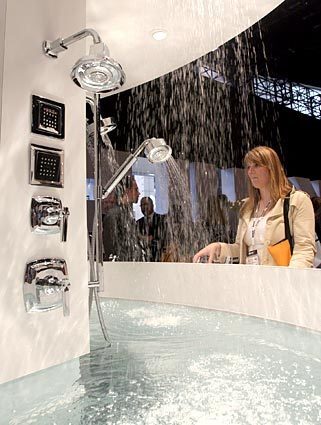 Jessica Williams checks out a display of Kohler shower heads at the trade show.
(Stacie Freudenberg / For The Times)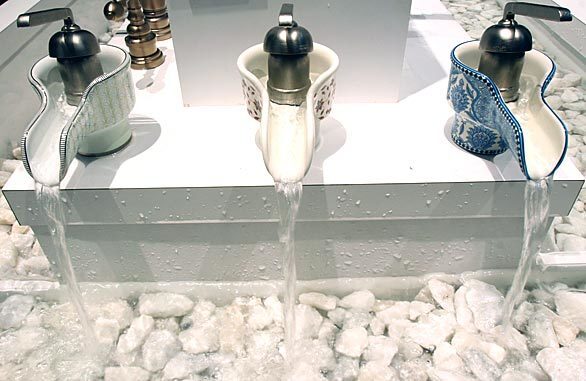 Mixing up styles and materials is an emerging design theme for kitchens and baths. "It's all about individuality at any segment of the market," said Sara Ann Busby, president of the National Kitchen & Bath Assn., about trends at the trade expo. "Mixing laminate with granite, or buying a faucet and mixing it with handles of another style." Kohler's Bol ceramic faucet pairs a look inspired by an antique apothecary mortar and pestle with stainless steel.
(Stacie Freudenberg / For The Times)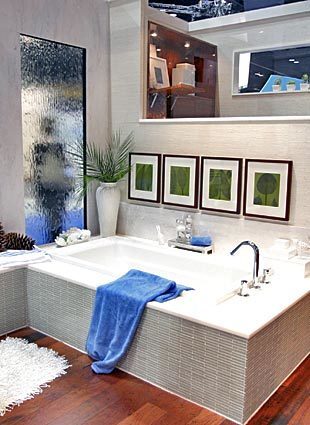 This bathroom designed to accommodate aging baby boomers features sit-down spaces, wide pathways and easy to use lever controls. Opposite the tub is a large shower area with a built-in bench but no door.
(Stacie Freudenberg / For The Times)
Cucine LUBE's Brava kitchen, introduced first in the U.S. and then in Milan this week, features a hidden range and sink. The Elica Collection's Star glass chandelier/range hood will be available in 2009.
(Cucine Lube)
With the push of a button, a counter slides back to reveal a stainless steel range and sink in the Brava island from Italy's Cucine LUBE.
(Cucine Lube)
Bamboo takes new shapes in Rio Grande Imports' Feng Shui bathtub and sink on a pedestal.
()
With its shining stainless steel exterior, OLA by Elica Collection looks like decorative lighting but doubles as a range hood, filtering the air.
(Elica Collection)
Hand-carved Chinese marble by Robert Kuo for Ann Sacks.
(Stacie Freudenberg / For The Times)