5 Images
Recovered keepsakes
The album
: Steve Stout holds a memento of his wedding 28 years ago as wife Debby looks on with an incredulous grin. When the house collapsed, clothing stowed in the attic apparently fell on top of the album, got soaked by firefighters' hoses and prevented the keepsake from burning. "I'm Little Miss Pack Rat," Debby says with a laugh. "My husband said the attic would fall someday, and it did." Other family photos were burned and wet, but their recovery? "Awesome," she says.
(Mel Melcon / Los Angeles Times)
The ornaments
: Every year since 1994, Disney collector Eva Peters has bought Christmas ornaments that reflected her daughter's favorite films and characters. She had to leave them behind, so before evacuating, she stowed the ornaments in what she hoped would be a fire-resistant container. Of the 58 pieces in the collection, about a dozen survived the fire.
(Mel Melcon / Los Angeles Times)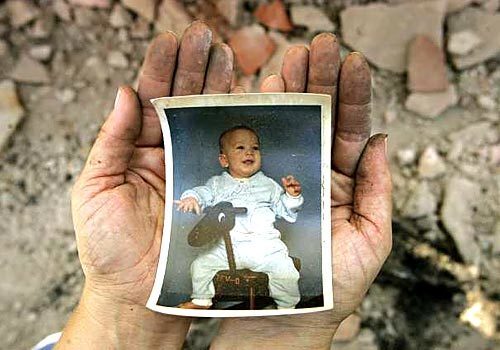 The photo
: Debby Stout cradles a portrait of son Stephen when he was about 18 months old; he's 25 years old now. "We only got out with the clothes on our backs and our dogs," she says. "It didn't look like there was any hope for anything else."
(Mel Melcon / Los Angeles Times)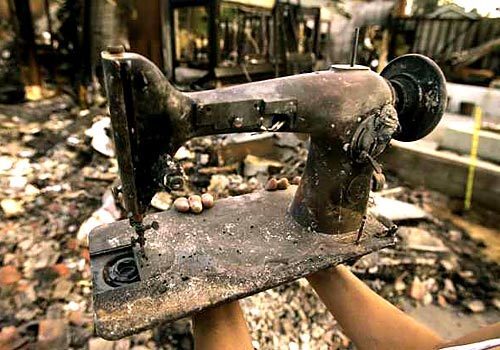 The sewing machine
: With the remains of her Valladares Drive house as a ƒpsober backdrop, Lori Hutter holds the 1940 Singerƒp that she received from an aunt 26 years ago.
(Mel Melcon / Los Angeles Times)
The ring
: In the rush to evacuate, Michele Sheffler accidentally left her grandmother's wedding ring on a staircase landing. A friend later found it among the ashes of the collapsed roof. A Mother's Day card with her daughter's handprints, however, brought even more joy, Sheffler says. "Every other thing from her childhood is gone."
(Mel Melcon / Los Angeles Times)