4 Images
The Scout Outdoors
Bartenders, sort of
ROLLING GREENS is calling all creative types with an eye for botanical design. The company recently opened an "arrangement bar" where shoppers can create custom pots and planters, perhaps for the patio table or outdoor living room.
Nursery co-owner Greg Salmeri (below, with manager Angela Tapp) says the idea stems from one client's special request. "They asked, 'Can you put this plant with this plant with this plant?' And we thought we could do more of this," Salmeri says. Now customers follow a simple drill. Step 1: Select one of Rolling Greens' thousands of containers, which include inexpensive metal boxes, fancy European imports and stunners made of faux seashells or gnarled wood. Step 2: Choose your plants — ferns, orchids or perhaps less conventional picks ("begonias over gerbera daisies, hydrangeas instead of roses," Salmeri suggests). Step 3: Choose the top dressing: mosses, pebbles, even recycled glass in more than a dozen hues. Professional designers put together your selections at a counter with barstools, where you can watch while sipping iced tea or coffee. Unlike cut flowers, these arrangements can last a month or more. The best part: When friends ooh and ahh over the design, you can take credit. 9528 Jefferson Blvd., Culver City; (310) 559-8656;
http://www.rollinggreensnursery.com
.
--Leslee Komaiko
(Annie Wells / LAT)
Seeds of change
Give this piece a chance. Plant a 9-millimeter gun or seed bomb from artists Christopher Humes and Noah Scalin, and you'll soon see blooming Shasta daisy, European columbine, foxglove, purple coneflower, spurred snapdragon, lupine or black-eyed Susan. Created as part of the traveling anti-violence exhibition "Swords Into Plowshares, Plant the Piece," the gun pictured here ($75) is formed of red clay power, dry organic compost and wildflower seeds. The seed bomb is composed of clay and soil humus ($12 per pack). Available at Gracie at the Santa Monica Museum of Art, Bergamot Station G-1, 2525 Michigan Ave., (310) 586-6488;
http://www.threemiles.com/plantthepiece
.
— Lisa Boone
(Christopher Humes)
Small for their age
Where else will you find a four-day extravaganza devoted to the small, twisted and old? The California Bonsai Society's 50th anniversary show kicks off today in Garden Grove, drawing collectors from Asia, Europe and Latin America, some of whom will pay $40 to $300 to join one of 18 workshops. The event, after all, is billed as an unusual chance to get hands-on experience with high-quality plants, propagated and shaped by master growers, some coming from Japan. More than 60 elaborate displays will be complemented by a vendors' area with plants and tools of the trade: handcrafted steel tweezers, trunk splitters, branch benders and knob cutters. Says Lindsay Shiba, president of the California Bonsai Society: "It's like a bonsai candy store." Crowne Plaza Resort, 12021 Harbor Blvd. Information: (714) 738-0879.
— Jeff Spurrier
(P. Raycraft / Hartford Courant)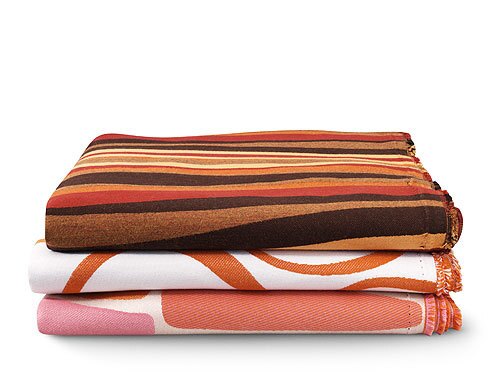 Home décor gets turned inside out
The bold, sophisticated patterns usually reserved for interiors are slowly making their way to the outdoors. The latest example: Angela Adams, best known for her rug designs and ceramic tiles for Ann Sacks, has teamed up with Architex for a new line of all-weather Sunbrella fabrics, just in time for summer. The Clara, Waves and Bubbles patterns, which all feature Adams' signature mod graphics and colors, premiered this month at the Kitchen/Bath Industry Show in Las Vegas. The collection runs $60 to $75 per yard, available to the trade. (800) 621-0827,
http://www.architex-ljh.com
.
— Lisa Boone
(Angela Adams)