Calling cards make a comeback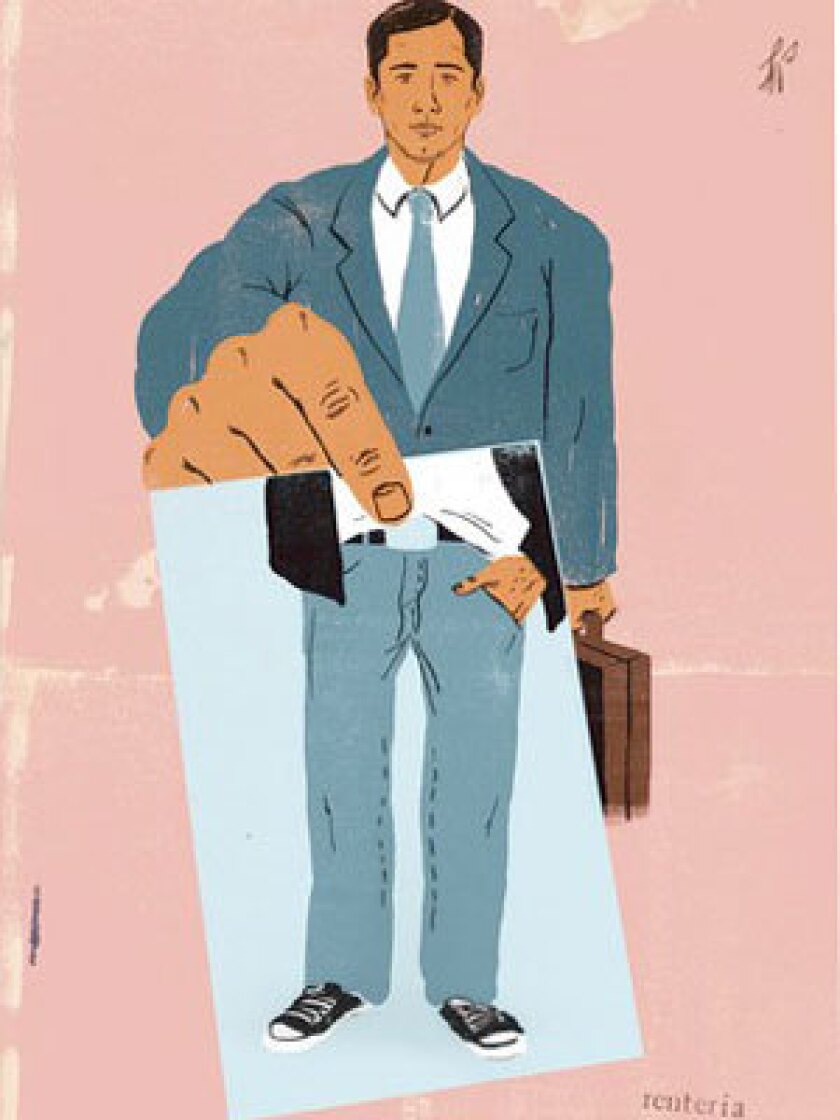 Over the last few months, ink has been spilled and pixels slung from mainstream magazines like Time to niche blogs such as Time Art of Manliness extolling the return of a practically extinct Victorian-era relic known as the calling card.
A kissing cousin to the standard-issue business card containing little more than name and contact information, the calling card is being embraced by a swath of the under-40 set that includes hipster creatives, networking moms and untethered job seekers.
In the era of LinkedIn, Facebook, vCards and BlackBerrys, the idea of a calling card may seem quaint, and 12 months into a full-on recession it could seem like an exercise in snobbery. But it shouldn't, says Peter Post, director of the Emily Post Institute and coauthor of "The Etiquette Advantage in Business." "My instant reaction isn't: 'Oh, that's pretentious,' " he said. "It's: 'Oh, that's considerate.' Someone is providing information to you in a way that makes it easy to take in and utilize -- and in a way that's memorable."
The sour economy and mounting unemployment actually buttress the case for having a professional-looking, nonbusiness business card. But take note: Whether you're negotiating a play group or suddenly find yourself unshackled from the font and corporate logo of the man, there's no excuse for going all Comic Sans typeface in periwinkle ink on the front, with a glossy clown photo on the back -- unless you make balloon animals for a living.
At least, that's what the experts tell us. We polled etiquette gurus, printers and a few card-carrying card carriers for some general guidelines on condensing your personality onto a few square inches of card stock.
Don't try DIY
"The Japanese believe your card is a reflection of who you are," says Judith Bowman, author of "Don't Take the Last Donut: New Rules of Business Etiquette." "If your business card is cheap, flimsy and laminated, that's the impression you'll make." She says that perception applies to calling cards as well. "The idea is, if you're cutting corners here, where else are you cutting corners?" So step away from the office laser printer.
Go for an easy reader
In choosing paper and ink colors, let a concern for legibility temper your desire to express your fun-time persona: Use white or ecru paper and black ink. If you decide to deviate, "Make sure the colors share the message you're trying to portray," advises Bowman. "Jackie Kennedy was known for her powder-blue stationery -- a powder blue, a Tiffany or robin's-egg blue is fun for a social calling card."
Keep it simple
A social calling card should contain the bearer's name and one line of contact information. Post and Bowman both caution against including a home address-- for safety reasons and because, as Bowman notes, given that information, with just a few clicks around the Internet people can say: "So that's how much he paid for his house."
Be one-sided
Although you might be tempted to print information on both sides of the card, etiquette professionals recommend keeping all the information on a single side. Not only is it less expensive, but, as Post points out, the bearer can use the back space to personalize the card. "That's where you can write down an additional e-mail address or phone number or a note that says: 'Let's talk further about rock climbing,' in a way that makes it so much more memorable."
Size matters
Stick to the 3 1/2-by-2-inch format of the standard business card. "Different-sized business cards are a little obnoxious," Bowman says. Post agrees. "Most of the things we have to carry cards in are a standard size, and different-size cards just make things awkward."
Special delivery
No matter what kind of card you get, its impact doesn't end with the printing. "With a business card, you hand them to everyone at the table or when you first meet someone," Post notes. "In a social environment, like a cocktail party, I wouldn't do that. Wait until you've met someone, 20 minutes or half an hour into the conversation. If you want to follow up with them later or make sure they remember you, then give them your card."
Bowman suggests asking first. "The No. 1 rule is never assume I want your calling card. It's about earning the right to advance and, like any relationship, it's about building a trust."
Tschorn is a Times staff writer.
---
The essential weekly guide to enjoying the outdoors in Southern California. Insider tips on the best of our beaches, trails, parks, deserts, forests and mountains.
You may occasionally receive promotional content from the Los Angeles Times.