Fashionology is a make-your-own apparel experience for tweens.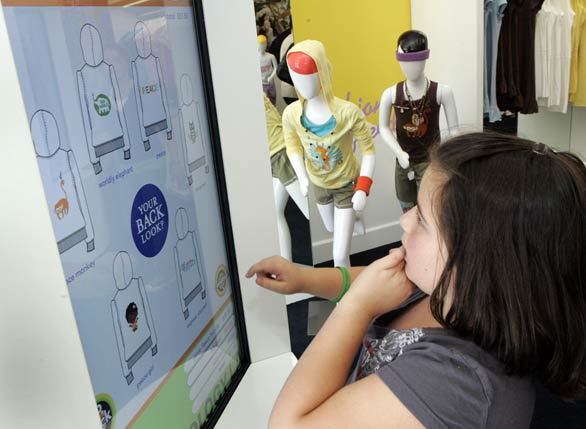 Girls create their designs using a computer kiosk. They begin by using a touch screen to choose a fashion "mood" for their piece, such as Malibu, Rocker or Peace. Atossa Rejaei, 9, chooses Peace for her hoodie.
(Lawrence K. Ho / Los Angeles Times)
While sitting at one of the Make It! tables, Atossa adds charms and pins.
(Lawrence K. Ho / Los Angeles Times)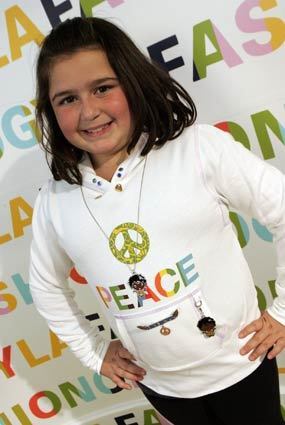 When Atossa is finished, she models her creation for the camera. An image is beamed to the 70-inch TV screen in the store, and e-mailed to her.
(Lawrence K. Ho / Los Angeles Times)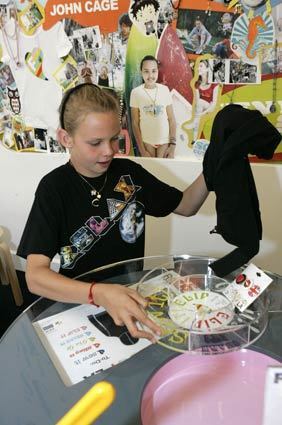 Jacqueline Moeller, 10, consults her "fashion plan" and gets to work embellishing her design.
(Lawrence K. Ho / Los Angeles Times)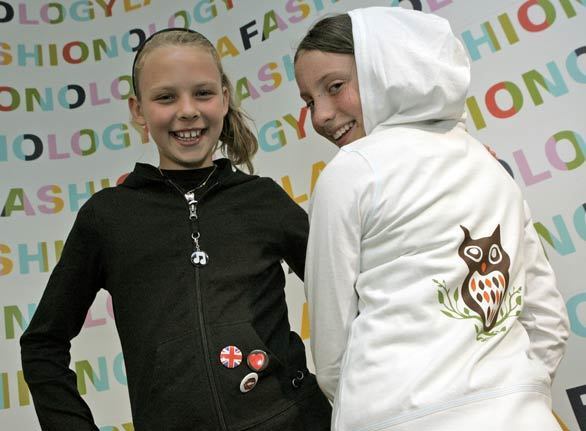 Jacqueline, left, and Lena Vogler, 11, mug for the camera while modeling their new hoodies.
(Lawrence K. Ho / Los Angeles Times)
Times Fashion Critic
IF THERE was any more evidence needed of the mainstreaming of fashion, it's this: Kids used to go to Build-a-Bear Workshop or Color Me Mine to get their creative juices flowing. Now, they can design a piece of clothing, decorate it with graphics, rhinestones and charms and take it home, all in less than an hour.
Opening today in Beverly Hills, Fashionology is an interactive fashion design experience aimed at girls 8 to 14. The Build-a-Bear Workshop-meets-"Project Runway" destination was created by Elizabeth Wiatt and Jamie Tisch, who are fashion plates themselves, as regular guests at stylish soirees on both coasts and friends of designer Tory Burch.
Fashionology takes the teenage urge to customize sneakers and jeans to a new level, letting girls use touch screen kiosks to select a basic garment (hoodie, tank or capri pants for example) and a fashion "mood" such as Rock, Malibu, Peace or Juku. They can then choose accompanying graphics and embellishments by clicking "Sew It!," "Bling It!" or "Pin It!" icons.
Since there's no sewing involved, the experience is more akin to decorating cupcakes than baking them. But even a jaded fashion critic has to admit it was pretty fun adding rhinestones to the neckline of a hoodie and a sunset graphic to the back with the touch of a screen, even if the piece was several sizes too small. We put Fashionology to the test with the target demographic, inviting a few tween girls to try it out. The experience met with a string of enthusiastic "awesomes!"
"I usually never go shopping, but this way I can make it how I want it," said Lena Vogler, 11, who chose a white hoodie with owl and peace sign graphics and an owl-shaped charm that clipped onto the waistband.
After a few minutes at the kiosk, Lena and her pal Jacqueline Moeller, 10, headed to the U-Bar where "fashionologists" printed out their patterns, used heat presses to add graphics and assembled a tray of embellishments to take to the "Make It!" table.
Settling in to decorate her black rocker-themed hoodie, Jacqueline said she was used to customizing her clothes with magic markers, so this was a step up. "Making it yourself and getting to walk out with it is really awesome."
Once the girls were finished, they put their hoodies on and got ready to model them under the spotlights on the Fashionology stage. Their photo was beamed onto the store's 70-inch TV screen for all to see and e-mailed to them so they could share it with friends. The experience costs $20 to $90, depending on how minimalist (or maximalist) you go. I managed to jack up the price of my hoodie to $88 pretty quickly, although the running total on the screen made it easy to subtract design elements and lower the price. The only complaint came from the moms who wished they could design too. (Adult sizes are on the way.)
The lively interior was designed by Roman Alonso at Commune Design in L.A., and the colorful imagery and empowering text ("Dream It! Make It! Wear It!") on the walls is a nod to 1960s L.A. activist Sister Corita Kent.
"We didn't want to talk down to the girls. We wanted them to feel creative and empowered," said Tisch, who met Wiatt 15 years ago when the two were dating the men they would marry (Wiatt is married to Jim Wiatt, the head of the William Morris Agency, and Tisch is in the process of getting a divorce from producer Steve Tisch).
"It's about the positives of fashion, not beauty or body image," said Wiatt, who has girls ages 6 and 8. "It's not about how girls look in the clothes. It's about creating the clothes."
Tisch said the inspiration for Fashionology came from her three tween children. The same goes for Wiatt, a former literary agent and magazine editor who left the workplace to be a full-time mom and work on environmental causes.
"Jamie and I were both teaching our kids to sew, and we had the bloody fingers to show for it. We got together and decided it would be great if there was a place we could go to teach them to sew." That lightbulb moment happened 18 months ago, and the two called an "emergency meeting" at Starbucks in Brentwood.
They started cruising sewing and notion stores for research, originally planning to open a business called Sew My Style, where girls would learn how to use sewing machines. When that proved to be too complicated for the under 15 set, they simplified the idea. Big Buddha Baba, a company of Los Angeles software designers who have worked with Disney Imagineering and on kids museum exhibits, helped them create a design experience that would use computers instead of needles and thread.
Wiatt and Tisch bankrolled the enterprise, and in a few weeks, they plan to open an online version of the store. A boys version of the experience could also be in the future, with different graphics and garments.
"We want to do things thoughtfully," Tisch said. "But we have a business plan to go nationwide very quickly." Expect to see a second store by early next year.
Something tells me there are going to be even more kids dreaming of becoming fashion designers when they grow up.
Fashionology, 338 N. Canon Drive, Beverly Hills, (310) 550-7997, fashionology.com.
---
Get our L.A. Goes Out newsletter, with the week's best events, to help you explore and experience our city.
You may occasionally receive promotional content from the Los Angeles Times.