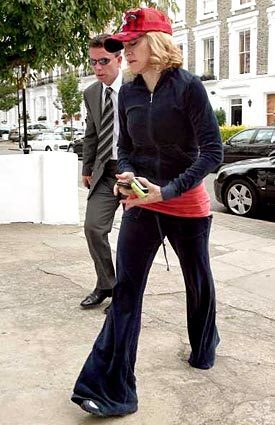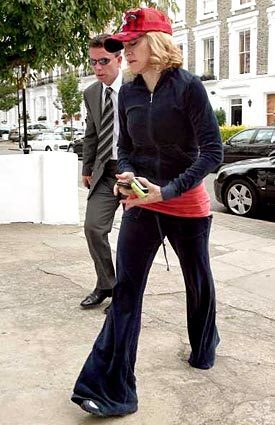 Madonna
: The company credits the Material Mom with helping to launch the velour track suit in 2001. Requests for monogrammed zip-up jackets soared like eagles on Red Bull after she started regularly wearing one the company had cheekily emblazoned with "Madge" - her nickname in the British tabloids. Madonna's daughter, Lourdes, was the first celebrity offspring to don the mini-me girl's version, though a multitude of famous moms including Jennifer Garner and Kate Winslet have outfitted their girls in the sporty staple since.
(Splash)
Adrien Brody
: Juicy launched menswear in 2004 and sent out a few track suits as gifts to its favorite leading men. One of Hollywood's most unlikely hunks, Adrien Brody, thanked the company by being the first male celeb to put the suit into regular wardrobe rotation (a brave act, considering the brand's hyper-girly image up until then). Other actors mad for Juicy include Terrence Howard and Emile Hirsh, both of whom have been snapped at public events rocking comfy, cool track jackets.
(Jason Merritt / FilmMagic.com)
Vivica A. Fox
: As clueless Beverly Hills sorority queen Elle Woods in "Legally Blonde," Reese Witherspoon gave the track suit its first on-screen cameo. Other celluloid sightings followed - with Cameron Diaz suiting up for "Charlie's Angels" and Heather Graham for "Austin Powers: The Spy Who Shagged Me." But Vivica A. Fox has the distinction of being the only actress violently killed in a Juicy Couture track suit, after crossing Uma Thurman one time too many in "Kill Bill: Vol. 1."
(Andrew Cooper / Miramax Films)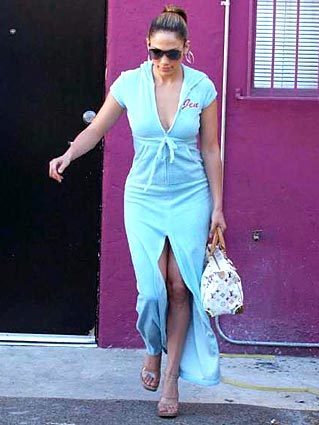 Jennifer Lopez
: Around the time rumors started flying that Jennifer Lopez was insuring various parts of her curvaceous figure, the actress was spotted time and again flaunting her most famous asset in the company's signature track pant, which featured the word "JUICY" printed in collegiate lettering on its seat. The then-scandalous item became de rigueur lecture-hall garb for every college girl on the planet and helped ignite our current cultural preoccupation with ample posteriors. Later, stylist Andrea Leiberman put Lopez in carnation-pink terry shorts and a hoodie for a video, and the cavalcade of requests for the get-up prompted the company to offer versions of the color, which it carries to this day in the line.
(Splash)
André Leon Talley
: At his request, Juicy made a special pattern to fit André Leon Talley, the towering editor at large for Vogue who's almost always kitted out in top-shelf brands such as Louis Vuitton and Dior. His endorsement was a testament to just how far Juicy Couture had taken the humble track suit - from the locker room to the backs of illustrious fashion critics.
(Desiree Navarro / FilmMagic.com)