20 Images
From Dust to Dust
The labor never ends until you are dead. Sometimes to escape the relentlessness, Hilario Guzman would drink. One early morning he lost control of his car and was killed in this alfalfa field. His body was sent back to Oaxaca, Mexico, but fearing that his soul was trapped, friends and family erected a shrine.
(Matt Black)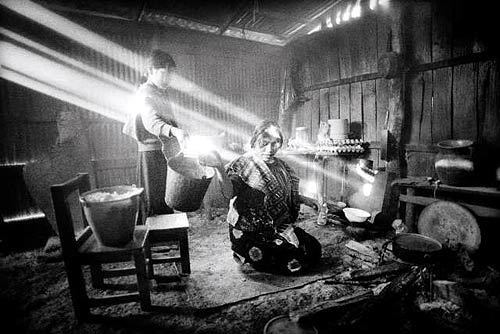 The tamales Veronica Diaz cooks are to be offered for her late husbands's soul - part of their village's Day of the Dead observances.
(Matt Black)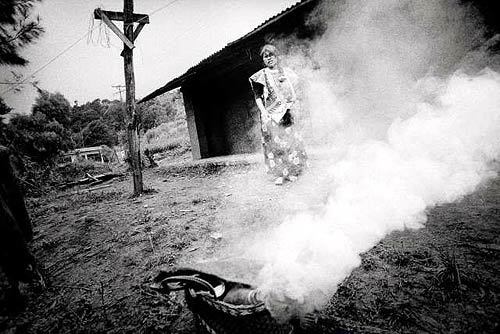 Blamed by her in-laws for Hilario's death, Veronica leaves the village, burning her unwanted possessions.
(Matt Black)
Veronica breaks down as she describes her arduous return to California. At a point during the crossing she feared son Geronimo would die.
(Matt Black)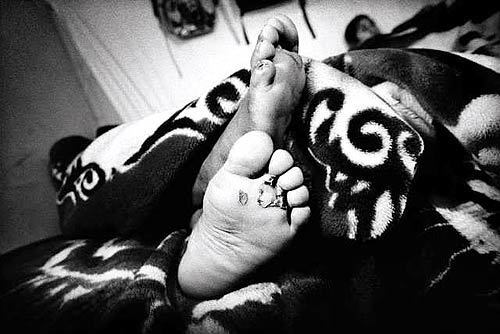 Veronica's scarred feet are a reminder of the trek, of surmounting fatigue and hunger to pick up the pieces of her life in California.
(Matt Black)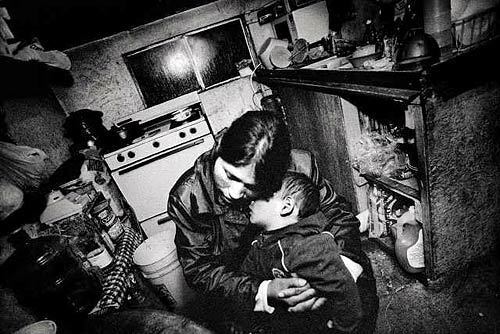 Veronica comforts herself as she hugs a sleepy Geronimo. Nine days after her return she is feeling the pressure of supporting her family, with another child months away.
(Matt Black)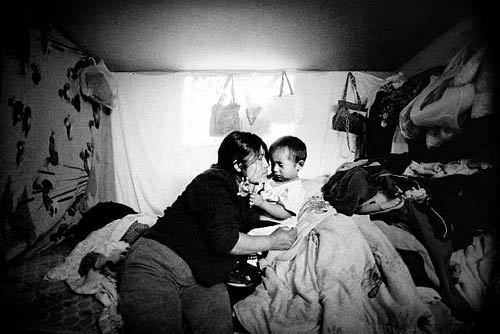 Necessity means sleeping five to a room, or hanging the family's clothes on nails because there are no closets, or putting a bedsheet on one wall to hide the holes.
(Matt Black)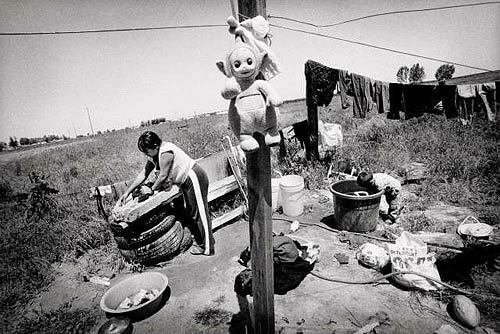 The fate of Triqui women is usually early marriage, even in this country. Back in Mexico, the laundry would be done streamside on a rock.
(Matt Black)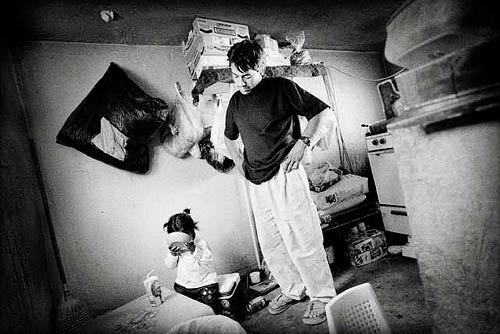 Moises Merino, Veronica's brother-in-law, feeds his daughter Sonia, 2, breakfast as she sits on the cooler he takes to the fields. After he leaves, she stands outside the house, often by the garbage pile, waiting for his return.
(Matt Black)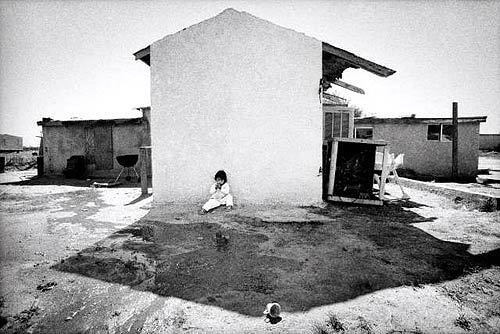 Sonia sits in the shade at her family's rental home near Kerman in California's San Joaquin Valley. Her uncle's death sent her family's life into chaos.
(Matt Black)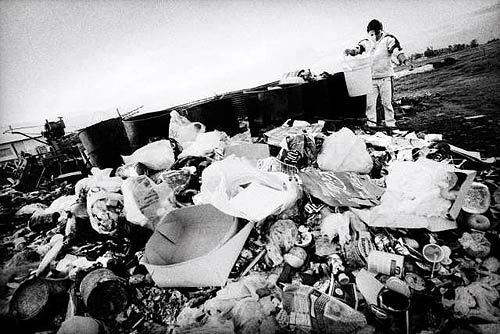 The trash discarded by the Merinos and their neighbors gets too wet to burn and piles up after a rainstorm.
(Matt Black)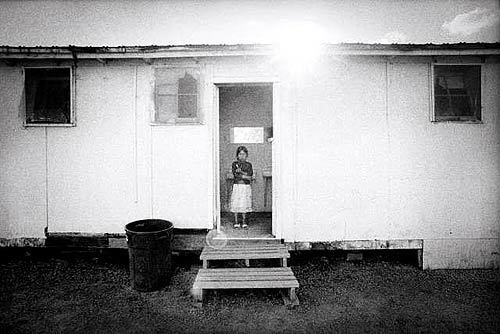 Traveling in search of crops to pick, the Merinos end up in Oregon at an old labor camp hidden down a country road. Monica Guzman, 7, Veronica's daughter, leaves a communal bathroom, one of two for about 160 people.
(Matt Black)
Each family gets a 12-by-16 cabin; between the Merinos and Veronica and her children, there are 13 people in one room.
(Matt Black)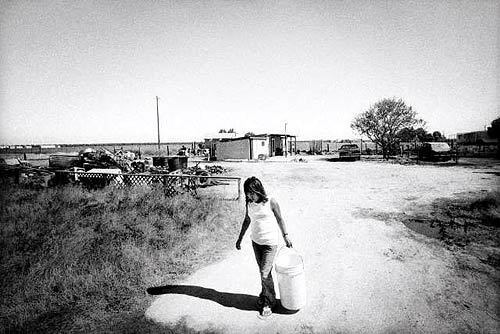 Yolanda Guzman, Veronica's oldest daughter, fetches water for bathing.
(Matt Black)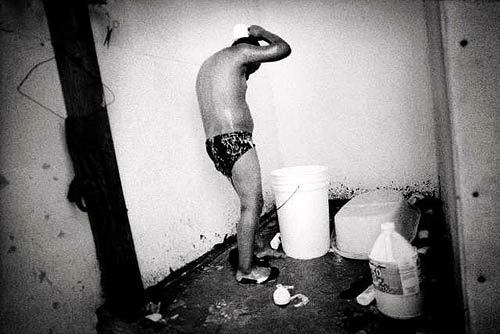 A bucket and a cup serve as a shower for 8-year-old Ramiro Merino and his family in the makeshift bathroom of their rental home.
(Matt Black)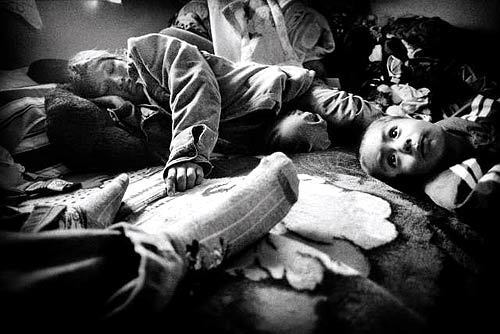 Sleep fills the long hours for a pregnant Veronica while the older children are away at school.
(Matt Black)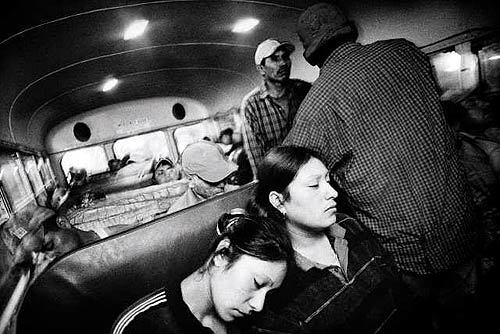 Lights are turned on for only as long as it takes farmworkers to board the bus transporting them in the predawn hours to a vineyard in Fowler.
(Matt Black)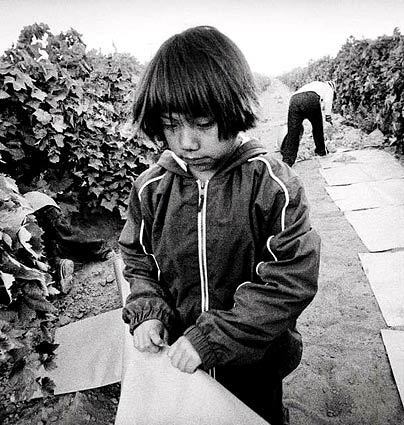 Monica pauses from her work while her mother, Veronica, and brother, Rigoberto, back, in leaves, pick grapes in a field near Kerman, California.
(Matt Black)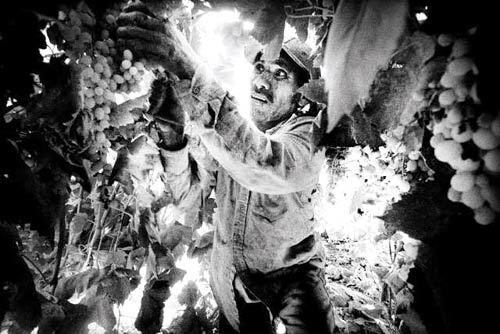 Moments of shade are brief as a picker's hands race to fill trays with grapes. A past of dust, leaves, spider webs and juice is baked onto his skin by the sun.
(Matt Black)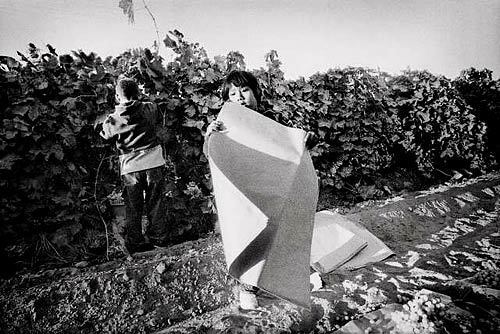 All members of the family work, including 9-year-old Rigoberto and 7-year-old Monica, picking grapes in a vineyard.
(Matt Black)