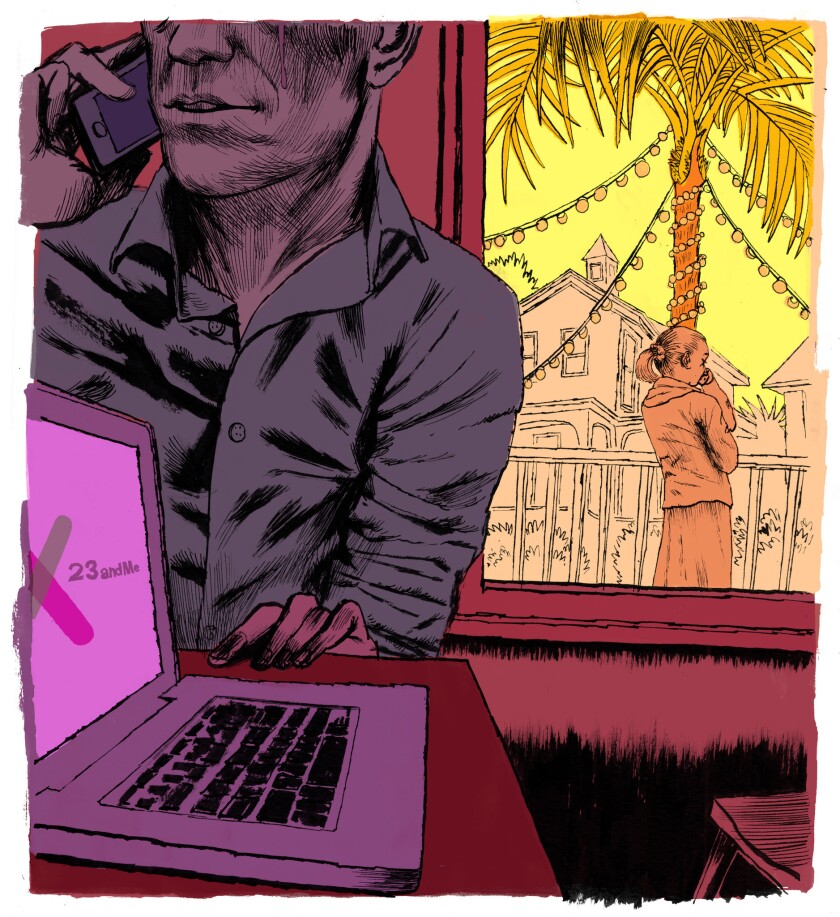 It was a rare morning when my wife Wendy and I were enjoying a full house. I was in the kitchen with our two sons, Bryce, 29, and Roy, 26. Both of our kids live and work in Los Angeles and had braved heavy traffic on the drive to our home in Vista in north San Diego the night before. They were still a little groggy when I handed them each a strong, spicy Bloody Mary.
As we were taking our first sips I looked at them and casually said, "Did I ever tell you I was adopted?" Bryce stared at me and said, "That's pretty funny, Dad." Roy's eyes got wide. It's true, I said. While they were trying to figure out whether I was serious or not I presented a printout from the DNA service 23andMe. I'd taken the test a few weeks earlier and showed them my — and their — ancestry. They realized I was dead serious, and I was met with a chorus of "Why didn't you tell us this sooner?"
I struggled to come up with an answer. I'd known for years I was adopted. But I guess I somehow felt I was flawed, and I was ashamed to acknowledge it. It took me years to get over that, but I just never seemed to find the right time to say it out loud to my boys. That morning, I told them they weren't of German ancestry — as I had been told I was by my adoptive parents — but are of Irish, English, Welsh and Scottish stock.
Now you can feel more authentic celebrating St. Patrick's Day, I joked.
Are you a veteran of L.A.'s current dating scene? We want to publish your story
Two days later, my son Bryce was back in L.A. when he received a late-night text. It was from a woman who had found his phone number online and was reaching out, looking for me: "Hi Gary, sorry to text late but I believe you are my brother.… I've been looking for you for 30 years," the text read in part. It was signed, "Your possible full sister, Sandy."
Now, it was my turn to wonder whether Bryce was playing a joke — on me.
But sure enough, I checked my email and found a notification from 23andMe saying that I had a full sister, who would like to make contact. I was beginning to come to the realization that something unexpected was happening. I texted back to the number we had for her, and she agreed to call me in 10 minutes.
At that point, I was totally shaken. It was all happening so fast. I felt like I'd just finished delivering the earthshaking news to my kids that I was adopted, and now I was about to talk to my full birth sister. I was scared, elated, nervous and pretty much unhinged. I poured myself a strong, spicy Bloody Mary and went to sit outside with tears in my eyes, waiting for the call.
At this point I must pause to tell you that I have been very fortunate in this life. I am surrounded by love. I have a wonderful wife and kids, my adopted parents gave me plenty of love, stability and financial support. My sister, Nancy, who was also adopted, is caring and generous and we have a lifetime of great shared experiences.
But in spite of all my good fortune, I had found it hard not to wonder about the circumstances of my birth, who my birthparents were, and whether I had any siblings. These questions always danced around in my mind over the years and I'd always shoved them away, because it was unsettling knowing that there might not be any answers. I absolutely held off on a DNA test until after my adoptive parents died. (I couldn't bear to let them know I was searching for my birthparents. They gave me everything. They were solid, honest, caring parents with the highest values.) I ultimately decided to do the DNA test late last year, so that I could at least pass on some health and ancestry information to my kids.
That all led me to sitting outside my house on a sunny morning, waiting to hear the voice of my birth sister and also wondering how I would be able to keep the composure in my own voice.
Then, the phone rang, and I heard the voice of my little sister.
I can't even begin to explain how deeply this affected me. I was shaken to the core. We shared the same mother and father but we knew nothing about each other. We talked, we listened and there were pauses where neither of us could talk at all. I was trembling, I don't even remember exactly what we said, but we slowly came to realize that we were very much alike.
It turns out that while I was brought up by my adopted parents in La Cañada Flintridge, my birth family lived in San Marino less than 10 miles away. My birthparents were high school sweethearts and my birth mother became pregnant with me when she was just 17. She was sent back East to deliver me and I was put up for adoption back in Los Angeles. After talking to my sister for two hours we agreed that I would drive up to her home the following week, so that we could meet in person.
It was a long, rainy drive up the coast to San Luis Obispo, although the clouds were beginning to break a little as I arrived. Sandy met me at my car door, and as I got out, we hugged and cried. And then we went inside and hugged and cried some more. We slowly shared more of our life stories, becoming the brother and sister that we were always meant to be.
We talked about how nature and nurture had such profound effects on us. We discovered we both share similar smiles, a deep love of eggplant and the outdoors — including hiking and gardening. We are both left-handed, and we each have one cat and one dog, both Labs. Hers is Molly while mine goes by Maeby. I had intended to stay one night in SLO but stayed two because there was so much to discover about each other after a lifetime of separation.
The new family I have been introduced to is wonderful and complicated as all families are, and there are dynamics at play that I have yet to unravel. My birth father was an intellectual and creative who became an editor/publisher at a magazine in New York. He was also a father who hopped on a train and left a family in turmoil with very young daughters. I am in contact with the other full sister I share. She lives in the northwest, and we are making travel plans to meet in person later this year. My birth mother is still alive but we are not in contact, and there are no plans to meet. I feel a bit like a black sheep that she's not there welcoming me with open arms.
I was emotionally drained by the time I headed back home to north San Diego after that time with my sister, but with the love that was added to my life and the uncertainty of my past slipping away, the drive home was glorious.
Maybe, just maybe, I got a wee bit of newfound Irish luck and found something better than gold at the end of the rainbow. I found a family.
L.A. Affairs chronicles the search for love in and around Los Angeles. If you have comments or a true story to tell, email us at LAAffairs@latimes.com.
MORE L.A. LOVE STORIES …
I'm black. He's white. Here's what happened
I went on a bunch of blind dates with total losers
I was sleeping alone in a stranger's bed — and falling for him
---